August Earnings Result Follow Up
After listening to HCI Holding's (NYSE:HCI) August 4th earnings call (2x), reading the call transcripts, and reviewing the latest "short seller" SA article on HCI, this analyst was struck with one initial thought... "how could we see things so polar opposite?"
After a few of days of meditation on all the new information and ideas, this analyst has come to the conclusion that the shorts sellers, upon facing overwhelmingly positive Q2 results from HCI management, had only one option to play; namely, construct a fearful, no growth story regarding HCI's future operating expectations.
How else can the Short Sellers justify their levered positions; especially when all the current and past published data, points in the exact opposite direction?
A Couple Examples:
(1) After publishing my first research article on HCI (here in SA), one commenter pointed out that there was a negative concern regarding from the investment professionals that HCI did not carry adequate ReInsurance coverage throughout the full calendar year. The commenter was referring to the possibility of management providing inadequate coverage during the hurricane off-season (Jan - May). Great question.
After researching this issue through NOAA, I discovered that 'zero' hurricanes (or any tropical storms) had ever made U.S. landfall over the 164 years of Atlantic storm data collected by NOAA. Needless to say this claim was negated, and if HCI management was employing a strategy to reduce ReInsurance coverage during the hurricane off-season, it was proved to be an 'intelligent', 'prudent' and 'profitable' strategy.
The turnabout to this came during the August 4th earnings conference call, when one analyst appeared to ask an accusing question of HCI management. He wanted to know how HCI justified taking on so much ReInsurance protection coverage for the 2015 hurricane season; asserting that the cost of carrying this level of extra coverage would detract from HCI's earnings potential.
So there you go... In the eyes of the short sellers, you're damned if you don't, and damned if you do.
(2) For some time now, short sellers have been proselytizing the ills of participating in the Citizens 'Take-Out Program'. First they proffered that the Citizens policies were of poor value and overly risky. From this position, they then asserted that any company participating in the take-out program had substandard management that was leading their company to ultimate failure.
Fortunately they have been wrong here, too. HCI has been participating in the Citizen's take-outs for several years now, and over that period of time, the company has been growing and profiting handsomely through their participation in the Citizens 'take-out program'. One clear metric that demonstrates this is that HCI has now delivered 31 consecutive quarters of profitability (a duration of 7-3/4 years).
Another short story debunked.
(3) That leads us to the latest short seller's story, as outlined in a recently published SA article following the company's August 4th earnings call. Since the short sellers can no longer say that participating in the Citizens take-out program is a road to ruin, they have changed their tune. In this new article, the author (and short seller) claims that the Citizens take-out program well is drying up due to increasing competition for these (bad) policies. Then they claim that since HCI management, in adjusting to this new competition and focusing on other profitable growth areas, is being "inconsistent and unprofessional".
This analyst doesn't know of one successful management team that hasn't had to modify its business strategy to meet and beat its competition at some point along its growth trajectory. So, if intelligently adapting to one's industry and competitive environment is no longer a positive trait, what is?
Current Status Update on HCI Business Performance:
2015 and Q2 Earnings Record Highlights
Q2 BV $22.00 represents +22.8% over 2014 YE BV $17.92
Q2 Net Income $22M; +34.1% over Q2 2014
Q2 Net Premiums $76.4M; +21.9% over Q2 2014
Q2 Gross Premiums written $155.3M
2015 1H Net Premiums 158.1M; +22.5% over first half 2014
2015 1H Gross Premiums written $236.8M
2015 1H Ceded Premiums ($59.2M); 27.2% of Gross Premiums
2015 1H Investment Gains $14.8M; +6.5% ROI (or +13% annualized ROR)
2015 1H Estimated savings from 'Multi-Year ReInsurance Treaties' was given as $6M (and a total of $12.4M since 2013)
2015 1H Stock-based Compensation expense decrease accounted for the bulk of the 4.6% improvement in the company's Expense Ratio
Future Growth Opportunities
Insurance - "Homeowners Choice"
CEO Paresh Patel stated that the company continues to see small areas of value in certain pockets of Citizens policies. Specifically, Citizens 'Wind-Only' policy book continues to be largely untapped and Homeowners Choice P&C will likely participate again in Q4 in take-outs from Citizens. Another bonus here is that Citizens previously filed and in February 2015 was granted the right to increase Wind-Only policy premiums in the state by ~10%.
Flood Insurance was also identified during the August 4th earnings call as a possible area of growth opportunity for Homeowners Choice P&C. This opportunity was described by management as follows: Today National Flood Insurance Program (NFIP) underwrites $2.5 Billion in flood policies along the East Coast (Texas Gulf to Maine Coast). Of this, $1 Billion (40%) of these policies are underwritten in Florida.
CEO Paresh Patel conjectured that if Homeowners Choice can pick up 15% - 20% of these policies - over the next several years - along the entire Eastern Seaboard - that would equate to $375M - $500M in new business growth. What he did not directly point out is that in Florida alone, this would equate to $150M - $200M in new business for Homeowners Choice.
Real Estate - "Greenleaf Capital"
Another major area of potential growth for HCI mentioned by CEO Paresh Patel, is in the company's Real Estate Division, Greenleaf Captial.
CEO Patel likened Greenleaf to a REIT; with benefits. He further pointed out that while REIT's have to issue new shares to fund new property investments, HCI could use the strength of its Insurance business to fund new investment opportunities in its Real Estate division (avoiding shareholder dilution).
ReInsurance - "Claddaugh"
Because of the growing strength of this business and HCI in general, the ReInsurance division has been able to expand its investments made in 2015.
One example given of this added strength was Claddaugh's ability to accept $78M of added Homeowners Choice risk. This new block will pay Claddaugh $26M in what would have traditionally gone to 3rd party ReInsurers. And these premiums will directly add to HCI's profit from operations in the second half of 2015 (provided no major 'wind' storm damage claims are received from policy holders).
Mergers and Acquisitions
While no specific deal(s) were mentioned, CEO Paresh Patel reaffirmed that HCI has an ongoing interest and process in place to examine potential M&A deals. And provided that a deal comes along that makes strategic and financial sense, this could certainly become another significant growth option for HCI.
Updated Valuation Results
Due to the uncertainty of a 'major storm' impact and any inflationary impact on HCI's future results, this analyst employed a "Probabilistic Decision Tree" model that encompasses the sensitivities for these multiple outcome possibilities in determining a value for HCI's common stock.
Next this analyst utilized the results of a study by Stern University (NYU) - conducted in January 2015 - to provide an industry P/BV multiple for the model. The Stern University study lists a P/BV multiple for the Insurance (P&C) industry sector of 1.30x. This number was used for calculating the low end of HCI's intrinsic price range. The rationale for this is based on the fact that HCI's average P/BV multiple since 2010 (5.5 years) is 1.98x.
Lastly, an off-set adjustment was made to this analyst's projected year end BV due the increased ReInsurance program (risk protection) costs accepted by the firm for the current 2015 hurricane season.
The resultant 'price' this model suggests an investor should immediately be willing to pay for a share of HCI common stock is $54.95. This represents a Margin of Safety of 33.9% against HCI's closing price of $41.04 on Friday, August 7th.
Another rationale that supports an even higher near-term valuation for HCI common stock is the fact that HCI's Operating Margin is 44% versus the Yahoo! Finance's reported P&C Insurance industry group average operating margin of 12%.
Looking at the data from 2012 (a 3.5 year period) . HCI's internal P/BV multiple has averaged 2.46x. The intrinsic stock price resulting from using this multiple is $57.43. This represents a Margin of Safety of 39.9%.

Other Key Historical Metrics
Below is a chart of HCI's Book Value (BV) growth trend. A trend that has been in place since 2008.
NOTE: Between 2010 and 2014, BV has been growing at a CAGR of approximately 32.5% !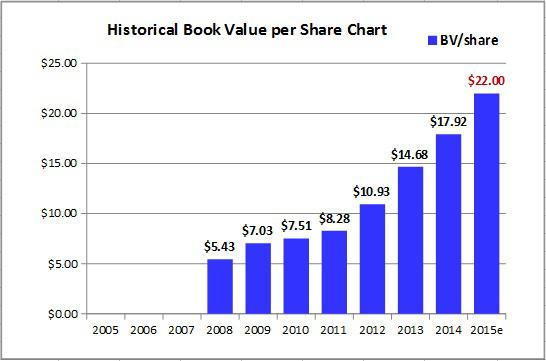 Growth in Revenue, Operating Cash Flow and Net Income has been in place since 2007.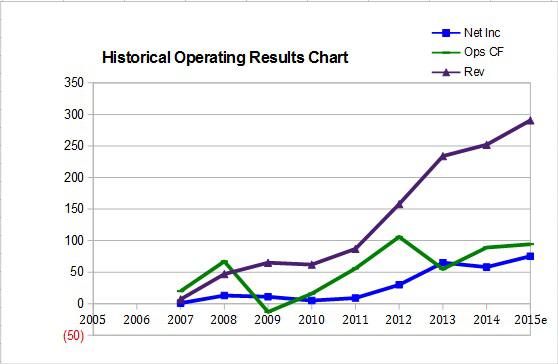 HCI's common stock price has been experiencing some short-term overhead resistance at the $54 share price level since 2012. And presently the stock is selling near the bottom of its 2015 YTD trading range.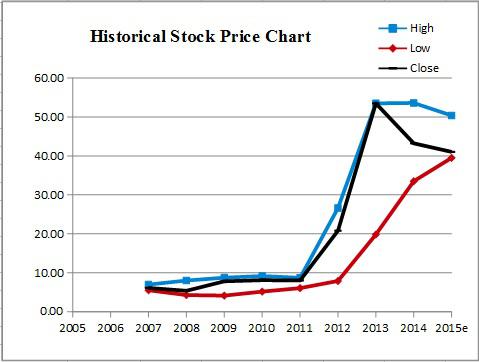 (Data consolidated from the following sources: morningstar.com, 4-traders.com, and Finance.Yahoo.com)
Summary
What the Short Sellers have been purposely avoiding any discussion of is the basic predication made by CEO Paresh Patel during the August 4th Q2 earnings conference call; namely:
"(HCI) always has a lever we can pull in one division or the other (to create growth). And we are quite happy to do it as long as we collectively deliver the results our shareholders expect form us."
This analyst has attempted to provide more color (above) on the 'levers' available to HCI management to continue facilitating fresh growth.
Readers should note that if HCI were just to complete one significant, accretive M&A investment event over the next 6-12 months, the Short's 'no future growth' story blows up in their face. This is why this analyst has bluntly stated that the real desired, expectation of short sellers is for a major storm to make landfall in Florida in the second half of 2015. When contemplated long enough, it is clear that this is their only viable option for making money on their gambit.
Another issue this analyst would point out to readers regarding the hollow short seller stories, is that you will observe that they seldom provide readers with any 'valuation' models or hard data evidence to support their dire assertions.
The fact is that for the remainder of 2015, HCI is essentially on Cruise Control for achieving a banner year. This outcome was locked into place when the firm made its Wind-Only policy acquisitions in Q4 2014 and again in Q1 2015 from the Citizen's Take-Out program. The ONLY event that can derail this eventuality, is a major hurricane storm making landfall in Florida and causing significant losses on the companies insurance policies. And even the odds of this are muted further by the fact that NOAA has forecasted a below normal Atlantic storm season for 2015.
Conclusion: HCI is currently selling at a healthy margin of safety, and may present a wonderful, long-term investment for the patient value investor.
Full Disclosure: At the time of this article (August 8, 2015) I am long or control long positions in the following securities mentioned in this article: HCI common stock. Our holdings in HCI may change at any time.
Nothing in this article should ever be considered to be advice, research or an invitation to buy or sell any securities, it is for informational purposes only. Be sure to do your own due diligence before you plan to purchase any security discussed in this article. Please see our Terms & Conditions page for a full disclaimer.
Disclosure: I am/we are long HCI.
I wrote this article myself, and it expresses my own opinions. I am not receiving compensation for it (other than from Seeking Alpha). I have no business relationship with any company whose stock is mentioned in this article.