Let's dive right into a detailed set of data on sales and earnings growth, profit margins, valuation, volatility, and relative total return performance of the sectors of the S&P 500. P/E Ratios and Operating Earnings of The S&P 500 index and several of its 10 S&P sectors are projected by Standard & Poor's to have the lowest P/E ratios in 2012 since 2008.
Those sectors are healthcare, consumer discretionary and information technology, as shown in Figure 1. All of the sectors, except for materials and financials, are expected to have P/E ratios in 2012 lower than in 2011 -- although energy is expected to have a P/E in 2012 almost equal to 2011.
click images to enlarge
Figure 1 also shows historical and projected operating earnings per share. The S&P 500 and all sectors, except for utilities, are expected to have higher operating earnings in 2012 than in 2011.
Sales and Sales Growth
The sales growth projections are less optimistic. Figure 2, shows the quarterly sales per share of the S&P 500 index and its 10 sectors for 6 quarters through 2011 Q4. Financials are projected to have the lowest quarterly sales per share relative to its prior periods. Utilities, energy and materials are expected to decline versus 2011 Q3, but only financials are expected to have lower sales per share than Q4 of 2010.
Figure 2: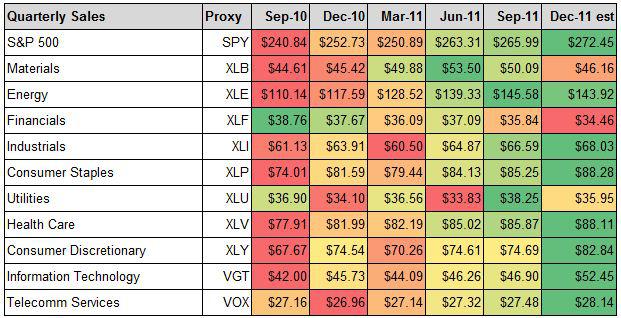 Changing Operating Earnings Expectations
The estimates for 20011 Q4 operating earnings were declining since mid-April, which contributed to the Q4 stock market decline (aided no doubt by the European sovereign debt situation). However, since mid-January, the estimates have turn up (due possibly to debt crisis fatigue, or due to various promising statistics coming out about the U.S. economy; but not due to the expressions of concern about the economy by the Fed).
Figure 3 shows the changes in operating earnings estimates from Standard and Poor's.
Profit Margins
Some analysts have been concerned that profit margins have reached highs that cannot be sustained, and that a mean reversion is probable.
Declining margins would likely cause a contraction in P/E multiples, unless, of course, sales growth overcame the negative effect of falling margins.
Figure 4 presents the operating margins for 6 quarters through 2011 Q4.
The largest margin drops from Q4 in 2010 to Q4 2011 are in telecomm services and materials (2.10 points and 1.50 points respectively). The largest margin increase is in financials (2.19 points).
Looking at 2011 Q3 versus 2010 Q3, the greatest margin decrease was in utilities (4.08 points) and second in telecomm services (2.81 points). The greatest margin increases Q3 to Q3 were in information technology (1.86 points) and financials (1.17 points).
Figure 4: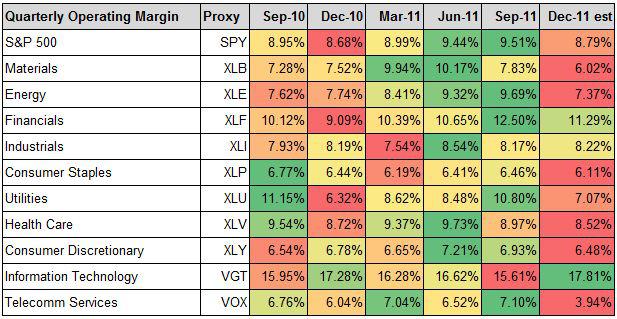 Valuation Mean Reversion
Mean reversion is a powerful force. As the economy moves through phases of its economic cycle, the P/E ratio of the various indexes are likely to reach at least their median levels. Figure 5 shows the minimum P/E and the median P/E for the S&P 500 and its sectors from 1995 through 2011; and also the estimated and projected P/E ratios based on recent index prices and expected future operating earnings. Then the table calculates the percent change in price level that would be required for the indexes to reach the median and minimum P/E ratios, assuming no change in the earnings expectations.
Utilities is the only sector that would go down to reach either the minimum or median P/E.
Figure 5: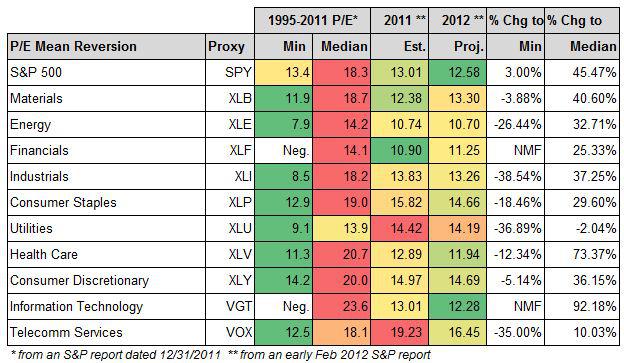 Volatility and Return for Risk Taken Volatility and return for volatility risk taken is a critical dimension.
Some investors must sell assets to generate cash for living or other purposes. That makes volatility increase the risk of ruin by outliving assets.
Some, perhaps most, investors are driven by emotions that cause them to bail too late from stocks that have significant drawdowns, and to re-enter too late when they rebound.
These investor attributes make understanding of volatility and suitability for individual accounts quite important.
Figure 6 presents the 3-yr, 5-yr, and 10-yr standard deviation for the S&P and each sector, along with the Sharpe Ratio for each.
Sharpe ratio can be thought of as the ratio of the amount of total return in excess of a near credit risk free asset such as 3-month Treasuries to the degree of volatility (standard deviation) of the investment.
Figure 6: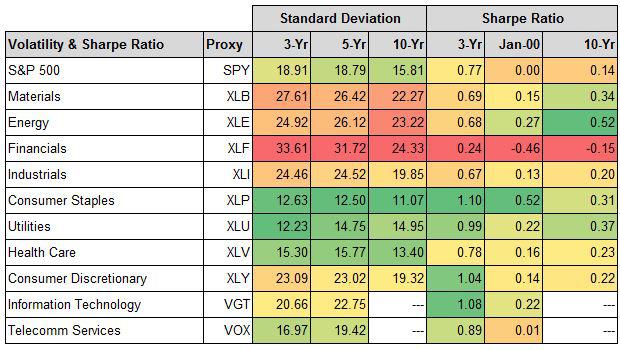 Beta, PEG and Yield
Four sectors have a lower Beta than the S&P 500. They are consumer staples, utilities, healthcare, and telecomm. Energy, consumer cyclicals and info tech each have a Beta close to 1.00.
The PEG ratio for the S&P 500, based on 1 year forward, is about 1.4. The sectors with a lower PEG on that basis are: industrials, healthcare, info tech and telecomm.
The highest yields are generated by utilities, telecomm and consumer staples.These data are shown in Figure 7.
Figure 7: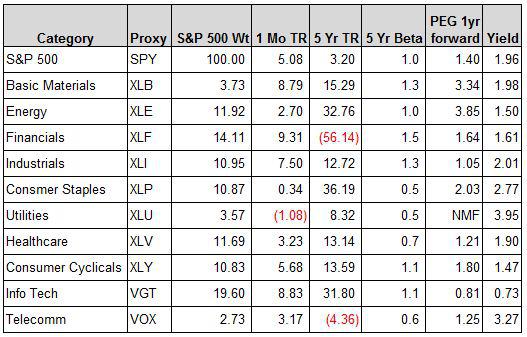 Those looking for more granular Beta information on subsectors, Figure 8 lists those subsectors with a Beat above 2 and below 0.5.
Figure 8: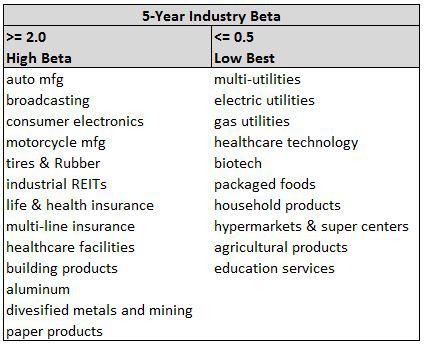 Analyst Recommendations
Analyst opinions about ETFs are still rather scant and a little bit hard to rely on extensively, but here are a few from S&P, Morningstar and Schwab that may be interesting or helpful (in Figure 9).
Figure 9: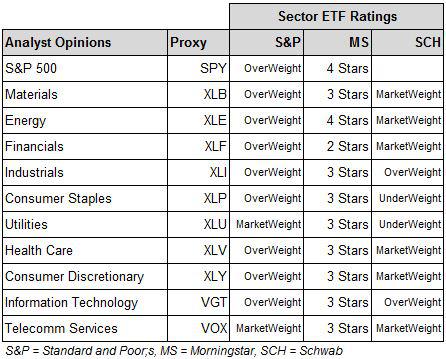 Sector Price Performance Charts
The following charts plot the ratio of the price of the 9 S&P sector ETFs to the price of the S&P 500 ETF, expressed as a percentage from a beginning in 1999.
The difference between the 10 sectors above and the 9 sectors here is that info tech and telecomm are combined into XLK.
The charts are listed in order of their performance relative to the S&P 500 over the more than decade long period. The performances relative to the S&P 500 over the full period are:
Energy 192.15%
Materials 61.45%
Industrials 34.24%
Cyclicals 30.04%
Utilities 22.19%
Healthcare 14.90%
Staples 12.21%
Tech & Telecomm -30.96%
Financials -44.42%
Cyclicals are the clear leaders in the charts at this time, and financials and tech + telecomm have the most potential to benefit by mean reversion.
Bear Market Performance
All sectors go down in a bear market, but some do better then others. The three sectors that declined least on average since World War II are: consumer staples, utilities, and telecomm. The three sectors that declines the most in bear markets since World War II are: consumer cyclicals, industrials, and materials.
ETFs Mentioned: SPY, XLB, XLE, XLF, XLI, XLK, XLP, XLU, XLV, XLY,
VGT, VOX-OLD
Disclosure: QVM has long positions in XLB, XLI, XLV, XLY and XLU in some managed accounts as of the creation date of this article (February 5, 2012).
Disclaimer: This article provides opinions and information, but does not contain recommendations or personal investment advice to any specific person for any particular purpose. Do your own research or obtain suitable personal advice. You are responsible for your own investment decisions. This article is presented subject to our full disclaimer found on the QVM site available here.