Top Ten For The Money
This article refines and distinguishes an earlier report that revealed Dow Industrial 30 bargain stocks to buy and hold for one year. See Dow 30 article for explanation of the term "dogs" for stocks reported based on Michael B. O'Higgins' book "Beating The Dow" (HarperCollins, 1991), now named Dogs of the Dow. O'Higgins' system works to find bargains in any collection of dividend-paying stocks. Utilizing analyst price upside estimates expanded the stock universe to include popular growth equities, if desired.
Dog Metrics Extracted Bargains
Yield (dividend/price) results from indexArb for 30 Dow industrial stocks as of market closing prices August 6 did the ranking. indexArb describes its dividend estimating process thus:
"The 'Estimated Dividend' for each stock below is our best estimate of the per share amount that will be paid during the next year, beginning on June-11-2015. Most companies pay dividends on a quarterly frequency; some pay annually or semi-annually. The amount, timing, and growth of each dividend is forecasted from several years of dividend history, provided, of course, that the company has an established track record. Otherwise, the most recent (perceived) dividend policy is extended."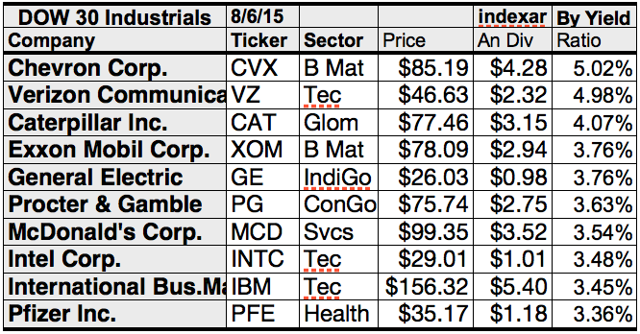 Top ten Dow dogs by yield from indexArb.com for July/August included seven of nine business sectors: basic materials; technology; conglomerates; industrial goods; services; healthcare; and consumer goods. (Financials were excluded and Dow rated utilities in a separate index.) The indexArb chart included Pfizer (NYSE:PFE) in the top ten.
Actionable Conclusions: (1) Analysts Augur 5 Lowest Priced Of Ten Highest-Yield Dow Dogs Deliver 14.54% Vs. (2) 12.69% Net Gains For All Ten Come August 6, 2016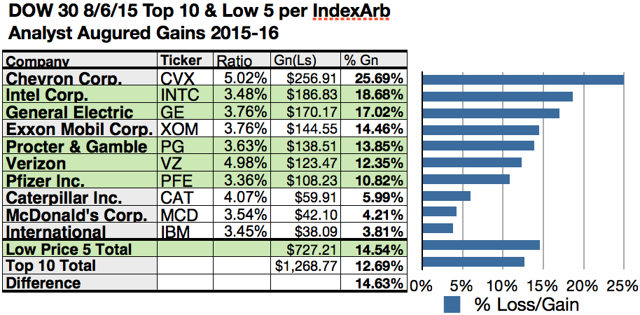 $5,000 invested as $1k in each of the five lowest-priced stocks in the top ten Dow dividend kennel by yield were predicted by analyst 1-year targets to deliver 14.84% more net gain than the same amount invested in all ten which included PFE. This month the third highest priced top ten Dow dividend dog, Chevron Corp. (NYSE:CVX), was projected to deliver the best net gain of 25.69%.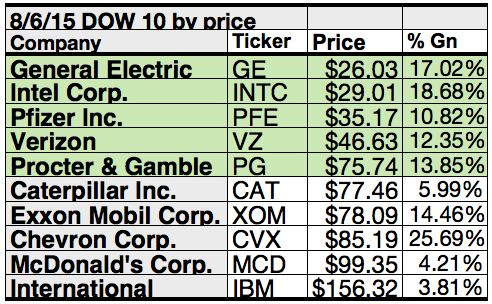 Lowest-priced five Dow dividend dogs for August 6 were: General Electric (NYSE:GE); Intel Corp. (NASDAQ:INTC); Pfizer; Verizon Communications (NYSE:VZ); and Procter & Gamble (NYSE:PG), with prices ranging from $26.03 to $75.74.
Higher-priced five Dow dividend dogs for August 6 were: Caterpillar (NYSE:CAT); Exxon Mobil (NYSE:XOM); Chevron; McDonald's Corp. (NYSE:MCD); and International Business Machines (NYSE:IBM), whose prices ranged from $77.46 to $156.32.
This distinction between five low-priced dividend dogs and the general field of ten reflects the "basic method" Michael B. O'Higgins employed for beating the Dow. The added scale of projected gains based on analyst targets contributed a unique element of "market sentiment" gauging upside potential. It provided a here and now equivalent of waiting a year to find out what might happen in the market. It's also the work analysts got paid big bucks to do. A caution is advised, however, as analysts are historically 20% to 80% accurate on the direction of change and about 0% to 20% accurate on the degree of the change.
The stocks listed above were suggested only as reference points for a Dow Industrial equities dog dividend stock investment research process in August, 2015. These were not recommendations.
Gains/declines as reported do not factor in any tax problems resulting from dividend, profit, or return of capital distributions. Consult your tax advisor regarding the source and consequences of "dividends" from any investment.
Disclaimer: This article is for informational and educational purposes only and should not be construed to constitute investment advice. Nothing contained herein shall constitute a solicitation, recommendation or endorsement to buy or sell any security. Prices and returns on equities in this article except as noted are listed without consideration of fees, commissions, taxes, penalties, or interest payable due to purchasing, holding, or selling same.
Graphs and charts were compiled by Rydlun & Co., LLC from data derived from www.indexarb.com; analyst mean target prices by Thomson/First Call in Yahoo Finance.
Disclosure: I am/we are long GE, INTC, PFE, VZ.
I wrote this article myself, and it expresses my own opinions. I am not receiving compensation for it (other than from Seeking Alpha). I have no business relationship with any company whose stock is mentioned in this article.