Abstract:
Growth investors have performed exceptionally well over the past several years as a combination of low interest rates, an improving domestic economy, and multiple expansion led by increasing investor confidence has provided the ideal background for growth stocks. Value investors, however, have been left wondering why their portfolios of quality companies with stable outlooks and impeccable balance sheets have gone largely unnoticed - especially over the past 12 months. The exuberant search for growth has lead to polar extremes, with exciting, high-growth companies being rewarded with bubbly valuations, and predictable, cash-flow generative businesses given discounted multiple-based valuations relative to the market averages. The party bus filled with growth investors drunk on hype and possibility is about to be overtaken, however, because value stocks are on the cusp of shifting into top gear, and they've got a full tank of gas and numerous tailwinds.
Value Versus Growth During the First Half of This Decade:
The following is a chart of the performance of the iShares S&P 500 Value Index ETF (NYSEARCA:IVE) versus that of the iShares S&P 500 Growth Index ETF (NYSEARCA:IVW) since mid-2010.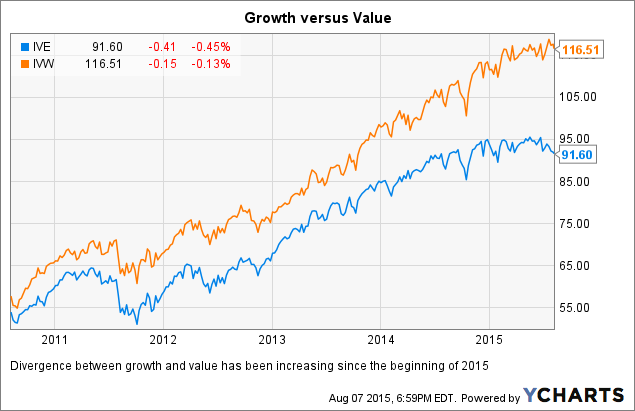 As can be clearly seen, growth has greatly outperformed value over this time period. More importantly, however, the divergence between the two has been increasing over the past year. Take a look at the following chart showing the percentage increase in value versus growth over the past 12 months.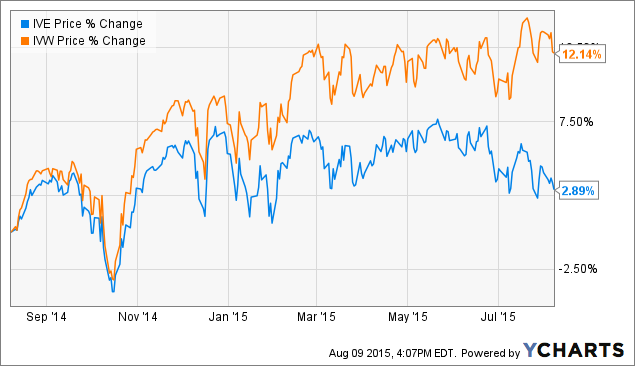 Growth stocks have more than quadrupled the performance of value stocks during the past year, returning 12.14% versus 2.89% respectively. This underperformance of value I expect will change dramatically over the next five years.
Value Has Been Shown to Outperform Growth over Longer Periods of Time:
There have been a number of often-cited studies attesting to the well-defined outperformance of value versus growth holdings during longer investment periods. Some of the most definitive studies are as follows: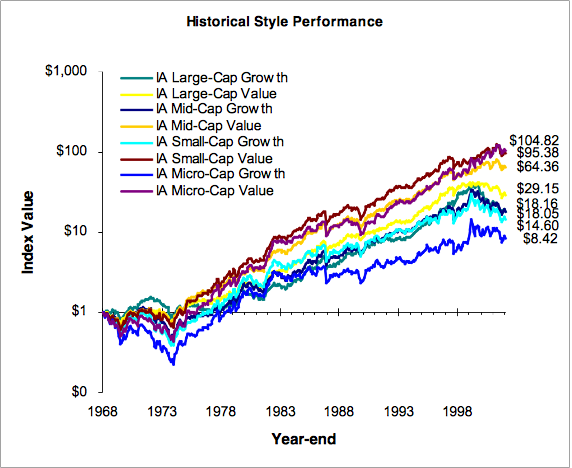 (Source: The Ibbotson Study)
Value stocks tend to have higher returns than growth stocks in markets around the world. Sorting on book-to-market equity, value stocks outperform growth stocks in 12 of 13 major markets...
(Source: The Farma and French Study)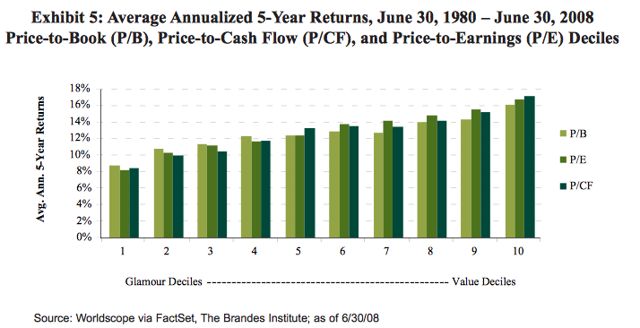 (Source: The Brandes Institute Study)
I encourage you all to examine these studies for yourselves, but their conclusions are all quite similar: Value stocks have a well-proven history of outperforming growth stocks in the long run.
Fearful Investors Anticipating a Correction Will Flee Expensive Growth Stocks:
The very definition of growth stocks is that they are valued based on their future potential earnings. Accordingly, they receive higher price-to-earnings and price-to-sales multiples than the overall market in anticipation of their ability to grow sales and earnings at a higher rate than the overall market. However, in the event of a market-wide selloff, these seemingly expensive stocks have further to fall as multiples compress and growth expectations get slashed. Value stocks are certainly not immune to multiple compression and shrinking growth expectations, but as the majority of their value is derived from current assets and cash-flow streams, value companies have well-supported legs to stand on when the tide goes out. As the market falls and rational thought eventually overcomes emotion, investors realize that they sleep better at night knowing that their investments have tangible assets supporting them.
One of the most well-defined examples of this occurrence was the aftermath of the U.S. Dot-Com Bubble. Take a look at the following chart comparing the slide of value stocks versus that of growth stocks from June of 2000 through January of 2003.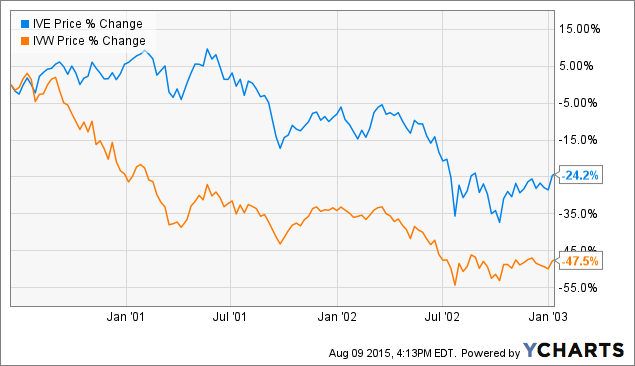 During this time period, both value and growth stocks sold off. The difference between the two, however, was over 20%, with the iShares S&P 500 Value Index ETF falling 24.2% and the iShares S&P 500 Growth Index ETF falling 47.5%.
During the subsequent recovery from 2003-2007, the disparity was even more pronounced, with value increasing by 90.14% and growth increasing by only 53.02%.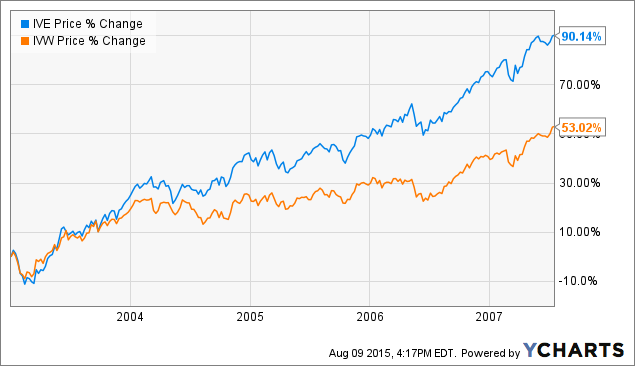 IVE data by YCharts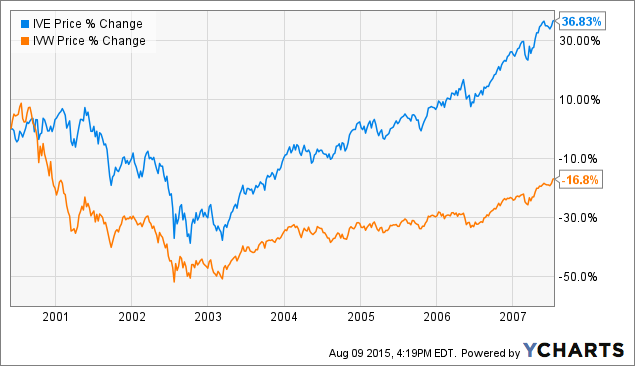 IVE data by YCharts
Growth Significantly Underperforms Value in Rising-Rate Environments:
Today, the U.S. 10-Year Treasury yields just over 2% and interest rates are at the lowest level they have ever been.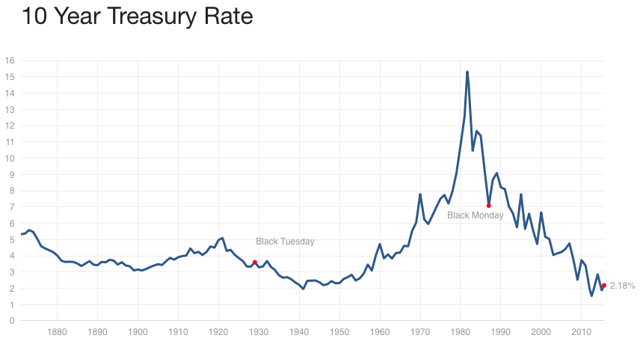 (Source: Multpl.com)
With a Fed Funds Rate raise seemingly imminent, as 76 percent of economists now predict a rise in September (Source: Bloomberg), most investors are anticipating the next few years will see rates rebound from their all time lows. This is likely a headwind for growth investors.
In its January 29th, 2014 report, Credit Suisse's Global Financial Strategies department laid out the basic steps for valuing businesses. According to the report,

where:

and:

(Source: Credit Suisse)
The steady-state value and future value creation distinction is integral to differentiating value stocks from growth stocks. According to Analyst Jim Fink of Jim Fink's Options for Income,
By definition, most of the value of a growth company comes from its future earnings, not from its current asset value. Consequently, a company's value is significantly impacted by changes in the interest rate used to discount future earnings. The higher the time value of money, the more future earnings are discounted and the lower their net present value.
(Source: Jim Fink's Options for Income)
As the cost of capital increases with interest rates, both future value creation and steady-state value decline. However, they decline at different rates.
To examine the impact of a rising-rate environment on both value and growth companies, let's consider two hypothetical business. The first is a Value Company, where 100% of the value of the firm is derived from its Steady-State Value (SSV). The second is a Growth Company, where 100% of the value of the firm is derived from its Future Value Creation (NASDAQ:FVC). I will start by valuing each company using their current respective Weighted Average Costs of Capital (WACC). I will then double those WACC figures to clearly show how rising rates impact firm valuations individually for both value and growth companies.

The Value Company:
The largest holding in the iShares S&P 500 Value Index ETF is the Exxon Mobil Corporation (NYSE:XOM). Exxon Mobil has a WACC of roughly 5% (Source). Since this is a WACC that is appropriately representative of value companies, our Value Company will have a current WACC of 5%. Our Value Company will also have $1.00 per share of Net Operating Profit After Taxes (NOPAT) and $80.00 per share in cash. The valuation of the Value Company is as follows: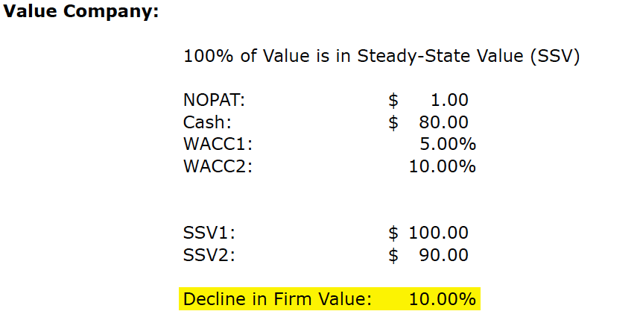 (Source: The Prosperity Active Yield Fund)
As the WACC of the Value Company doubled, the value of the firm declined by 10%. Now let's see what happens as the WACC of the Growth Company doubles.
The Growth Company:
One of the largest holdings in the iShares S&P 500 Growth Index ETF is Facebook (NASDAQ:FB). Facebook has a WACC of around 10% (Source), and is an excellent example of a growth stock. Accordingly, our Growth Company will have a WACC of 10%. It will also have an investment (I) of $2.00 per share, a return on incremental invested capital (ROIIC) of 60%, and a competitive advantage period (T) of 11 years. These figures are representative of a traditional growth stock. The valuation of the Growth Company is as follows: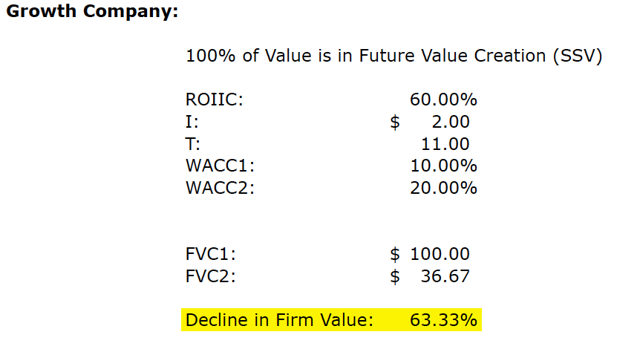 As the WACC of the Growth Company doubled, the value of the firm declined by more than 63%. In this example, the Value Company, therefore, held up significantly better under the rising-rate environment than did the Growth Company.
Looking back to the 2003-2007 Dot-Com Bubble Recovery period in which value outperformed growth, it is important to note that the U.S. 10-Year Treasury Rate rose by 106 basis points from 4.05% in January of 2003 to 5.11% in June of 2007.
Takeaway:
Growth stocks have been undeniably successful investments over the past five years, and for good reason. However, for the second half of the decade, history suggests (and I anticipate) value is about to make a comeback in a very big way. This viewpoint is not only supported by the well-documented historical outperformance of value versus growth, but also by the eventual shift away from expensive, risky assets by fearful investors anticipating a correction, as well as the ability of value stocks to withstand rising-rate environments significantly better than growth stocks. The market is - at times - irrational, but equity valuations ultimately follow earnings, and the earnings of value companies thus far this decade have been incredibly robust.
When financial pundits talk about bubble-esque valuations present in today's market, I would argue that they are referring to the sky-high valuations of growth companies like Netflix (NASDAQ:NFLX), Shake Shack (NYSE:SHAK), Amazon (NASDAQ:AMZN), LinkedIn (LNKD), Workday (NYSE:WDAY), and Tesla (NASDAQ:TSLA), whose respective forward price-to-earnings multiples are 406, 445, 106, 55, 2291, and 86. (Note: To reiterate, these are based upon forward rose-colored estimates) After all, who could possibly argue that quality companies like Apple (NASDAQ:AAPL), Microsoft (NASDAQ:MSFT), American Airlines (NASDAQ:AAL), United Airlines (NYSE:UAL), General Motors (NYSE:GM), Ford (NYSE:F), Micron (NASDAQ:MU), and Gilead Sciences (NASDAQ:GILD), all of whom trade at less than 15 times next year's earnings, are trading at bubble-level valuations?
Expect to see a significant outperformance of value over growth through 2020. Which stocks would you rather be invested in if the whole market falls off?
-Adam Janes, The Prosperity Active Yield Fund.
Disclosure: I am/we are long AAPL, F, AAL.
I wrote this article myself, and it expresses my own opinions. I am not receiving compensation for it (other than from Seeking Alpha). I have no business relationship with any company whose stock is mentioned in this article.