WTI crude oil prices are once again down to around $45 per barrel, near six-year lows and more than 53 percent below last year's level at this time. The timing, the pace and the magnitude of an eventual recovery in oil prices has been a hot topic of debate among investors in recent months.
Is a recovery coming?
Although I'm sure there are people out there who genuinely believe that oil prices will never again eclipse $60 per barrel, the majority of analysts and investors seem to agree that some form of crude oil price recovery will happen at some point. I am certainly one of these people.
The oil market, much like the stock market, the housing market or the gold market, is dictated on a very basic level by supply and demand. Oil prices collapsed because supply (particularly U.S. shale production) exploded and global demand growth softened. To make matters worse, OPEC has refused to scale back production for fear of losing market share to U.S. producers.
Not the first go-round
This is not the first time oil prices have collapsed, and I'm sure it won't be the last. Perhaps it's because the rest of the economy is going so well this time that everyone seems to forget that WTI prices were as low as $33.55/bbl during the Financial Crisis in 2009. Prior to that, WTI had peaked at $147/bbl in 2008.
In the 1980's oil prices peaked at over $35/bbl. In 1986, the price of oil fell from $27 to $10 (62.9 percent) because of a supply glut created by a combination of slowing oil demand and a boom in non-OPEC countries.
Sound familiar?
In addition to these three examples of 50% or more drops in the price of oil, historical oil prices are filled with wild swings due to short-term imbalances in the oil market.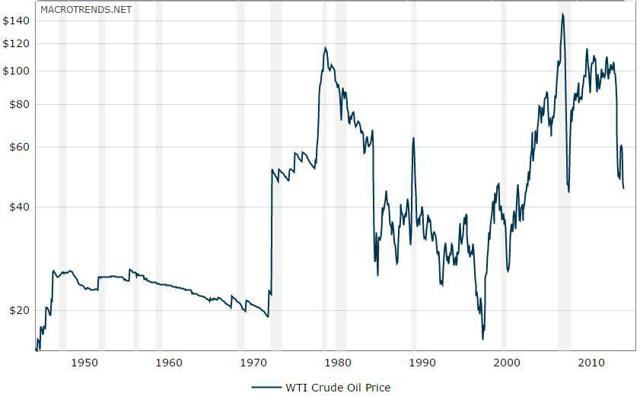 In 2011, WTI fell from $114 to $76 (-33%) before recovering to $110 in 2012 (+44.7%).
In 2006, prior to the Financial Crisis, WTI dipped from $79 to $50 (-36.7%) before peaking at $148 in 2008 (+196%).
In the late 1990's, WTI fell from $26/bbl in early 1997 to $10/bbl (- 61.5%) in late 1998. By mid-2000, it was once again up to near $37/bbl (+370%).
The oil ETF mistake
Anyone that can accurately predict the future price of oil would have been a billionaire a long time ago, but assuming that this downward cycle is nothing special in the long-term history of oil prices, the question becomes this one: "how do I profit off of the recovery in oil prices?"
Outside of buying and storing hundreds of actual barrels of oil in your backyard (good luck with that), there is a frustrating lack of ways to directly trade the price of oil. The closest instrument that exists in the market today are oil ETFs, such as The United States Oil ETF, LP (NYSEARCA:USO) and The United States 12 Month Oil ETF, LP (NYSEARCA:USL).
The returns of these oil ETFs are very closely tied to the price of oil because the ETFs invest in oil futures contracts and then periodically "roll over" their contracts to new ones that expire at a later date.
Take a look at how closely these two oil ETFs have mirrored the price of WTI during the past month.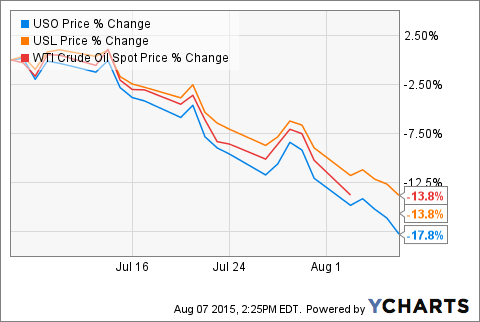 The contango problem
Unfortunately, this roll-over process creates an issue with contango. Since oil futures contracts typically get more expensive the further their expiration date is in the future, oil ETFs lose the difference in value between the contracts they sell and the ones they buy each time they roll-over their contracts. As you can see in the one-month chart, in the short term, contango makes very little difference in performance, and, in certain instances of backwardation, the ETFs can actually outperform the spot price in the short-term.
However, many investors do not understand how much the compounding effects of contango can weigh on returns over a long-term, multi-year recovery in oil prices.
From March 15, 2009 to April 15, 2011, WTI gained an incredible 130.7 percent. While USO and USL investors also did well during that time, it's staggering how much the two ETFs lagged during that period due to contango, with USL missing more than 42 percent of the gains, and USO missing nearly 60 percent of the gains!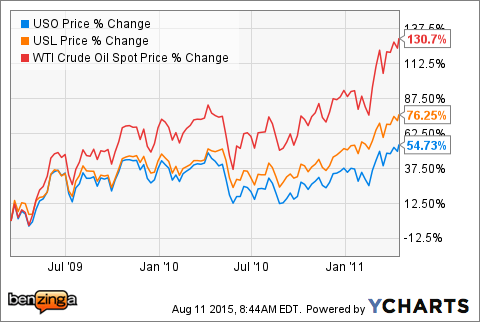 Even John Hyland, the chief investment officer of USO has said that the fund is a "tactical trading vehicle predominantly used by professional traders" and was never intended to be a long-term investment.
In fact, incredibly, while WTI prices had climbed more than 50 percent in the five years prior to last year's peak price, USO was essentially flat during that time, providing an overall 5-year return of 0.4 per cent. And that was before the price collapse even began!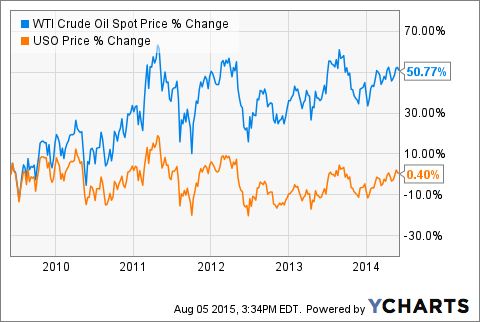 Getting served
Since it appears more and more likely by the day that a quick V-shaped recovery is not in the cards for oil this cycle, what better alternatives are there for playing an eventual recovery in oil prices?
One potential alternative is oilfield services companies. Oilfield services companies such as Schlumberger Ltd (NYSE: SLB) and Halliburton Co (NYSE: HAL) have been hit hard by the recent oil collapse, though they have both managed to stay profitable throughout the worst of the downturn.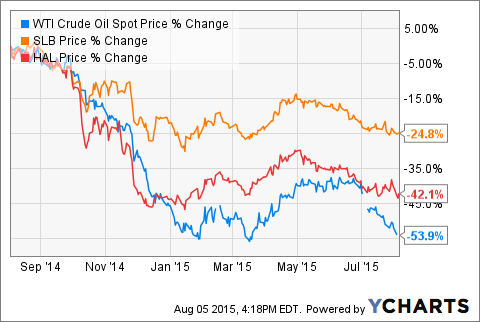 What do oil services companies do? Oilfield services companies help set up and operate oil and gas rigs, repair and maintain equipment, develop extraction technology and techniques (such as horizontal drilling and hydraulic fracking), perform seismic testing and geological mapping, provide software, consulting and IT infrastructure for their clients, and perform a number of other services required to get the black stuff out of the ground.
Although these companies do not own or sell oil in any major way, their business is closely tied to oil prices. When oil prices drop, rig counts drop and these services are not in high demand, which means that prices and margins for oilfield services companies fall.
But when oil prices are on the rise and rigs begin pumping again, these companies shine.
While USO and USL lagged WTI throughout its recovery from 2009 lows, look at how HAL and SLB performed.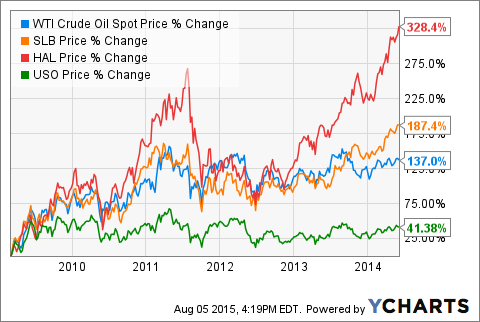 During the four years following the July, 1986 bottom in WTI prices, both SLB and HAL also outpaced the 37.6 percent gain in oil prices.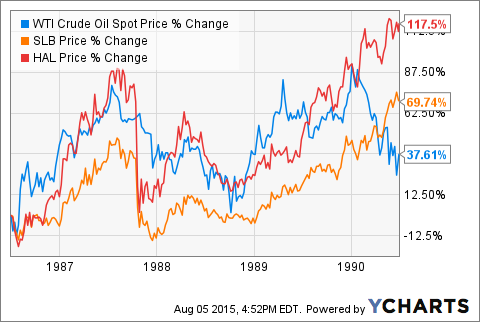 The numbers
One final point about a long-term investment in oil services companies: the Energy Information Administration estimates that the oil industry will need to find 23 million barrels per day of new oil reserves by 2020 to meet growing global demand and the depletion of current reserves.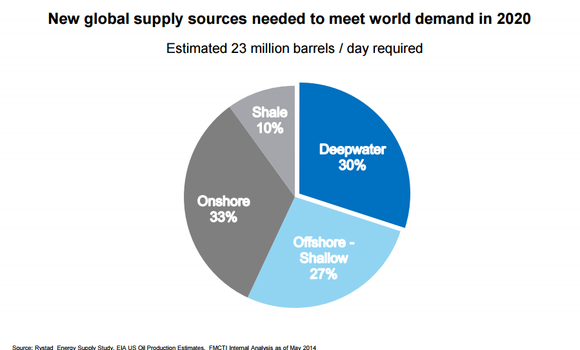 As time goes on, more and more of this oil must come from non-traditional extraction techniques (not simply drilling vertical wells on dry land). As a rule of thumb, the more complicated the extraction process, the more services are required.
The business
Despite the down market, both HAL and SLB have been positioning themselves to be in prime position to capitalize on the eventual rebound in the oil market. HAL is in the process of acquiring Baker Hughes, Inc (NYSE: BHI), a deal that the two companies have said would create nearly $2 billion in synergies. Assuming the deal passes antitrust scrutiny, the actual number might be lower than $2 billion depending on how much divestiture the Justice Department requires, but it's clear that HAL is taking an aggressive approach to improve its operations during the downturn.
HAL's earnings have taken a hit in the short-term, but Citi is forecasting EPS of $4.90 for HAL by 2018. The company's 10-year average P/E ratio is 14.1, which implies a price target of more than $69 if the company is able to achieve this earnings level.
Likewise, SLB has been focused on improving margins during the downturn in hopes of increasing earnings power when the oil environment improves. Despite the oil collapse, SLB's operating margins remain on the high side of their five-year range.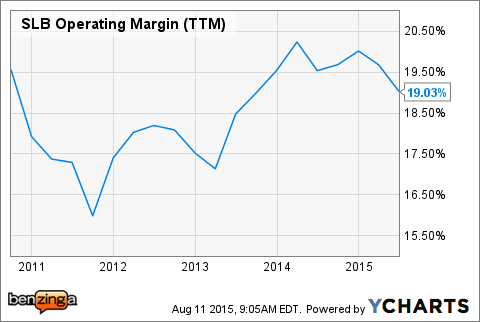 Wells Fargo analyst Judson Bailey recently upgraded SLB to Outperform and sees nearly 25 percent upside to the stock from current levels.
SLB's 10-year average P/E ratio is 18.2, and consensus 2017 EPS estimates are currently $4.93 after four recent upward revisions. These estimates imply modest near-term upside for SLB, but if the company continues to focus on improving margins, the upward earnings revisions could keep pouring in.
Takeaway
If you're like me and have a long-term positive outlook for the U.S. oil industry, it may be time to ditch the oil ETFs and start thinking ahead. Taking a look at some big-name oil services stocks, such as HAL and SLB, may be a good starting point.
Disclosure: I am/we are long HAL, SLB.
I wrote this article myself, and it expresses my own opinions. I am not receiving compensation for it (other than from Seeking Alpha). I have no business relationship with any company whose stock is mentioned in this article.