Today's news that China's Central Bank allowed for a 2% devaluation of the yuan against the USD could be taken to mean what it usually does. That Chinese stocks would suffer at least 2% straight pressure from seeing their values in USD being worth 2% less instantly.
However, due to the way Chinese stocks trade abroad, this isn't necessarily true, hence this article. Let me explain: If an ADR you see quoted in the NYSE was the counterpart to a Chinese equity trading in Shanghai, then the 2% translation ought to work "as advertised." However, for the most part, this isn't so. Instead, what you see quoted in the NYSE are stocks and ETFs which reflect their Hong Kong counterparts.
For instance, the iShares China Large-Cap ETF (NYSEARCA:FXI) is composed of large-capitalization equities which trade in the Hong Kong stock exchange. China Mobile's (NYSE:CHL) underlying stock trades in Hong Kong. The same goes for PetroChina's (NYSE:PTR) underlying stock.
However, not every Chinese stock/ETF goes by this rule, and the ones that don't ought to really be punished by 2%. An example would be the Deutsche X-trackers Harvest CSI300 CHN A (NYSEARCA:ASHR). This is so because ASHR really does track Chinese shares quoted in China/Chinese Yuan.
Why The Difference?
Well, the difference is that China has a currency, the Yuan, which was allowed to depreciate 2% against the USD. But Hong Kong has another currency (the Hong Kong Dollar) which remains pegged to the USD within the same band. HKD was pressured during the day, but as can be seen the band held: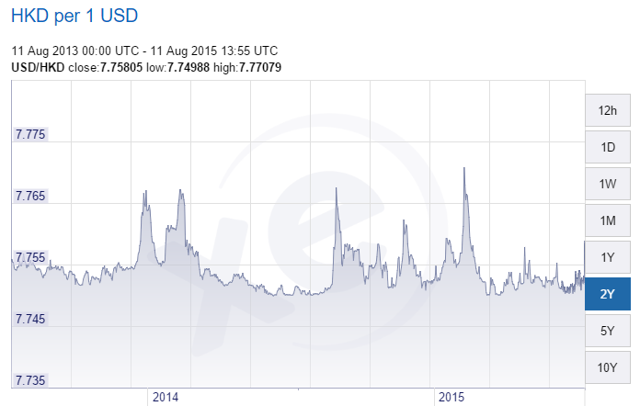 (Source: XE.com)
While it's odd, we're talking about two different currencies. One day the HKD might un-peg, too, and then this logic wouldn't apply. But for now, it does. And the logic will be enforced by arbitrage between Hong Kong-quoted equities and their ADR counterparts.
A Further Consideration
If Chinese-listed equities were already trading "tight" to their Hong Kong counterparts, this logic wouldn't apply either, as there would be arbitrage between the Chinese-listed equities and the Hong Kong-listed equities, negating the different currencies.
But as it happens, the Chinese-listed equities trade at a large premium as can be seen in the Hang Seng China AH Premium Index (check my article titled "Over The Long-Term You Cannot Bet Against China Because The Chinese Are Too Smart" for a further explanation) which is still trading at 137.50, so well above the "neutral" 100.
This means that Chinese-listed stocks losing value (both by falling or by seeing yuan being devalued) does not produce direct, mechanical, arbitrage-led pressure on their Hong Kong counterparts.
Other Matters
While 2% isn't much, it might provide for a small boost to low margin Chinese export businesses like steel, solar cells and other commodities. This would be a net positive for those Chinese exporters and a net negative for their Western competitors.
Conclusion
Again, not all Chinese equities are made the same. A devaluation in the Yuan can have different impacts on Chinese equities, depending on where their underlying is listed (Chinese mainland or Hong Kong).
Disclosure: I/we have no positions in any stocks mentioned, and no plans to initiate any positions within the next 72 hours.
I wrote this article myself, and it expresses my own opinions. I am not receiving compensation for it (other than from Seeking Alpha). I have no business relationship with any company whose stock is mentioned in this article.