The last week has been a good one for equity investors. Great news included the U.S. unemployment report (one of the most widely followed market indicators) which suggested surprisingly strong employment data. While analysts were expecting around 150,000 new jobs, the nonfarm payroll employment rose by 243,000 in January. That was not the only good news. Bureau of Labor Statistic suggested that productivity was up by 0.7%, and wages rose by 1.2% in the last quarter. These catalysts pushed stocks to higher levels. The Dow Jones Index was back to pre-crisis levels. It closed the day 156 points higher, up by 1.23%.
Most stocks ended the week with significant gains. I have identified five stocks that have been on the move with big volume. Four of them ended the week with big gains, whereas one of them was among the biggest losers. Let's see what is driving these stocks and whether they will keep their momentum this week.
Bank of America (NYSE:BAC)
Weekly Return:7.54%

Year-to-date Return:41%
Bank of America was the biggest loser of last year. Its market cap was slashed by more than 60% in 2011. However, the stock made an incredible comeback. After reaching its dip of $5, investors started buying BofA stock like crazy. With a YTD return of 41%, Bank of America is among the top large-cap winners of 2012, so far.
Click to enlarge: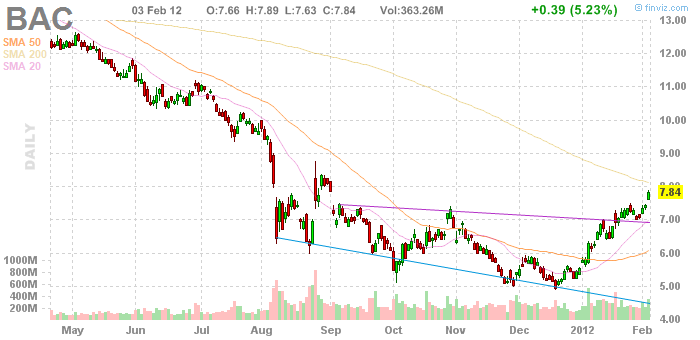 I was bearish on Bank of America as it has the most inflated balance sheet among its peers. However, after the Warren Buffett deal, I changed my stance and suggested that $5 could be the bottom on the stock.
Bank of America still looks like a Pandora's Box. On the one hand, there is a gigantic company that serves millions of households in the U.S. On the other hand, there is not much information regarding the possible liabilities from the complex structure of mortgage-related issues. It is a very risky company to invest in, but is too big to fail. Before the subprime crises, Bank of America was trading as high as $45 per share. Sure, that was an expensive valuation. At the same time, this is important information since it shows Bank of America's potential upside. The company recently announced that it is weighing the sale of its office properties. This is part of Bank of America's plan to save $8 billion in annual expenses. I am not a big fan of financial stocks, and I would not buy a stock in overbought territory. However, Bank of America is still trading well below its 52-week highs. I have rated Bank of America as a buy since November 30, 2011, suggesting that the stock can double in a short period of time. At that time, it was trading around $5. I retain my buy rating with a target price of $10.
Sirius XM (NASDAQ:SIRI)
Weekly Return:5.15%

Year-to-date Return: 21.2%
Sirius XM is among the most speculative stocks in the market. Since its dip of 10 cents at the peak of the financial crisis, the stock has made an incredible recovery, returning more than 2000% in a period of 3 years. Nevertheless, the stock was trading for as high as $7 before the subprime crisis.
Both Sirius Radio and XM Satellite Radio were losing money before the merger. Two years after Sirius's merger with XM, the combined entity was finally able to report some profits. Based on stated income of $274 million, the trailing P/E ratio stands at 50.8. While this is a pretty high number by all standards, Sirius XM is a serious cash flow generator. Therefore, one needs to investigate the company's cash flow statement to determine its fair value.
Click to enlarge:
Morningstar claims that Sirius XM "lacks an economic moat as terrestrial radio is a substitute product available for free". While the traditional FM radio channels offer a free alternative to Sirius XM's paid services, many drivers still prefer paying for subscription services. Thanks to an increasing number of subscribers, Sirius XM reported an operating cash flow of $550 million in the last 12 months. After subtracting the capital expenditure of $170 million, Sirius XM created a net free cash flow of $381 million. The company still has a lot of debt to be paid, but the growing automobile sales is a positive catalyst for the stock. As I stated before, Sirius XM's subscription base is closely correlated to new automobile sales.
From a statistical perspective, the best months to invest in Sirius XM are the first 4 months of the year. February has been the best month of the year, with an average daily performance of 2%. While past performance is no guarantee for future results, I recommend holding on to your SiriusXM shares until May.
Cisco (NASDAQ:CSCO)
Weekly Return:2.71%

Year-to-date Return:11.5%
Cisco, the star of the techno-bubble show, is among the most widely followed technology stocks. Many hopelessly hope that Cisco will reach its peak-bubble valuation of $500 billion. While that might never happen, Cisco offers a good value to its shareholders. Since its dip of $14 in August, it is moving in a strong upward momentum, and returned around 40% in the last 6 months.
Click to enlarge: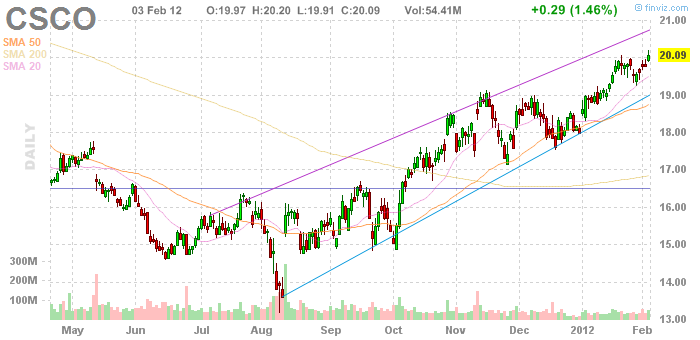 Cisco is sitting on cash and equivalents of $44 billion. Thus, each share comes with a net cash of $8.26 per share. The company does not have any significant debt, as the debt/equity ratio stands at 0.36. While the trailing forward P/E ratio stands at 17.47, the forward P/E ratio is expected to be as low as 10.41. Cisco will report its earnings this week, on February 8th. It will be interesting to see whether it will make an Apple- (NASDAQ:AAPL) like upward move or not. I would not buy Cisco for its paltry yield of 6 cents per share, but its cash hoard look pretty appetizing.
Sprint Nextel (NYSE:S)
Weekly Return:6.91%

Year-to-date Return:-0.85%
Established in 1899, Kansas-headquartered Sprint Nextel is among the oldest telecommunication providers in the U.S. It offers both wireless and wireline voice and data transmission services in the U.S., Puerto Rico and the U.S. Virgin Islands. At the beginning of the century, Sprint was among the top wireless service providers. The company is still the third-largest carrier, offering services to more than 50 million customers. However, investors have lost their confidence in the company, driving down the stock to insanely low prices compared to pre-recession levels.
Click to enlarge: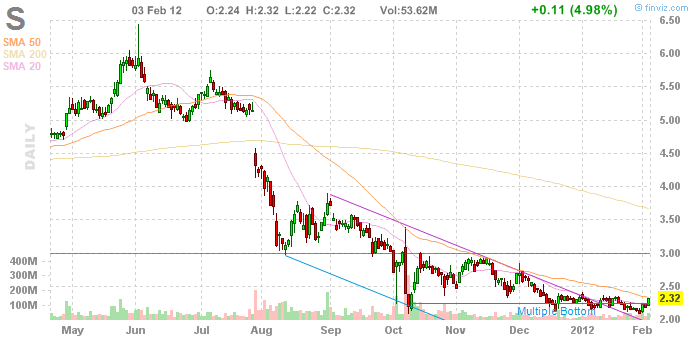 Sprint, which was trading for a price as high as $24, is now trading around $2.32. I think the stock has reached its bottom level and does not have much downside left. Surely, it is a loss-maker which has a lot of debt to paid. However, it generated enough cash to pay $1.8 billion of debt in the last year. After deducting the capital expenditures from the operating cash flow, Sprint Nextel was able to generate a free cash flow of $1 billion. I think bankruptcy is out of question for Sprint. Given its cash-rich competitors, it could be an excellent takeover target at these prices. I rate Sprint as a strong buy, with at least 100% potential. The stock can perform a Bank of America-like movement in an unexpectedly short period.
Mannkind Corporation (NASDAQ:MNKD)
Weekly Return: -33.84%

Year-to-date Return:-13.20%
Mannkind Corporation was among the biggest losers of the last week. The stock closed the week of with a loss of -33.84%. Founded in 1991, the Valencia, California-headquartered Mannkind is a biopharmaceutical company that is involved in the development and commercialization of therapeutic products for diabetes and cancer.
Click to enlarge: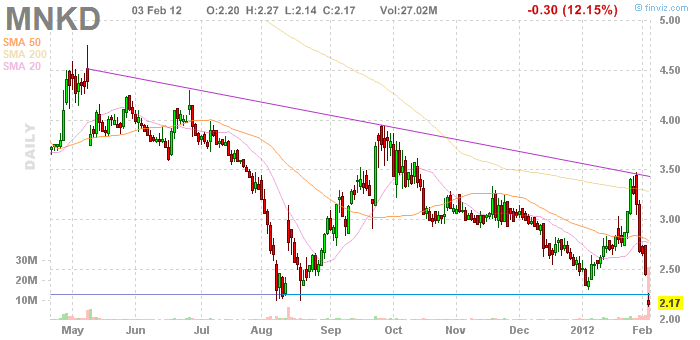 Mannkind, which was trading for as high as $22 in 2007, closed the week at a price of $2.17. Its shares plunged after the company announced a secondary offering of 31.25 million shares, which were priced at $2.4. As Martin Shkreli suggests, MannKind is simply running out of cash, and the company needs it desperately. The company reported a loss of $162.7 million in the last 12 months. That is a loss of almost $370,000 per employee. Its balance sheet shows a negative book value of -$2.13. I am not a big fan of speculative pharma companies, and Mannkind is no exception. The only way to expect a profit is a takeover rumor that can initiate a short squeeze. The stock is highly shorted with a short float of 35.66%, with a short ratio of 31.60. Thus, it will take several weeks for the short sellers to cover their positions.
Disclosure: I have no positions in any stocks mentioned, and no plans to initiate any positions within the next 72 hours.