On the wholesale level it appears that retail businesses and auto dealers are expecting a major pick-up in sales activity over the coming months. Wholesale inventory levels showed a much higher-than-expected build in automobiles and machinery, up by 0.9% in the month of June. Also at the wholesale level, sales increased by a relatively light 0.1% for the month, which resulted in a slight uptick in the stock-to-sales ratio by roughly 1 basis point to 1.30. This level is far from lean when compared to the relatively low 1.19 in June 2014.
The chart below shows the comparison between all three components. The sales and inventory spread seems to keep widening, as though wholesalers are prepared for a massive increase in buying from retail business customers, but it never seems to come.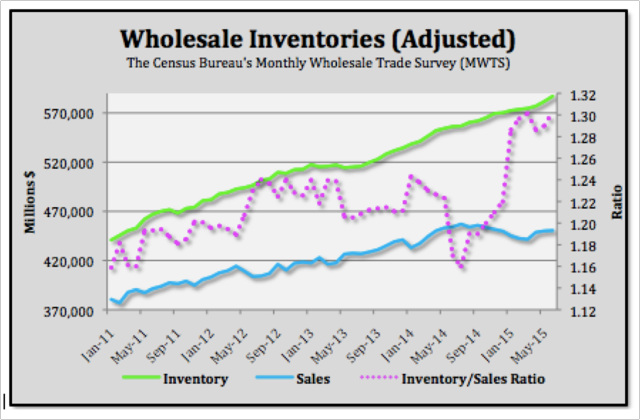 An increase in the inventory level relative to sales can be viewed as a negative data point, especially when it comes to future employment and production levels. However, the inventory build in this case is almost entirely concentrated in the motor vehicle and machinery sectors where sales have been very solid. This is incredibly apparent in the near-record auto sales level for the month of July. In addition, the increase in inventories is positive for the transportation sector, as the rails and truckers are the primary modes of moving inventories from factories to shops.
Business inventories, which will be released on Thursday August 13, ought to tell a similar story and should given a broader indication for how retail spending will pan out for the fall season.
Disclosure: I/we have no positions in any stocks mentioned, and no plans to initiate any positions within the next 72 hours.
I wrote this article myself, and it expresses my own opinions. I am not receiving compensation for it (other than from Seeking Alpha). I have no business relationship with any company whose stock is mentioned in this article.