There is new data out today. The EIA published its International Petroleum Statistics yesterday. The EIA also published the Drilling Productivity Report, which gave expected shale oil and gas production through September. Then this morning OPEC published its Monthly Oil Marketing Report with OPEC crude only production numbers through July.
First, the Drilling Productivity Report. Of course most of the Drilling Productivity Report is projection, not history. And that projection goes through September 2015.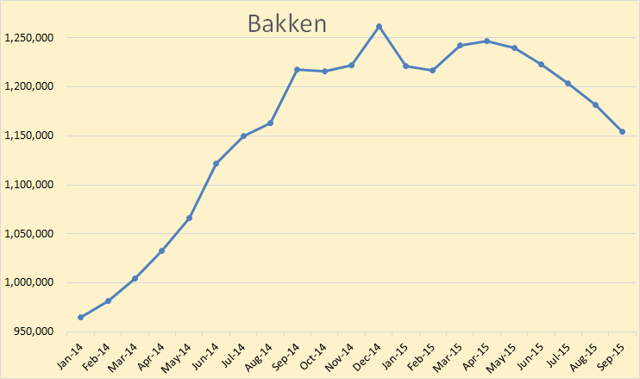 The EIA has the Bakken peaking in December and declining 107 thousand barrels per day since that point. A secondary peak was reached in April and declining steadily since then.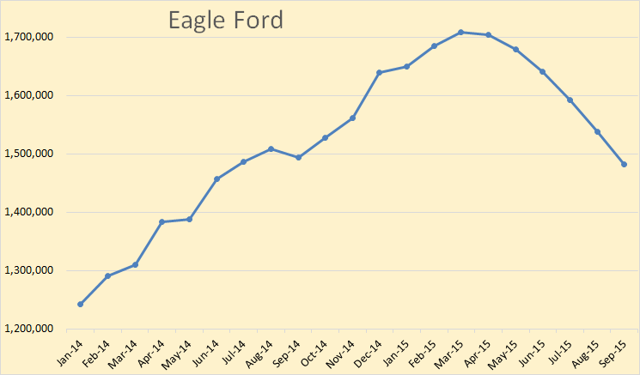 The EIA has Eagle Ford peaking in March and declining 226 thousand barrels per day since that point.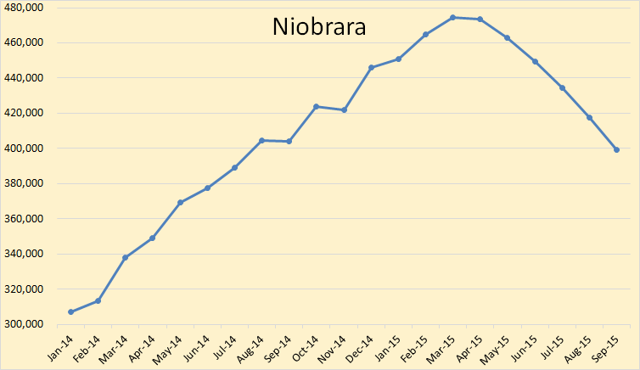 The EIA has Niobrara peaking in March, almost flat for one month then declining sharply after that for a total decline of 75 thousand barrels per day after that.
The Permian was the only major shale area with no decline so far. The EIA has the Permian up 29 thousand barrels per day since the rest of the field, combined, peaked in April.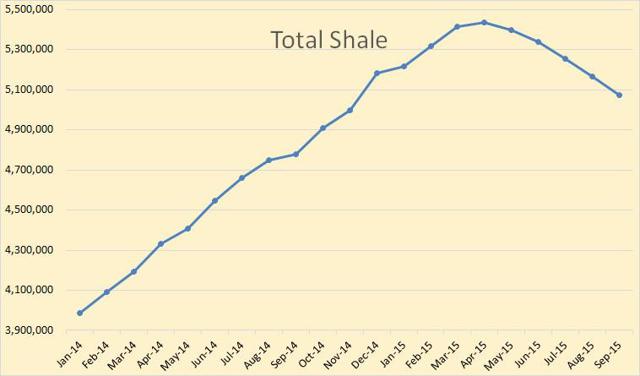 The EIA has total shale peaking in April at 5,434000 bpd and declining by 360 thousand barrels per day by September to 5,074000 bpd. 360,000 barrels per day is quite a decline by September.
All EIA data below is through April 2015.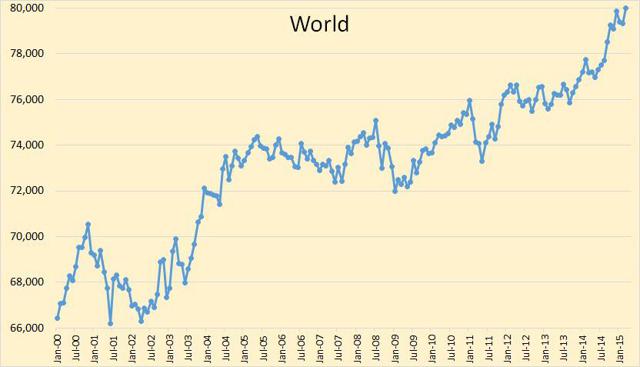 The EIA's International Petroleum Statistics has data only through April, 2015, the month where they have total shale production peaking. World C+C production reached a new peak in April at 79,996,000 barrels per day. It is unlikely that this peak will hold as OPEC production was up 437,000 bpd from April to June.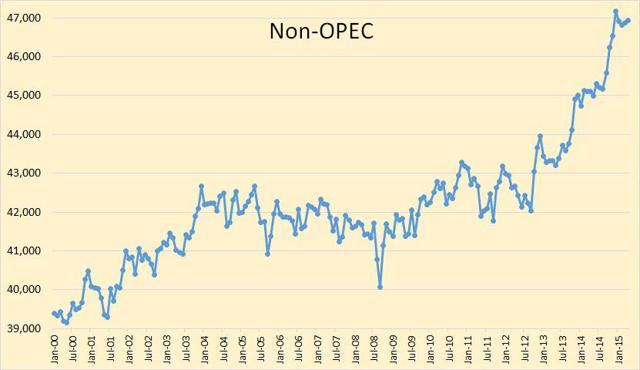 Non-OPEC C+C production peaked in December 2014 at 47,186,000 bpd and had declined by 230,000 bpd by April. I believe this will be the final non-OPEC peak. By the end of the year US production will be down by .5 million barrels per day and the rest of non-OPEC will also be down by at least that amount. And even if higher prices turn US production around the rest of Non-OPEC will continue to decline.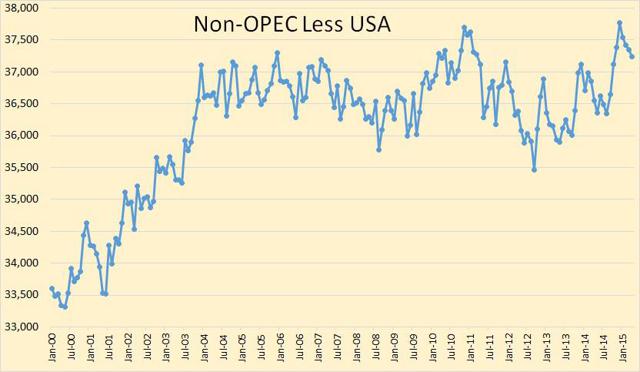 From December to April US production was up 307,000 bpd bun during that same period the rest of non-OPEC production was down 537,000 bpd. It is very likely that this non USA, non-OPEC production decline will accelerate at the very time US production decline is also accelerating.
All OPEC data below is crude only through July 2015.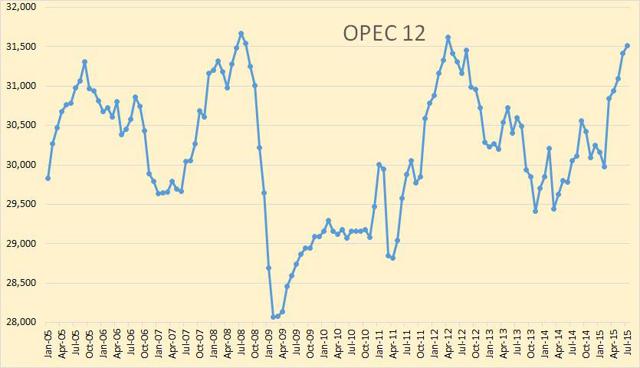 OPEC production still increasing through July. OPEC Crude only increased by 101,000 bpd in July to 31,513,000 bpd. That was less than one third the 317,000 bpd increase in June.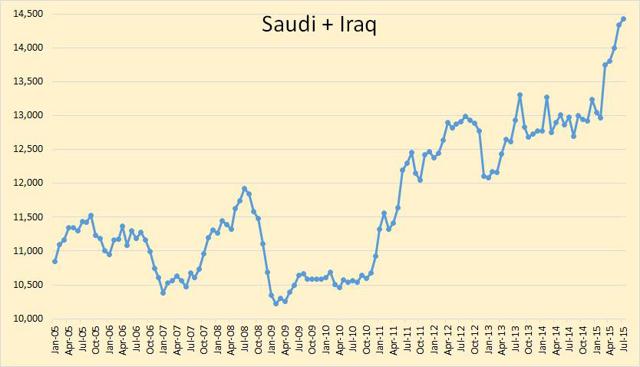 The OPEC increase has all been the Saudi and Iraq show. From January thru July OPEC 12 was up 1,355,000 bpd. During that same period Saudi and Iraq was up 1,384,000 bpd.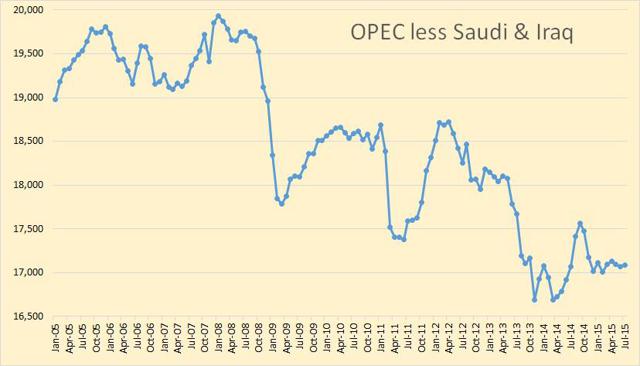 During that same January thru July period the rest of OPEC was down 29,000 bpd.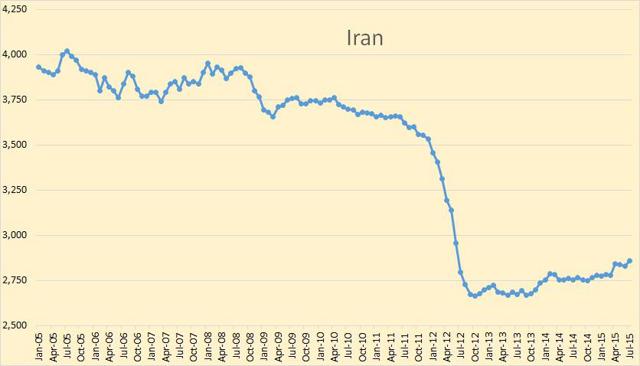 Iranian production is creeping up. They are now just short of 200,000 barrels per day above their low of 2,665,000 bpd of October 2012. Their output now stands at 2,861,000 barrels per day.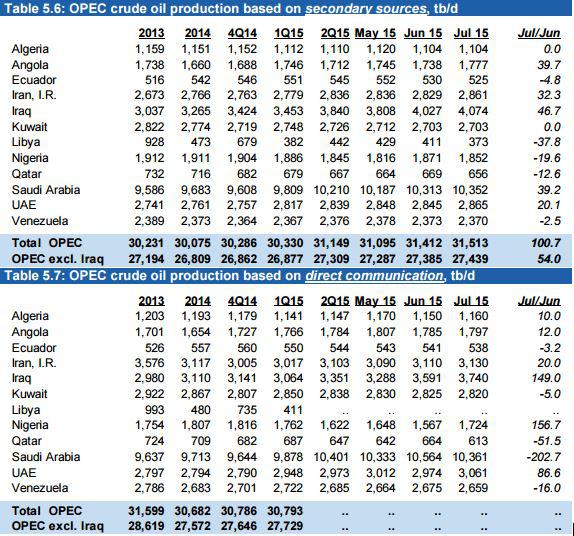 Here we have OPEC production according to secondary sources as well as OPEC production according to the producing nations themselves. Note that the secondary sources said Saudi was up 39,200 bpd in July while Saudi said their production was down 202,700 bpd in July.