Oil prices are going to stay low until they aren't. It is as simple as that. Last summer when oil prices were over $100 per barrel the fundamentals of supply and demand were already in a place that should have been pressuring oil prices.
Oil prices didn't stop dropping until well after the actual fundamentals dictated that they should.
This week the EIA released its forward looking Drilling Productivity Report for September. The report predicts where the EIA believes that shale production is headed. For the fifth consecutive month the EIA is projecting significant declines in U.S. shale production.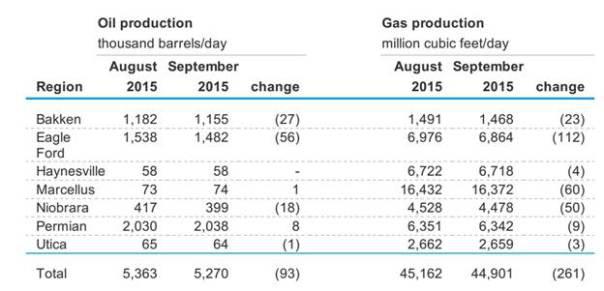 For the end of September the projected decline is 93,000 barrels per day from the production level at the end of August. That follows projected declines of 57,000 barrels (May), 86,000 barrels (June), 91,000 (July), and 91,000 (August).
Combined that equates to a 418,000 barrel per day drop from the end of April through to the end of September. That is a big decline. Even more significant is the fact that the decline is now running at around 90,000 barrels per month which if continues would see production down by more than a million barrels per day a year from now.
Why This Is Important - The U.S. Is The Only Place Able To Grow Production
Supply and demand are both working very hard in the United States to balance the oil market. We did some analysis on demand data and were shocked by how much U.S. demand had increased year on year. The chart below shows 2014 and 2015 oil demand/consumption in the United States.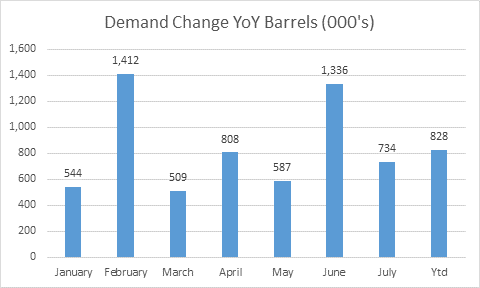 Source of data EIA
Demand in the United States is up by a very surprising 828,000 barrels per day on average in 2015. Heading into 2015 U.S. oil demand had actually been in a very slow decline.
To have both a surge in U.S. demand and now (if the EIA is correct) a significant decline occurring in U.S. supply is a huge swing that very few people, if any, would have predicted at the start of the year.
Over time, the rolling over of U.S. production is going to be very significant globally for the price of oil. The reason for that is that the United States has basically been the only source of oil supply growth for the past five years. No chart shows it better than the one below from OPEC's Monthly Oil Market Report.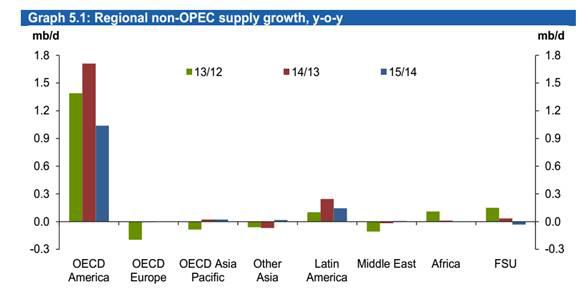 Source: OPEC Monthly Oil Market Report
We have had a huge swing in what is going on in the United States. First, oil demand that was stagnant has sprung to life by more than 800,000 barrels per day. Second, supply that was growing by more than 1.5 million barrels per day is declining at a rate of 90,000 barrels per month.
Everything that needs to be happening to push the price of oil back to a level where companies can make money drilling is happening. Except one thing….OPEC raised production.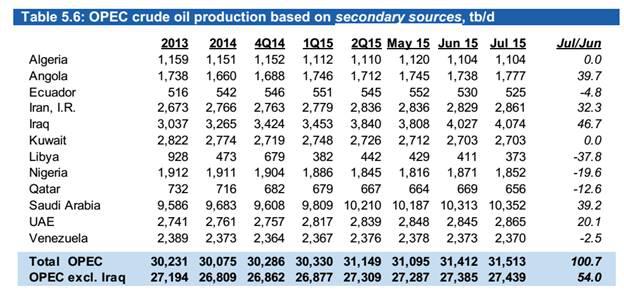 Source: OPEC Monthly Oil Market Report
OPEC's production has gone from 30,286,000 barrels per day in Q4 2014 to 31,513,000 in June. That is a 1.22 million barrel per day increase and is the biggest drag on the oil market tightening. 740,000 of that increase is from Saudi Arabia, the majority of the rest is from Iraq.
Implications For Investors
OPEC's increase has thrown a wrench into the recovery. We certainly didn't see an increase in production from the Saudis coming. We don't believe however that it will stop an oil price recovery for long.
Here are the key points for investors:
- U.S. production alone could be down 400,000 plus barrels per day between May and September and those declines will continue as long as the rig count remains depressed
- U.S. oil demand has surged by over 800,000 barrels per day and globally we believe the total increase could be approaching a 2 million barrels of year on year demand growth
- There are another 50 million barrels per day of oil production outside of OPEC and the United States that has been faced with depressed oil prices all year and will also be declining
- Saudi Arabia and OPEC essentially now have no spare capacity. The market doesn't care about that but it should. When oil supply and demand get really tight there isn't anyone who can turn up production in a hurry. The shale producers are the best bet, but even they have a six month lag.
That is why we are bullish on oil (NYSEARCA:USO) despite the recent price plunge, we just aren't exactly sure when the turn up occurs. We suspect it is when the market figures out the true scale of the declines that are happening with U.S. production.
Disclosure: I/we have no positions in any stocks mentioned, and no plans to initiate any positions within the next 72 hours.
I wrote this article myself, and it expresses my own opinions. I am not receiving compensation for it (other than from Seeking Alpha). I have no business relationship with any company whose stock is mentioned in this article.