More often than not, equities follow similar cycles year in and year out. There are, of course, long, medium, and short term cycles. I wrote about one of these cycles in July 2011. Today's note will discuss what is known as the hostile takeover followed by the initiation of a poison pill in order to avoid any type of slow methodical takeover. Poison pills are simply a short term bluff that gives a company more time to weigh their options, and avoid a group from positioning one or more Directors on the Board or gaining substantial voter rights.
Before moving on to Roche (OTCQX:RHHBY) and Illumina's (NASDAQ:ILMN) possible merger, it is important to backtrack briefly to discuss the similar dance International Paper (NYSE:IP) and Temple Inland (NYSE:TIN) went through in June 2011. On June 6, International Paper launched a hostile bid to purchase all outstanding shares of Temple Inland for $30.60 per share. The following day Temple Inland initiated a stockholder rights plan -- a poison pill -- in order to protect the company from any source purchasing 10% or more of the company's shares. This is important because if a group, or in this case International Paper, is able to purchase 10% or more of the company, then it will entitle that group to serious voting rights. This can lead to a merger that does not give shareholders maximum value.
There are at least two reasons Temple Inland, and other companies, adopt a poison pill policy. First, it enables the respective company's management and Board of Directors to discuss possible options and evaluate the firm's current financial and economic situation before selling the company. Secondly, it enables the respective firm to receive a higher bid. However, it is important to warn investors that this does not happen every time.
A perfect example of this comes from Computer Associates International's (CA Technologies (NASDAQ:CA)) failed takeover bid for Computer Sciences Corporation (CSC). CA Tech launched a $9.8 billion hostile takeover bid on February 11, 1998 which sent CSC's share price 18.5% higher over the next five trading days, including 12.7% the same day as the offer. The share price continued to climb an additional 33.9% through September of that same year before crashing back to pre offer levels.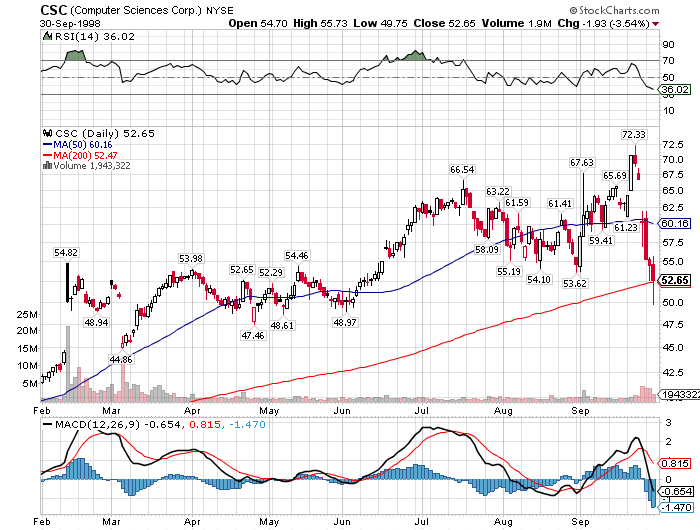 This is important because it shows that even some of the best offers are turned down by a company's management. However, this deal was shrouded in drama between CSC's Board and CA Tech's CEO. Nonetheless, as you can see in the chart, hostile takeovers are not successful every time and can sometimes lead to massive losses if shareholders hang on too long.
This takes us back to Temple Inland and International Paper. Unlike CSC and CA Tech, Temple Inland caved in to International Paper's $4.3 billion offer; which is about $32.00 per share. Therefore Temple Inland was able to squeeze an extra $1.60 per share out of International Paper. This is important because it falls in line with the second reason as to why companies initiate a poison pill-- which is to receive a higher offer.
It is also important to note that hostile takeovers lead to extremely volatile price movements. As you can see below, Temple Inland's share price fell back to the pre hostile takeover trading range when there were rumors the deal will fall through. This illustrates how a hostile takeover will not leave the share price plateauing, until the offer is accepted. Therefore, investors must weigh their options and not holdout expecting a better deal. However, at the same time, if investors sell too early they may miss a higher offer. It is definitely a thin tight rope to balance on.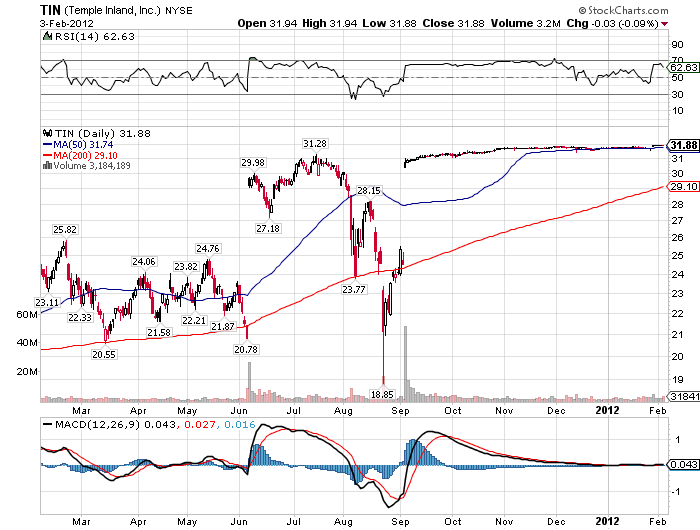 This brings us back to another hostile takeover launched by Roche for Illumina. Roche offered $5.7 billion - $44.50 per share - for Illumina on January 27. Similarly to previous hostile takeovers, Illumina initiated a poison pill that will become active if any group buys more than 15% of the company's outstanding shares. As you can imagine, Illumina's share price rocketed well above the offered price. As expected, however, Illumina's share price is creeping back down and will likely continue sliding until a new offer is given.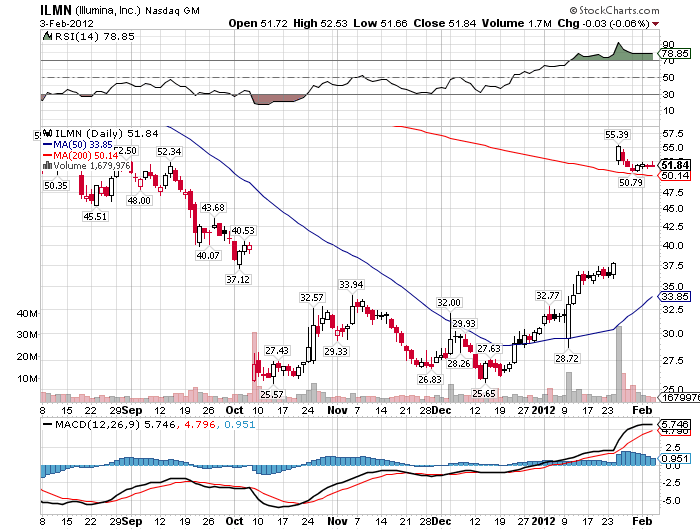 As with most hostile takeovers, Roche and Illumina have their own set of problems. Roche has shown it is very serious about merging with Illumina. Roche is sponsoring several "independent" directors for election on Illumina's Board, however, the independence of these individuals can certainly be brought into question. These possible Board members will give Roche the opportunity to directly take the proposed offer to Illumina's shareholders-- just as International Paper did. At this point in the takeover it is difficult to tell which direction the share price will go, but the chances of the share price sliding back to the $45 range is very high because Roche has put the ball into Illumina's court.
Illumina has thus far followed the two reasons why a firm initiates a poison pill. By adopting the stockholder's rights plan Illumina has the opportunity to determine the value of the company and which direction it would like to go. Also, Illumina is likely to get a higher bid at some point. Roche currently has over $11 billion in cash and short term investments, therefore an offer in the range of $6.5-$7 billion should not be out of the question.
More importantly, investors should not take the current offer for granted and expect a substantially higher bid. Moreover, it is important to keep in mind: the more time that passes, the lower the share price will slide-- which will allow Illumina to receive up to $7 billion.
In the end, more often than not poison pills are a way for a firm to essentially bluff the opponent. A poison pill enables a firm to show they do not want to sell. By doing this, a higher offer is likely to come. But it is very possible that if the takeover victim waits too long, the offer will be dropped. I do not expect this to happen between Roche and Illumina because Illumina's portfolio will complement Roche's very well. With that said, investors may have to wait a while before a deal is reached because Illumina will hold its bluff as long as possible.
Disclosure: I have no positions in any stocks mentioned, and no plans to initiate any positions within the next 72 hours.