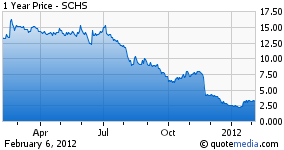 There have been a number of promotional and misleading reports recently advocating School Specialty (NASDAQ:SCHS) as a long. Counter to these assertions, SCHS is a short, likely a terminal short.
A new CEO, Mike Lavelle, came on last month month. Lavelle formerly worked at Houghton Mifflin Harcourt. This seems like a logical fit and a net positive for SCHS. However, the structural problems SCHS faces are insurmountable, making any hire irrelevant to the ultimate fate of the business.
Secular trends: The adoption of computer driven curriculum is taking share from the traditional hard form that SCHS sells. For sake of efficiency and transparency, school systems are now requiring that all teachers must record grades online.
Cyclical trends: Municipal and state budget constraints are under increasing the pressure public schools. Thus far in 2012 these trends have been continuing governors' budgets have been shrinking. The most discretionary and consequently the hardest hit are classroom supplies and new furniture - precisely the areas in which SCHS focuses. Further, teachers now buy whatever they can at the large discounters.
These two forces are catastrophic for SCHS since their highest margin products that drove past performance were planners and grade books, items that are now either obsolete or offered for less by bigger competitors. This loss is estimated to account for approximately 30% of SCHS's 2011 gross profit and 20% of LTM gross profit.
Sales force: Repeated unpaid furloughs, freezes on travel and less competitive products has led to poor customer service, low morale and attrition of the higher quality sales reps. SCHS's fragmented and disorganized structure is getting worse.
Financial performance: Management is estimating it will generate $48-52M in EBITDA in FY2012 (versus $36M LTM). Conveniently this is also just slightly above the amount required to keep them in covenant compliance. To achieve this, they will have to add an incremental $8-9M in EBITDA in the second half of the year, a 20% increase over the same period last year. Even if they are given credit for a full $5M in cost cuts on flat comp margins and hit their sales estimate of $735M, that only gets them to $41M for FY2012 EBITDA.
Valuation: This optimistic EBITDA scenario implies an EV/ EBITDA multiple of 9.0x. The likely scenario is EBITDA of $32M based on sales expectations and mix shift, while still giving them credit for cost cuts. This equates to over 11.5x EV/ EBITDA. This is nearly twice the valuation of its closest public peers Scholastic Corp (NASDAQ:SCHL) and Cambrium Learning (NASDAQ:ABCD).
Conclusion: Even if they are able to get a waiver on their covenants in Q3, permanent deterioration in the business is increasing apparent to those that do the work. Simply the weakened state of the company places it in position where it cannot overcome the secular and cyclical headwinds.
Disclosure: I am short SCHS.