Following my recent article regarding the move from Universal (NYSE:UVV) to Main Street Capital (NYSE:MAIN), there were many comments questioning my move based on Yield on Cost (YoC). In this article, I want to give my perspective regarding this indicator and on the importance I assign it in my investment strategy, while also explaining my use of two other indicators: Dividend Yield (DY) and Dividend Growth Rate (DGR).
As I want to use an example based on a company that has a long DGR history, I will use one of my core portfolio holdings: AT&T (NYSE:T).
Based on David Fish's CCC list published here, the company paid a growing dividend during the last 31 years, and therefore, it is considered a dividend champion.
Assumptions:
The recent quarterly announced dividend is $0.47, therefore, in this illustration, I will use a yearly dividend of $1.88.
Based on its historical trend, the Dividend Growth Rate in the last five years was ~2.2%. I will use this as a proxy for DGR.
When looking at T's stock price moves during the recent year (taken from Yahoo Finance), we can see that the stock price was moving in a ~15% range between $32.07 and $36.45. Based on the assumed $1.88 yearly dividend, I marked on the graph the Dividend Yield that each of these two extreme points represent: 5.2% at the highest point and 5.9% at the lowest point.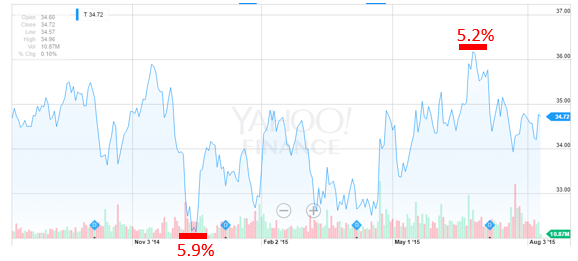 Actions and Definitions:
Back in November '14, I bought T at $33.9. That represented a Dividend Yield of 5.5%. This is my Yield on Cost. While the stock price fluctuates afterwards, the YoC will not change as long as I do not purchase additional shares at a different stock price.
The Dividend Yield does change per the stock price movements. The next graph taken from Gurufocus.com shows T's Dividend Yield swings during the recent 15 years: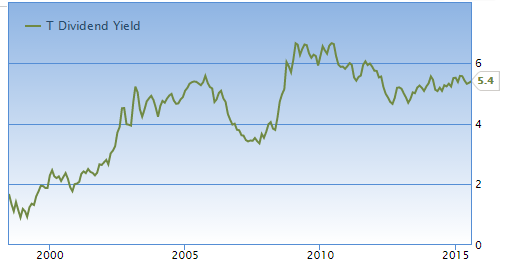 At any point in time, a holder of T shares could decide whether to sell his holdings or buy more shares. By doing that, he is essentially changing his YoC. Buying more shares at higher prices than his original entry point will reduce the YoC, and buying below the entry point will increase the YoC.
The YoC in the long term is impacted by the Dividend Growth Rate. The DGR will impact the YoC, as it will change based on the rate change. The historical DGR is already baked into the historical Dividend Yield, as the DY is based on the absolute dollar amount of the announced dividend.
Here is a graph taken from dividend.com going from 2000 to 2015 that shows T's announced dividends per quarter: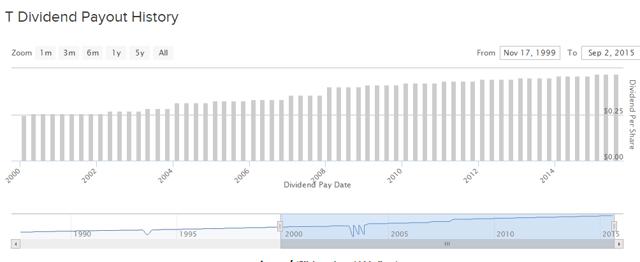 Indicators used:
Model the future return: As a dividend growth investor, I am interested in the cash flow generated by my holdings. Usually, a forward-looking dividend stream model will assume a DGR. YoC based on an assumed DGR is used to model the future income stream. You can find my assumed model here.
Examining again the T example, at 5.5% YoC and 2.2% DGR, 10 years from now the expected YoC based on this model will be 6.7%. The accumulated dividend collection throughout this time frame would be $20.6 per held share.

A "sell" decision
A decision to sell can be driven by a wide variety of reasons. When considering a "sell" decision, the YoC cannot be used as a sole indicator simply due to price fluctuations.
Particularly when considering switching an existing holding with an alternative one, the current DY is the benchmark to use when comparing to the alternatives, as the current DY is the new starting point.
Let's use an example. Suppose T's stock price went up from $33.9 to $34.6. The alternatives are: keep the T holding at $34.6, or sell it and move to an alternative investment.
Here is a more detailed explanation of the two alternatives:
Maintain my holding in T: Based on the current $34.6 share price, T's current Dividend Yield is 5.4%. Assuming a 2.2% DGR from this point means that the expected yield in 10 years is 6.5%. The collected dividend throughout this time frame would still be $20.6 per share, as dividend payout assumptions do not change.
An alternative investment: If I sold T for $34.6 and switched to an alternative investment that produces higher dividends during the defined time frame and achieves a 6.5% Dividend Yield 10 years from now. The 6.5% is based on the current DY, because my choice is to make the change now. YoC is less relevant here.
For me, the absolute dividend payment is more important than the yield percentages, but as the principle is the same, a higher cumulative yield defines a higher dividend return.
For example, if I would assume that the Dividend Growth Rate on Avista Corporation (AVA) in the next 10 years could be as high as 10% (my real assumption is that AVA's DGR is 5%), then it would be an interesting alternative to my T holdings as of today. The alternative accumulated dividend per share throughout a 10-year time frame would be higher, and the expected YoC from then on would be equal to my T model.

Conclusions:
YoC is an important indicator when considering a purchase of a dividend-producing stock. It is an important component in long-term dividend flow modeling.
DGR is the second component in this model.
Current DY is the relevant indicator to use when considering alternatives to existing holdings.
As always, I appreciate any feedback.
Disclosure: I am/we are long T, WEC, MAIN.
I wrote this article myself, and it expresses my own opinions. I am not receiving compensation for it (other than from Seeking Alpha). I have no business relationship with any company whose stock is mentioned in this article.
Additional disclosure: The opinions of the author are not recommendations to either buy or sell any security. Please do your own research prior to making any investment decision.