The brokerage industry in the United States has been reacting to news regarding new regulatory changes that would change how they manage their client's funds. The issue here is that there is a belief that this will unduly affect brokerage firms that rely heavily on non-traded REIT's and other alternative investments, which can have higher fees than other investments, making it less likely they will pass the "fiduciary" rules, should they be passed. While these issues are important, there is another issue weighting on the sector that has a major impact on the independent brokerage firms, which stems from FINRA regulations. This is the theme of this article, and speaking to these issues, and finding issues that may stem from this analysis.
Most of the search began due to information from a very interesting article, found here. This article is specifically about RCS Capital (NYSE: RCAP) and the issues in one of their independent brokerage firms, JP Turner. In my attempt to address the information portrayed in the article, and my attempt to put the information into perspective, some interesting information came forward.

FINRA
FINRA is the United States financial industry regulatory authority. They regulate, enforce and arbitration for clients and their brokers. They are a non-governmental organization that acts as the ultimate regulator of the securities industry. They also provide a very important tool for investors in the "Broker Check" website. On this site, it lists some very fundamental regulatory actions, violations and complaints related to those brokerage houses, so that investors can evaluate both the quality of the brokerage firms internal checks, and gauge the reputation of those firms.
These issues are broken down by type, including regulatory events, arbitrage, bonds and civil. Regulatory events stem from the Rule 4530, which dictates that firms, through their own internal controls, are required to disclose those issues to FINRA within 30 calendar days. It also includes reporting when the issue has been concluded.
When issues are of a serious nature, or a customer complaint is filed, there can be arbitration, bonds or civil judgments against the firms, which are also disclosed on this website. We can delve into these numbers to compare publicly listed brokerage houses.
Brokerage Firms
The major brokerage houses that will be analyzed in this article include:
Traditional Brokerage Firms:
Full Service - Wells Fargo (NYSE: WFC) - 17,900
Full Service - Morgan Stanley (NYSE: MS) - 16,426
Full Service - Bank of America (NYSE: BAC) i.e. Merrill Lynch - 15,561
Full Service - Ameriprise Financial (NYSE: AMP) - 10,000
Regional Securities Firm - Raymond James (NYSE: RJF) - 6,500
Independent Brokerage Firms:
LPL Financial (NASDAQ: LPLA) - 14,130
RCS Capital - 9,700
Ladenburg Thalmann (NYSE: LTS) - 4,000
National Holdings (NASDAQ: NHLD) - 1,000
Break-Down
All of these firms are operating in the industry, and are required to report issues with their brokers to FINRA, allowing us to analyze the number of issues, and the type of issues. The most important is to delve out the number of advisors, which are broken out above. Below are the issues by the number and per 1,000 advisors, for your viewing pleasure.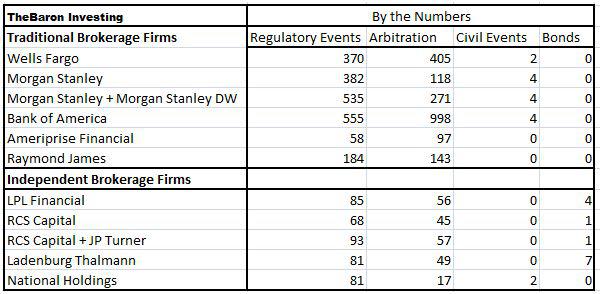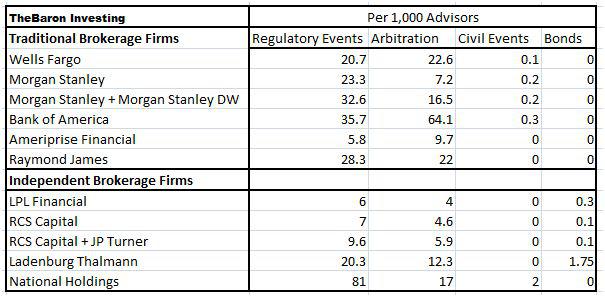 From the above we can spot a few different stand-outs. Before we delve into them further, we should explain some of the definitions involved. A full review of Rule 4530, of which this is a quick summary, can be found here.
Regulatory Events - Based on Rule 4530, as highlighted earlier, regulatory events are reports to FINRA when one or more of the following have occurred:
Member, or associated person of the member (meaning the brokerage firm or their employees) have violated any applicable securities, insurance, commodities, or investment related laws, rules, regulations or standards of conduct.
They are the subject of any written customer compliant related specifically to theft, misappropriation of funds, or forgery.
Is the named defendant or respondent in any proceedings brought by a domestic or foreign regulatory body.
There are more, but this is a good summary of major events. Others include disclosing when a company affiliate is related in some way (insider) to a firm accused of fraud, or when they are affiliated with a bank or financial institution that pleaded guilty, or no contest, to a felony or misdemeanors.
Arbitration - These are rulings specifically related to FINRA arbitration awards involving securities and commodity disputes between public customers and the registered securities firm. Brokerage firms are not required to report arbitration claims filed against them by customers, but this information is summarized by FINRA when they are involved.
Civil Events - Rather than an arbitration, the proceeding are handled through civil litigation.
Bonds - Related specifically to civil bonds disclosed by the brokerage that have been denied, paid or revoked by a bonding company.
Analysis
There are a few different issues here that deserve to be highlighted, that you may notice when analyzing the number present above.
The Larger Firms per 1,000 Advisors Is Very High
This could stem from their long operating history, though many competitors have been operating very long periods as well. IT may also stem from the very sophisticated compliance regimes involved; to ensure proper reporting should an issue arise from a broker. Although they are relatively inflated, I would see that as a sign of the "average" amount a brokerage firm can expect from large amounts of advisors, as they are all very similar to each other. Bank of America took over Merrill Lynch, which may have had legacy issues, much like the Morgan Stanley DW offshoot that was shut down by the firm.
Ameriprise Financial, LPL Financial and RCS Capital Issues Are Abnormally Low
One comment here might be that there are amalgamated firms that were not counted, as some have operating subsidiaries. I attempted to find all affiliated firms, either disclosed on their website (RCS Capital), through Wikipedia (history of acquisitions), or through the web-program ``Broker Check`` (which tracks this itself). If we assume there was very limited leakage there it may stem from the new brokers, especially independents, never being listed by name. Although the tool allows for searching by name and small business, they are rarely named in the investor announcements, much like the names of those that leave.
I believe the lower number stems from the quality nature of the firms being amalgamated, combined with the very aggressive recent growth of many of the independents. High growth from sources that are not tracked can lower your number of issues per advisor, at least in the short term. This concern makes the trend an important consideration, something that I plan to begin considering in future articles.
RCS Capital Reaction to Summit Financials Issues with JP Turner Makes Interest Study
For some context, RCS Capital announced at the end of July (news article found here, nothing on the website, I believe it was mentioned during conference call in passing). JP Turner has 300 advisors, and RCS Capital's affiliated firm, Summit Financial, was the closest to amalgamating the broker-network of JP Turner, so they could switch their platform to Pershing's platform, which was utilized by Summit. Summit flat refused to allow JP Turner to amalgamate "as-is" due to their regulatory issue-laden history. To put that in perspective, they decided that an issue rate, which stands at 25 Regulatory Actions and 12 arbitration's, was too high to simply move all of the brokers.
RCS Capital responded by closing down JP Turner and inviting half, or 150 advisors, to stay on the program and switch to Summit. These are the ones with the largest book, and fewest regulatory issues. Regulatory issues and arbitration typically stem from high-income earners who are generating fees by turning the client's portfolio over more than necessary, to generate more fees OR by investing their client's assets in very expensive products more often than would be recommended, which should be caught by internal supervisors/auditors/compliance.
These issues work out to 80 Regulatory Issues per 1,000 advisors, and 40 Arbitration's per 1,000 advisors. You will notice that this flags another of our listed institutions. I see this as a major plus for RCS Capital that it decided to act on behalf of a very well-run affiliate (Summit) and move to reduce the headcount in this troubled operation. These details have reinforced my belief in this troubled company, and added a valuable comfort to my long case, which can be viewed here (for PRO subscribers), or here (not yet exclusive to PRO subscribers).
National Holdings Issues Are Particularly High
National Holdings subsidiary, National Securities, showed up as having a very high amount of issues per broker. During its long history there have been numerous issues, and it is difficult to determine if the issues are being worked on or not, as a trend analysis is difficult. Due to the offhand comment about National Holdings picking up the advisors that RCS Capital removes from their JP Turner firm flagged this as a concern for me.
For my part I have reduced my exposure to NHLD, as this consideration by itself is enough to change the risk associated with the investment case, I believe it does not eliminate the very strong case entirely due to the severe discount it trades to its peers. Further information can be found at my article detailing NHLD here.
Considerations
On the other side of this analysis, there is some information that investors should take into consideration during the comparisons above, to ensure that is not misleading, due to limitations to this method.
It is the trend that is vital in this industry. Most of the players have been around a long time, making the comparisons more apt. Others are relatively new, and independent financial advisors information is not generally disclosed beforehand, so when a company adds 50 new advisors, there is no way to know what their track-record is unless their name or company is released. In the case of companies like RCS Capital I looked into as many of the individual companies as I could, which improved the data, but there is risks of missing key information related to this reporting.
National Holdings may well be working on improving its compliance, or this could have been an issue earlier in its history, which is being showcased here in an unfair light. There are more considerations, including the highly undervalued nature of the vehicle at the present time. Looking at just one consideration, such as the information portrayed here, without taking in the larger context is not a great way to base investment decisions. It should factor in, and be weighed appropriately.
Conclusions
I believe this adds a valuable tool within retail investors "tool-kit" to evaluate companies, evaluate their success over-time, adds an additional consideration for individual companies and allows for some insights into the quality of advisors affiliated with each brokerage firm. Though strong compliance can increase the error rate, as more are reported, a continued and high rate of poor investment advice by advisors within a company, or those brought into the company in the future, is worth evaluating and considering when looking at these investments.
For myself, by adjusting my evaluation for my individual holdings, I have decided to make the following changes to my investment portfolio:
RCS Capital: Continued with previous holding amounts. This relatively low rate of issues, combined with actions to stop a brokerage due to concerns brought forward by its own affiliated firms shows that management has brought on quality management (Summit) that realized the importance of these issues on the reputation of advisory firms. On the other side I was concerned that these issues were glossed over under previous management, which is thus far preventing me from adding additional shares.
National Holdings: There is a very strong investment case for National looking simply at the financials, but these issues warrant further investigation and attention on my part. For what I have discovered thus far, the position is riskier than I initially anticipated, and I have reduced my position to something more in-line with the evaluated risk-profile until I can see a trend, or find more information that might explain the discrepancy.
This also indicates a possible explanation for issues related to relative undervaluation of Ladenburg Thalmann, and provides more evidence for premium pricing of LPL Financial and Ameriprise Financial. I hope to initiate coverage on all of them in time.
This industry is highly competitive. The high standard that individual advisors must maintain and the compliance regime required to ensure appropriate investment recommendations is becoming a difficult burden for local, independent advisors. The amalgamation of the industry will continue, and ensuring that they are growing by bringing on quality advisors is fundamentally important. They must show strong improvements in the trend regarding issues that are highlighted by programs like "Broker Check", to stay competitive and protect their all important reputations as quality brokerage firms.
I am bullish on the independent brokerage firms, and recommend that investors consider this very quickly consolidating industry. The turbulence that regulatory changes causes may prove to be a moment of opportunity in those that believe in the sector. You can also check your individual broker, to see where they fit, as you can view brokers by the individual, as well as the firm.

Disclosure: I am/we are long RCAP, NHLD.
I wrote this article myself, and it expresses my own opinions. I am not receiving compensation for it (other than from Seeking Alpha). I have no business relationship with any company whose stock is mentioned in this article.
Additional disclosure: The author is not a financial adviser. Please consult with a qualified, trusted financial adviser before making any financial decision.
Editor's Note: This article covers one or more stocks trading at less than $1 per share and/or with less than a $100 million market cap. Please be aware of the risks associated with these stocks.