By Jason Napodano, CFA
On August 10, 2015, Pozen Inc. (NASDAQ:POZN) reported financial results for the second quarter ending June 30, 2015. Below I briefly comment on the operating results for investors. I then discuss the planned merger with Tribute Pharma (OTCQX:TBUFF), and conclude with what I think the future holds for the new company, to be called Aralez Pharmaceuticals plc, and what I think it's worth on a market value and per share basis.
Quick Look At Pozen's Second Quarter
The second quarter revenue line came in slightly ahead of expectations, driven largely by upside to sales of Vimovo in both the U.S. and rest of world. Horizon Pharma plc (NASDAQ:HZNP) reported Vimovo sales of $39.8 million in the second quarter. Although this was actually a decline of 5% from the reported second quarter 2014 number of $42.4 million, the sales equated to a 21% sequential increase from the first quarter 2015 and Horizon reported that prescriptions in the quarter of ~130,500 were up double digits. Sales outside the U.S. at AstraZeneca plc (NYSE:AZN) were also up about 18% sequentially from the first quarter 2015. Total revenues of $5.2 million, comprised entirely of royalties on Vimovo, beat my expectation of $4.8 million. Royalties for the first six months of the year on Vimovo totaled $9.6 million. For the remainder of the year, I think Vimovo royalties will approach $11.0 million, with Vimovo sales on a global basis at roughly $240 million.
I think it's important that investors understand the royalty rate on the ex-U.S. sales of Vimovo at AstraZeneca, currently annualizing at around $85 million, is set to increase in 2016 from 6% to 10%. That means even with only modest growth on a global sales basis to $250 million peak, Pozen should see a handsome uptick in royalties next year to roughly $25 million. This is pure cash the company can use to support the new commercial operations acquired from Tribute and prepare for the launch of Yosprala in 2016.
Pozen lost a whopping $16.3 million in the second quarter, the worst reported quarterly loss in over a decade! That being said, I'm not overly concerned with the ugly reported number because actual cash burn in the quarter totaled only $3.2 million. There were a number of non-cash and one-time related costs in the second quarter; specifically, $7.6 million in severance to former CEO John Plachetka, $0.8 million in retention bonuses to existing management, and $0.7 million in bonuses to new management. Pozen also incurred $5.2 million in transaction costs, $1.1 million in Yosprala pre-commercialization costs, and $0.4 million patent litigation costs during the quarter. Finally, the company also incurred a $1.0 million AMT tax in connection with setting up the Irish subsidiary. Needless to say, these are costs I do not expect to continue to roll forward in the coming quarters. Plus, the company still has $41.6 million in the bank as of June 30, 2015, and as we get into below, access to a boatload more cash once the Tribute Pharma acquisition closes in October 2015.
Quick Update On Yosprala
Back in May 2015 when I told investors all they could do was "wait for an update" on the status of the FDA re-inspection of the API manufacturing facility. Not a whole lot has changed in the past few months. The third party manufacturer has submitted a plan of corrective actions to address the matters raised in the FDA warning letter and Form 483 inspection deficiencies and they are working to implement those plans. Pozen does anticipate that the FDA will come back and re-inspect the facility prior to the company re-filing the new drug application (NDA). Pozen is also working to qualify a new supplier of the aspirin component to Yosprala, but this will have to be filed in a supplement to the NDA. At this time we do not know if the review period after Pozen re-files the NDA will be Class-1 (two months) or Class-2 (six months), so we continue to wait and see. Nevertheless, Pozen believes Yosprala will be on the market in 2016 and we think this is reasonable guidance by management.
Merger With Tribute Brings Commercial Footprint
For the first time Pozen is finally starting to talk about how big they think Yosprala can be in terms of commercial sales. On the second quarter earnings call, CEO Adrian Adams noted he expects Yosprala to have, "...peak revenue potential in excess of $200 million per year." We note he said this in the context of the U.S. market, meaning one can assume on a global basis the market is 1.5-2.0x the size. I've written in the past that I believe Yosprala has peak sales of $400 million, so my financial modeling is consistent with management's thinking. The numbers of Yosprala breakdown as such:

The biggest wildcard in the above market analysis is Pozen's penetration rate and the price they expect to charge for a year's supply of Yosprala. On the second quarter call, the CEO was asked about the pricing strategy for Yosprala and the desire to keep the "affordable pricing model" proposed by the previous CEO. Adrian Adams responded:
"Obviously, I am very familiar with all the work that was done. And I have to say that I feel that a lot of -- both the quantitative and qualitative market research that's been done over the course of the time either by the Sanofi or Pozen has created a tremendous amount of information that will certainly inform us on how to move forward. I mean specifics around the pricing strategy that we'll put in place; clearly I am not in position to share that at this particular point in time. That said, I think the kind of sentiment and philosophy that the Company has had in relation to making sure that the strategy we have in place is one that is affordable to patients, is something that clearly will be embracing. We're well aware of the fact that obviously, if one looks at the utility of aspirin and PPI products at this particular point in time that both of those are relatively inexpensive. So clearly, we have to and we will be coming up with a strategy from a cost effective point of view that will embrace making sure that patients can get access whilst also making sure that we can operate within the current managed care situation." Source: Seeking-Alpha.
In terms of penetration, this is where the merger with Tribute becomes important to the success of Yosprala. In May 2015, Tribute acquired Fibricor from Sun Pharma. They paid $10 million for the rights to the product, which included $5 million upfront, $2 million due in November 2015, and $3 million due in May 2016. Fibricor is an authorized generic fenofibrate. The drug is indicated as an adjunctive therapy for treatment of severe hypertriglyceridemia (TG ≥ 500 mg/dL), to reduce elevated LDL cholesterol, total cholesterol, triglycerides, apolipoprotein B (Apo B), and to increase HDL cholesterol. Fenofibrate was originally sold by Abbott Labs (now AbbVie Pharmaceuticals) as TriCor, with peak sales in excess of $1 billion. Trailing-twelve-month sales of Fibricor ending April 30, 2015 totaled $4.7 million, and that was with little to no promotion by Sun Pharma.
Tribute's strategy over the next few months is to engage with KOLs and work with managed care in preparation of a launch later in 2015. I suspect that Aralez will look to hire 20-25 representatives in the U.S. to begin active promotion of Fibricor. This size sales force should be sufficient to target 3,500 cardiologists and high-potential primary care prescribers. Having built a specialized cardiovascular sales force in the past with Kos Pharma, current Pozen CEO, Adrian Adams, has significant experience in this area. I expect the initial "hand-picked" reps for Fibricor will be tasked with establishing relationships and building Aralez brand recognition within the cardiovascular area. Aralez will likely be disciplined and methodical on the initial Fibricor roll-out, with an emphasis on market share and penetration.
In time, this is the sales force that will promote Yosprala in the U.S., and will ultimately be expanded to roughly 110 reps in size for the Yosprala roll-out. At 110 reps, Aralez will be able to effectively target 14,000 health care providers, including 8,000 cardiologists. Management believes this is approximately 20% of the target market. If successful, Aralez will have an opportunity to expand the sales force up to 300 reps, which should allow for targeting 35,000 health care providers, including 14,000 cardiologists - about 40% of the total market.
I also expect Aralez to be active in looking for a third (and fourth) cardiovascular product in the U.S. in 2016. Seeking approval for Tribute's sustained-release fibrate, Bezalip SR, in the U.S. is a likely path forward, as is in-licensing or M&A to acquire new commercialized candidates that can be plugged into the existing model. Aralez will ultimately look to bring Yosprala to the market in Canada and promote the drug alongside of Tribute's existing cardiovascular products, which include the aforementioned Bezalip SR, synthetic beta-adrenergic blocker drug Visken, and combination diuretic agent Viskazide. Bezalip SR is one of Tribute's largest products, with sales in Canada of around $6 million. I believe Yosprala has potential peak sales of $15-20 million in Canada.
Beyond the cardiovascular portfolio, Tribute brings a strong product suite of pain and neurology products to the table. We believe this will be a key second focus for Aralez Pharma after management tackles the Yosprala launch. Obviously the company will continue to collect royalties on sales of Vimovo in the U.S. from Horizon and outside the U.S. from AstraZeneca, but Tribute brings some interesting compliments to NSAID Vimovo in Cambia, Durela, and Fiorinal.
Cambia is the primary growth driver of the Canadian business at Tribute Pharma. The product was approved back in March 2012, but recently prescriptions have been accelerating thanks to new Canadian Headache Society (CHS) guidelines published back in October 2013 recommending the product as they suggested first-line therapy for migraine attacks where OTC products fail. This puts the products ahead of triptans such as Maxalt, Imitrex, and Zomig. Tribute (in collaboration with the CHS and KOLs) has developed and disseminated a national continuing education program based on the CHS guidelines to help drive awareness and uptake of Cambia. Beyond Cambia, Tribute also promotes Fiorinal and Fiorinal C. The products are indicated for the relief of tension-type headache and are a very synergistic promote with migraine drug Cambia. This is an area I think has tremendous synergy with Pozen's MT-400 (promoted in the U.S. by Pernix Pharma as Treximet). If Aralez did decide to move forward with developing MT-400 in Canada, I believe the company would offer the best migraine/headache product suite for active promotion, and could see incredible synergistic uptake of all three products thanks to established awareness and strong KOL relationships.
I have also heard that AstraZeneca is looking to sell the ex-U.S. rights to Vimovo, so the potential exists that Aralez may be a bidder for both the Canadian rights (sales of around $20 million) or European rights (sales of around $40 million).
Staying in the pain category, Tribute will bring an extended release tramadol product called Durela to the product suite. Durela sales in Canada are approximately $1.5 million. Tribute acquired Durela when the company closed on the Medical Futures acquisition just announced on June 17, 2015. Penetration rates for Durela (tramadol HCl extended release capsules) in Canada are extremely low and offer significant upside should Aralez management be able to improve uptake of the drug. I think peak Durela sales are approximately $5 million.
Other important drugs that Aralez will offer include Soriatane (acitretin) in Canada for the treatment of severe psoriasis, Collatamp G (gentamicin-impregnated collagen) for post-operative infection, Bilastine (antihistamine) in Canada for allergic rhinitis and urticaria, Proferrin for iron deficiency, and Resultz (50% isopropyl myristate) for the treatment of head lice. Proferrin looks like the biggest of these products, with trailing twelve month sales of around $4 million. I believe Tribute will merge the Medical Futures sales force in with its own to promote the aforementioned products in Canada. Tribute also has worldwide rights to NeoVisc for osteoarthritis and Uracyst for interstitial cystitis in the EU. Having two products on the market in Europe will certainly help should the company look to commercialize Yosprala or MT-400 in the EU, or look to acquire the EU rights to Vimovo from AstraZeneca.
Cash Rich & Pipeline Strong
The merger is expected to close in the fourth quarter of 2015 (best guess is October 2015). The newly-formed company will benefit from a significant capital infusion lead by Deerfield Management, a well-known premier investment management firm that provides growth capital for healthcare companies, and QLT Inc, alongside a number of other leading healthcare investors including Broadfin Capital, LLC. The group has committed up to $350 million in total capital to the new company, with the first $150 million expected to close simultaneously with the closing of the merger. The proposed investment in Aralez will be a combination of convertible debt and equity, including a $75 million equity stake at a purchase price of $7.20 per share (10.4 million shares) and $75 million in 2.5% convertible senior secured notes (due in six years with a conversion price of $9.54 per share). At closing, Pozen shareholders, Tribute shareholders, and the financing consortium led by Deerfield et al, will own approximately 54%, 28%, and 17%, respectively, of the combined company.
Another $200 million in senior secured debt will also be made available to "fund future acquisitions". I expect Aralez to be very active on the product licensing and acquisition front throughout 2016 and beyond. The focus will likely be on the North American cardiovascular market, with an emphasis on low-risk, high-value assets. I'm not expecting Aralez to undertake significant R&D efforts, and thus deals in 2016 or beyond will likely be limited to under review or already approved assets.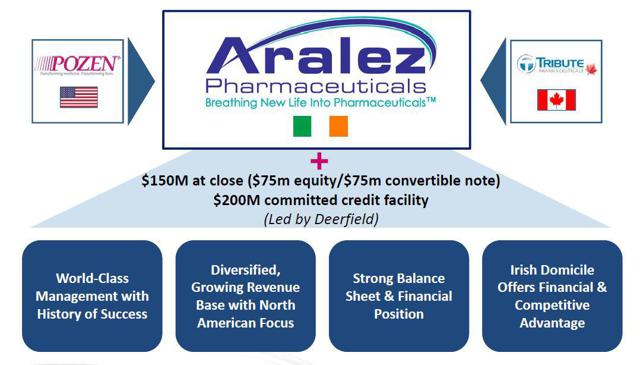 The Pro-forma P&L
Investors interested in the pro-forma projections of both Pozen and Tribute Pharma can view the prospectus on the merger posted on the SEC's website. What I have done below is create my own forecasts independent of the company's guidance by pooling my financial models of the two companies into one pro-forma income statement. After creating this model, I checked with the prospectus on Aralez and found my projections to be remarkably consistent with what management at Pozen and Tribute believe they can accomplish.
Let's start with the U.S. operations. The flagship brand in the U.S. will be Yosprala. I model approval of the drug in the middle of 2016, with peak sales in the U.S. of $275 million approximately six to seven years post launch. Also in the U.S., I expect Fibricor and eventually Bezalip SR to contribute cumulatively another $10 million per year at peak. As noted above, Aralez will start promoting Fibricor later in 2015 with a 20-25 person sales force. The sales force will be expanded to ~110 reps once Yosprala is approved, with long-term potential upside to ~300 reps as the product ramps or the company acquires new products in the cardiovascular space.
In Canada, Tribute's existing business will serve as the commercial launching point for Yosprala once approved. In the meantime, products like Cambia, Durela, Bezalip SR, Proferrin, Fiorinal, Soriatane, and eventually Treximet will should be able to create a $40 million per year Canadian operation by 2017 and eventually eclipse $100 million in sales in Canada by 2021. At this level, I project the Canadian operations will be EBITDA positive likely in 2017.
I'm not modeling significant operations will Europe until the company decides when to file the Yosprala marketing authorization application. As noted above, Tribute does have two products on the market in the EU, albeit with limited sales. The opportunity to bring Yosprala into the EU market or acquire the rights to Vimovo in the EU present upside to my current forecasts.
On the royalty and licensing side, I continue to expect Vimovo to be a meaningful contributor to the top and bottom-line at Aralez over the next several years. As noted above, the royalty rate on ex-U.S. sales of Vimovo from AstraZeneca is set to increase to 10% in 2016. I believe Aralez will be active in looking to bring Treximet to the market outside the U.S. as well (once in the hands of J&J), but do not model this at the current time.
Below is a screenshot of my pro-forma revenue projects for the new Aralez Pharma going out to 2019:

As investors can see, my revenue projects are fairly consistent with what Pozen put in its most recent investors presentation (below):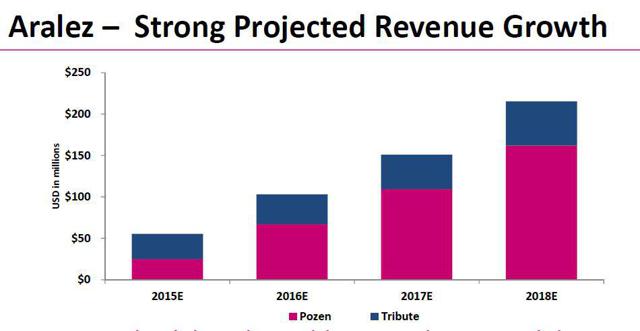 Pozen has always operated with a 100% gross margin, as royalties on Vimovo and previous licensing payments from Glaxo, AstraZeneca, and Sanofi came with no associated costs. Going forward, I believe that Yosprala will have easily above 90% gross margin for Aralez. Tribute's gross margin for 2014 was 54%. In the first quarter of 2015, it stood at 64%. I think 60-65% is a safe assumption for the continuing operations at Tribute post-merger. Putting those things together, I think the new Aralez Pharma will operate at roughly 75-80% gross margin for the first year or two, but ultimately be able to achieve 85% gross margin by 2019 or 2020.
There's not much cost synergy to the combination. Pozen's business was and still is extremely lean, and the bulk of Tribute's operational expense is in Canada. Going forward, I do not see Aralez spending much on R&D, perhaps just $10 million per year to maintain patents, file regulatory applications, and do whatever minor clinical or preclinical work is necessary to maintain the existing portfolio. I think Aralez will be very active on the M&A front in the coming years, but the emphasis will be on commercial-stage products that require little to no R&D effort.
In terms of overhead, sales and marketing costs, similar to R&D, Pozen was running pretty lean. I projected that Tribute would spend around $20 million for SG&A in 2015, growing to $30 million by 2018 as they launched Fibricor, Bezalip SR, and integrated all the products from Medical Futures. However, launching Yosprala in the U.S. will be expensive. My guess is that the 20-25 person sales force adds at least $5 million in costs and when the sales force is expanded to ~110 reps the costs will be in excess of $20 million per year. That being said, I'm ultimately building my model based on a target EBITDA margin level that I think Aralez can obtain once things get rolling on the commercial front. Industry average is around 50-55%, and I think Aralez can approach that type of profitability by 2019.
There are a few other key components of the income statement investors should be aware of. These include the interest expense associated with the $75 million convertible note, amortization expense associated with the goodwill from the acquisition, and a 15% effective tax rate. Note, another impetus for the merger was to invert to Ireland where the corporate tax rate is almost one-third of the U.S. rate. Putting these things altogether, my full income statement projections for Aralez can be found below: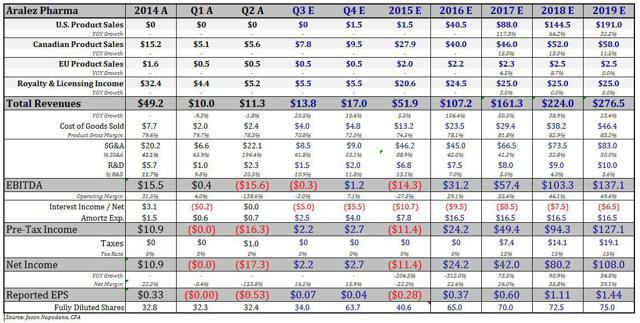 Valuation
There are a number of ways to value specialty pharmaceutical companies, including P/E, P/S, and EV/EBITDA. Each has its flaws, but EV/EBITDA is my favorite because it takes into account the debt and the overall profitability of the company before non-operating items and taxes. It gives a truer sense of "What it's worth" based on "How good they are" at running the business. So, running with EV/EBITDA as my valuation-du-jour for specialty pharma names, the first thing one needs to do is build a comparative model showing what other large pharma, specialty pharma, and biotech peers are trading at. I've done that below, trying to include a good mix of similar names: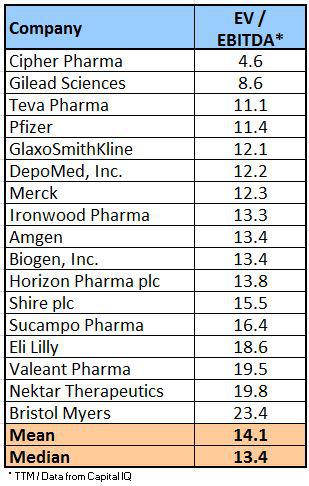 The methodology is not perfect, but it generally seems as though a specialty pharmaceutical company should trade with an EV/EBITDA of 13.5x trailing twelve month revenues. The two closest competitors to Aralez on the above list, Horizon Pharma and Depomed, trade at 13.8x and 12.2x EV/EBITDA, respectively.
In 2017, I think Aralez will post EBITDA of around $57 million (36% EBITDA margin). At 13.5x this number, the EV for Aralez equates to $770 million. This would be the target valuation for the end of 2017, or about 18 months from today.
As of August 3, 2015, Pozen had 32.7 million shares outstanding. The company will issue 19.3 million shares to acquire Tribute and 10.4 million share to Deerfield, et al to raise capital to fund existing operations and future potential acquisitions. By the end of the year, I see the outstanding share count on a basic level at roughly 62.5 million. On a diluted basis, we are rounding this number up to 65.0 million to include the 2.1 million outstanding stock options (average exercise price of $7.79 / share). My target valuation based on 2017 financial projections equates to a stock price of roughly $12 per share, or around 20% upside from today over the next 18 months.
On 2018 financials, the numbers get even more interesting. For 2018, I model Aralez being able to post $103 million in EBITDA (~46% EBITDA margin). Using the same valuation methodology, Aralez could be worth $1.4 billion by the end of 2018, or approximately $21.50 per share. That equates to 115% return over the next 2.5 years, which I believe is a reasonable holding period for a specialty pharmaceutical story.
Those arguing that's too long to wait need only to look at Depomed (+417% over the last 3 years) and Horizon Pharma (+361% over the last 3 years) for examples of how to make money with this type of "specialty pharma success story" strategy. I identified Depomed as an attractive investment for Seeking-Alpha readers just over three years ago using the same methodology, and I think Aralez has similar upside potential.
Disclosure: I/we have no positions in any stocks mentioned, and no plans to initiate any positions within the next 72 hours.
I wrote this article myself, and it expresses my own opinions. I am not receiving compensation for it (other than from Seeking Alpha). I have no business relationship with any company whose stock is mentioned in this article.
Editor's Note: This article discusses one or more securities that do not trade on a major U.S. exchange. Please be aware of the risks associated with these stocks.