Gold mining stocks have seen their share price declining a lot during the last 5 years. As you can see from the picture below, all of them lost a lot in terms of share price -- ranging from -32.34% of Silver Wheaton (SLW) to -88.68% of Kinross Gold Corporation (NYSE:KGC).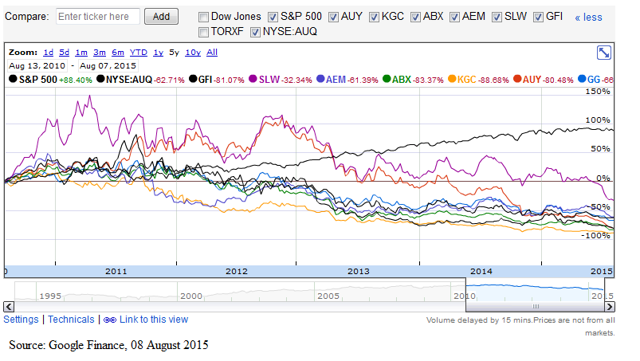 Inside the interval there are (NYSE:AUQ) with -62.71%, (NYSE:GFI) -81.07%, (NYSE:AEM) -61.39%, (NYSE:ABX) -83.37%, (NYSE:AUY) -80.48% and (NYSE:GG) -66%. At the same time the S&P 500 (NYSEARCA:SPY) has grown 88.40%.
Business performance of gold mining companies is dependent on the prices of the precious metals they mine, so it only makes sense to consider an investment in them when they're priced significantly below their intrinsic values.
…below their intrinsic values..
Let's say that it makes sense to consider an investment in stocks when they are priced below their intrinsic values, if you are a value investor. Significantly means to get an edge over the market: buying stocks that are selling for less than the intrinsic value. The difference between what the investor pays to buy a stock and its intrinsic value is what the value investor looks for and calls 'margin of safety'.
Many investors use a handy approach to find undervalued companies: The Price-To-Book Ratio.
If we were to consider as best investment and choose on the basis of P/B in the following bouquet of gold mining stocks (see picture below), there are very cheap stocks like Yamana Gold Inc., Kinross Gold Corp. and AuRico Gold Inc. compared to large-caps like Goldcorp Inc. and Barrick Gold Corp. So there is an embarrassing wealth of options..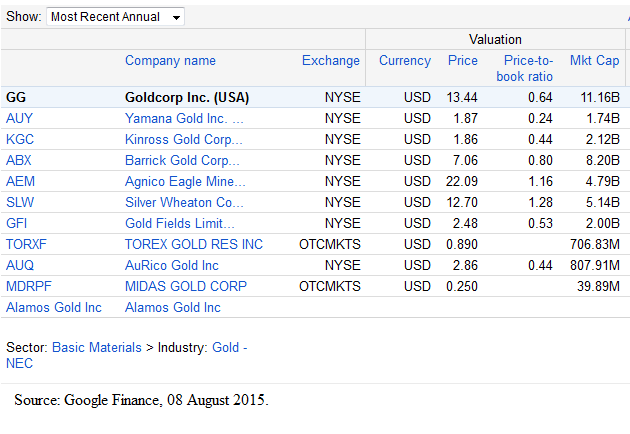 The picture below shows companies that have a negative return on avg equity. Large discrepancies between P/B and ROE, a key growth indicator, can sometimes send up a red flag on companies.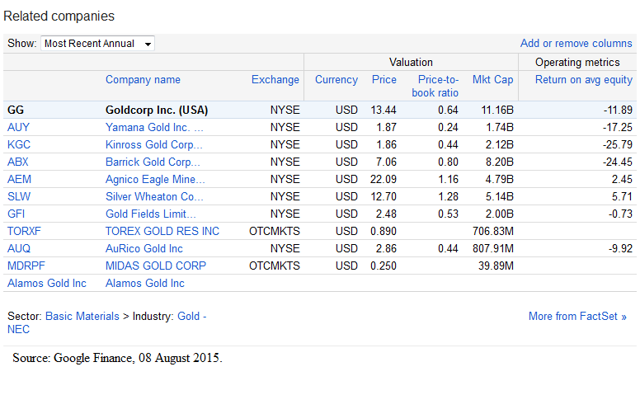 Many of us expect a share price to increase any moment in response to a likely earnings growth. If the gold price returns to growth, assuming that the operating costs of gold mining stocks remain constant (for simplicity let's forget about the process of rolling adjustment), as a consequence the profits will increase and therefore stock prices as well.
For value investors
Graham recommends a 'ratio of price to assets' (or price-to-book-value ratio) of no more than 1.5.
And if Graham's 'blended multiplier' still works as an initial screen to identify reasonably-priced stocks, then Silver Wheaton Corp. would not pass the test because 'the product of P/B and P/E gives as a result a number which is not less than 22.5.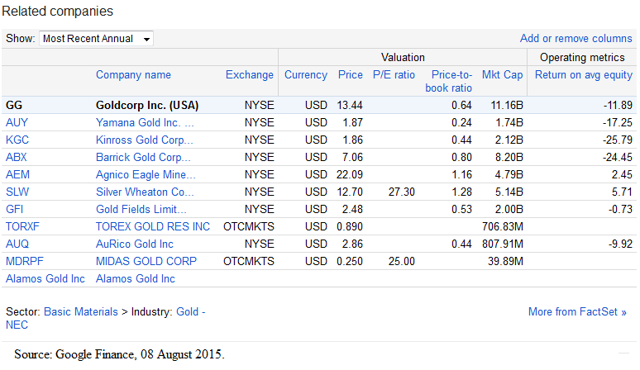 If we care about 'adequate size' that a stock must be characterized (the total market value not less than 2 billion USD), we should exclude AUY and AUQ when we screen for stocks.
Financial situation and debts: who is the least worse?
The current ratio is used to test a company's liquidity by deriving the proportion of current assets available to cover current liabilities.
All the companies apparently have readily available short-term assets to pay off their short-term liabilities. They therefore have no liquidity problems. But if we take into account Graham's test of a 2-to-1, AUY and GFI would be excluded since they do not have 'a sizable cushion of working capital that - on average - should sustain them through hard times' (see commentary on 'Stock Selection for the Defensive Investor' chapter of the Intelligent Investor).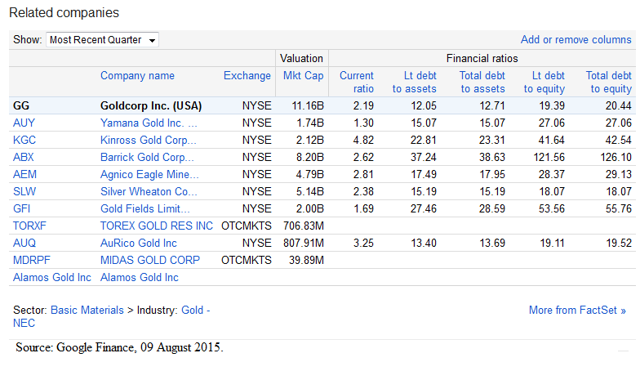 The Interest Coverage Ratio is used to determine how easily a company can pay interest on outstanding debt. The interest coverage ratio is calculated by dividing company's earnings before interest and taxes (EBIT) of one period by the company's interest expenses of the same period. A ratio under 1 means that the company is having problems generating enough cash flow to pay its interest expenses. Ideally you want the ratio to be over 1.5.

The interest coverage ratio (TTM) ranges from 1.76 to 6.76 ; inside the range there are GFI 3.65, ABX 3.79 and KGC 6.35.
If you look at Long-Term debt to equity ((mrq)) and total debt to equity ((mrq)) ratios, GG seems to have a better debt situation than the other companies. GG is less indebted than the others but it seems to have more difficulty than the others when it has to pay interest expenses on outstanding debt.
But if Graham's criterion of financial strength still works, other stocks would pass the test: Franco-Nevada Corporation (NYSE:FNV), Randgold Resources Ltd. (NASDAQ:GOLD) and Royal Gold, Inc (NASDAQ:RGLD).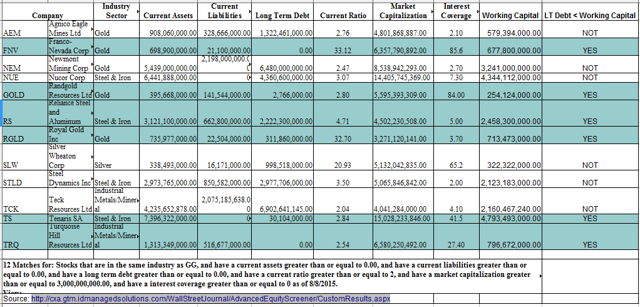 The above picture shows stocks that are in the same industry as GG, whose long-term debt does not exceed working capital, have a current ratio greater than or equal to 2, have a market capitalization greater than or equal to $3,000,000,000.00 and have an interest coverage greater than or equal to 1.5 as of 8/8/2015.
Profitability and free cash flow
Companies' trailing 12-months metrics are as follows: the operating margin ranges from -73.54% to 32.73% ; the net income ranges from - USD2.96 B to USD199.83 M ; the earnings per share (EPS) ranges from -USD2.72 to USD1.59 . With reference to EBITDA (company's earnings before interest, taxes, depreciation and amortization), ABX shows the best number with an EBITDA of USD4.25 B.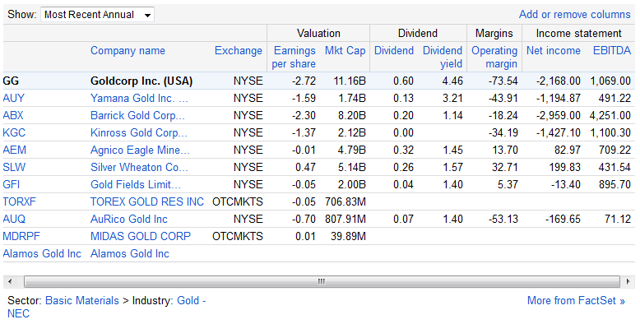 Talking about 'earnings stability', all the companies didn't show to have got 'some earnings in each of the past ten years'.
If we focus on the two biggest stocks of the sample, comparatively from 2005 to 2014, Barrick had four years of negative earnings while Goldcorp had two (here).

'So, based on history, Goldcorp should be able to come out with positive earnings sooner than Barrick given the precious metal prices start turning higher again.'
It is not said. In the specific comparison case of GG and ABX, the first stock was shown to hold much better during a time when the gold price was going down, but this does not mean that the first will respond sooner and maybe even better than the second stock when the price of gold will return to rise.
The response of the stock to the rising price of gold in terms of earnings growth depends on the measure of operating leverage that will characterize that company. A measure which is extremely difficult to predict because at each mine the quantities produced and costs may rise over time in response to gold price increases (the latter is also a very difficult thing to predict).
We know that the return on gold mining stock is significantly more volatile than the change in the free market price of gold: the beta coefficient (of return on gold variable), if calculated on a significant number of years, can give us an idea on how volatile the stock is when changes in the gold price are assumed to be the independent variable of the equation. But in the economics of each mine the key variables of the transmission of driving force from changes in the gold price to the performance of gold mining stocks are the average grade and the ratio of operating costs to revenues.
Returning to the question of how to determine the intrinsic value of a gold mining stock, we have two possibilities (Browne, Christopher H. The little book of value investing. Vol. 6. John Wiley & Sons, 2006):
The first one involves making a company-specific estimate of what the stock would be worth if the company was sold to a knowledgeable buyer in an open auction.

The second method involves a set of financial ratios that are good indicators of value. Then we can construct a model for a good, cheap stock by observing the financial characteristics of stocks that perform well.
In our first article on Goldcorp Inc. we used a dividend discount model ((DDM)) to value the gold mining stock. Some might argue that this is not the appropriate method to evaluate gold mining stocks.
But if we make:
A) a good guess of the return on a gold mining stock (for example in a two-factor model where return on gold mining stock Y is a function of the return on the market, S&P 500, X1, and the return on gold, X2), that we can use as the cost of equity to determine the Weighted Average Cost Of Capital of the stock
B) a good guess about the stream of future dividends for the next 5 years and
C) a reasonable guess about the rate at which the stock's cash flow to dividends will grow in perpetuity per year
Why not try to estimate the intrinsic value of a gold mining stock with a DDM? After all, business performance of gold mining companies are dependent on the prices of the precious metals they mine as said before and dividend is part of the profit the company decided to distribute to its shareholders.
Instead of dividends also earnings can be used or even free cash flows, that is the amount of cash left over after the company has paid all its expenses and what was spent for capital expenditures (reinvested into the company).
By the way stocks that are in the same industry as GG have a market capitalization greater than or equal to $3,000,000,000.00 and have a free cash flow with any value as of 8/8/2015, see picture below.

We can calculate the free cash flow yield: it is an indicator that offers investors a better measure of a company's fundamental performance than the widely used P/E ratio.
Among stocks with a market capitalization greater than $3 billion, ABX is positioned to perform well with the highest free cash flow yield.
Conclusion
If we look at the first chart of this article that shows that gold mining stocks have lost a lot in terms of share price during the last 5 years and that the stock market has instead grown more than 88% during the same period of time, we wonder if investing in gold mining stock would be a wise advice for investors who believe that now is a kind of unique opportunity given the current low prices of gold.
As we already mentioned in the previous article it is very difficult to predict a rise in price of gold since many are macroeconomic variables that should be considered and that influence a particular economic situation of the business cycle.
We also wonder why not invest directly in the commodity since it is incredibly cheap today instead of rushing into a gold mining stock with all the risks associated with the managing of a company. Gold mining stocks are also subject to the market, the concentration and the currency risk for U.S. investors.
Instead tiny allocation to a precious-metal fund (let's say not more than 3% of your total assets) is too small to hurt your overall returns when gold does poorly. But, when gold does well, it may be mathematically worth it if the investor is able to stick with even this small allocation for many years (See footnote to paragraph 'Alternatives to Common Stocks as Inflation Hedges' of the chapter 'The Investor and Inflation' of the 'Intelligent Investor' book).
However, for those who consider it to be a very good idea to invest in gold mining stocks today and who want to screen for the one that is better positioned to benefit from an eventual rise in the price of gold, we must say that it is not easy to do so: various financial ratios can be used to build up a model to screen for gold mining stocks that perform well. But with gold mining stocks we noticed that a stock can be well positioned with reference to a particular ratio and the music changes completely when a different ratio is considered.
A very good approach for determining the intrinsic value of a gold mining stock is DDM, but a lot of analytical work is needed to estimate the cost of equity for WACC, the stream of dividends for the next 5 years and the rate at which the dividend stream will grow in perpetuity.
When considering to invest in gold mining stocks, it is also important not to lose sight on analysts' expectations on earnings. Analysts were a bit more prudent on giving out their estimates for the 2nd quarter of 2015 (see Earnings History for GG and ABX for example).
But earnings' estimates for the end of 2015 are high for both GG and ABX. If analysts miss again their estimates, the share price of GG, ABX and other gold mining stocks will plunge further. We already showed through an event study that the market has a tendency to overreact to bad news even in the case of solid gold mining stocks.
Analysts' estimates for GG and ABX for the next quarter of this year, for the end of 2015 and for the next year are shown below: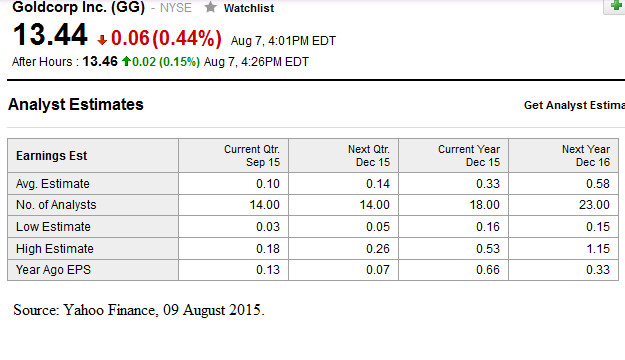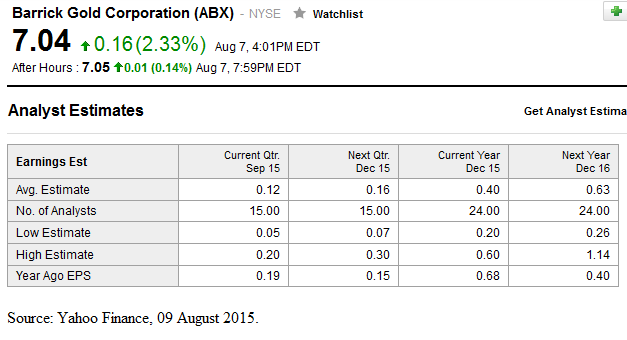 We stick to our opinion that investing in gold mining companies generally doesn't represent a good buying opportunity for the investor with long-term horizons. If you think that GG or any other gold mining stock is a very good buy today, try to apply the DDM to determine the intrinsic value of the stock and see what the result is.
Massive analytical work, very good knowledge of statistics and econometrics of financial markets are required to try to identify a good investment in gold mining stocks and who knows if in the end it was worth the trouble..
Stay tuned..
Disclosure: I/we have no positions in any stocks mentioned, and no plans to initiate any positions within the next 72 hours.
I wrote this article myself, and it expresses my own opinions. I am not receiving compensation for it (other than from Seeking Alpha). I have no business relationship with any company whose stock is mentioned in this article.