By David Russell
It's an adage in military affairs that generals are always trying to fight the last war. The same can apply in the world of investing, where traders hope that past events will neatly repeat themselves.
In this case I am alluding to the recent attacks on the euro, where Greece was expected to trigger a meltdown similar to the U.S. subprime crash of late 2008. But it didn't happen. Why?
The explanation is simple: In 2008, the U.S. economy had already entered recession and monthly employment gains had been trending lower for almost two years. This time, however, just the opposite was true. (See employment chart below)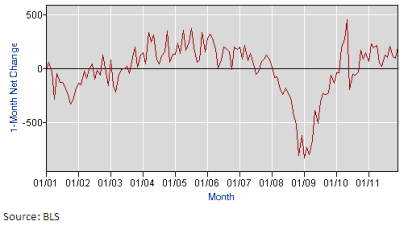 Many pundits have an obsession with financial markets and think that they cause the economy to expand or contract. But in reality there a natural cycle that simply does what it does. History offers many examples of financial contagion failing to spread because the alleged crisis occurred at the same time that the economy was expanding and adding jobs.
Consider, for instance, the comeback from the Long-Term Capital Management blowup in 1998 or the downgrade of Ford Motor and General Motors to junk status in 2005. I believe that this Greek mess will join those precedents of crises that never panned out for the doom mongers.
China's last purchasing managers index was better than expected as the country's manufacturing sector returned to expansion. Given that many investors had feared a hard landing in the world's No. 2 economy, this removes another leg from under the bears.
At the same time, stocks remain underowned. Private pension funds, for instance, historically hold more than 40 percent of their assets in equities, but that proportion is now below 30 percent, according to the Federal Reserve's Flow of Funds report (table L.118). The same is also true for life-insurance companies (L.117) and households (L.100). It's also an election year, which is usually good for stocks.
All these considerations suggest that we are now approaching the end of this terrible bear market that has been in place since 2000. It might take another recession before we break out to new highs, but there is good reason to think that the S&P 500 will now rally back to long-term resistance around 1560. We're coming back to a time when "buy and hold" may be the right strategy.
I'll end with a couple of names that look good to me. As always, treat these as ideas rather than outright recommendations. Please do your own homework.
Morgan Stanley: Its last two earnings reports beat expectations, and now it was selected to lead Facebook's initial public offering. This investment bank also trades for about 0.60 times book value and had bullish call buying on Jan. 31 and Feb. 1. MS appears to be in the midst of "melting up" after getting hammered by the European crisis. A move to about $24 looks entirely doable.
Gannett: Best known as the publisher of USA Today, GCI also operates 23 television stations. That should be positive because, regardless of who wins the presidential election in November, advertising revenues will be massive. GCI is valued slightly above book and has had a nice pullback to support.