We study oil data because we would prefer to try and formulate our own opinions from it rather than rely on the opinions of others. Our experience has shown us that most prognosticators are very willing to provide an opinion, but don't feel obligated to tie that opinion back to any actual data. Although it is tough to prove, we think that is likely because they haven't looked at any actual data.
The trouble with the oil market is that a lot of the data is influenced by opinion which makes eliminating opinion harder. For example the weekly EIA production numbers include a significant amount of estimation because they have to. There is no real time oil production data available so the EIA does the best that it can.
Meanwhile, the IEA just released its August 2015 Oil Market Report and had a staggering observation about the supply/demand balance in the second quarter of this year.
Here is what the IEA observed:
Even with the slowdown in non-OPEC production and higher demand growth, a sizeable surplus remains. Our latest balances show that while the overhang will ease from a staggering 3.0 mb/d in 2Q15, its highest since 1998, the projected oversupply persists through 1H16.

Assuming OPEC production continues at around 31.7 mb/d (its recent three-month average) through 2016, 2H15 sees supply exceeding demand by 1.4 mb/d, testing storage limits worldwide. The surplus drains down to about 850 kb/d in 2016, with 4Q16 marking the first quarter of a potential stock draw. This outlook does not include potentially higher Iranian output in the case of sanctions being lifted.
We used the word staggering because the IEA used the word staggering, and what they are suggesting is, well, staggering. The IEA believes that from April through June of this year the daily world supply of oil exceeded daily demand by 3 million barrels per day.
Let us do some math. April has 30 days, May has 31 days and June has 30 days. Add those together and we know for a fact that Q2 had 91 days in it. If the daily supply of oil globally exceeded daily demand by 3 million barrels per day then inventory levels should have grown in Q2 by 91 days x 3 million barrels = 273 million barrels.
There is nothing complicated about that. Now let's have a look at how inventory levels changed in Q2.
The table below is from the August 2015 OPEC Monthly Oil Market Report. It shows the changes in OECD inventory levels (both crude and finished products) over the past eight quarters.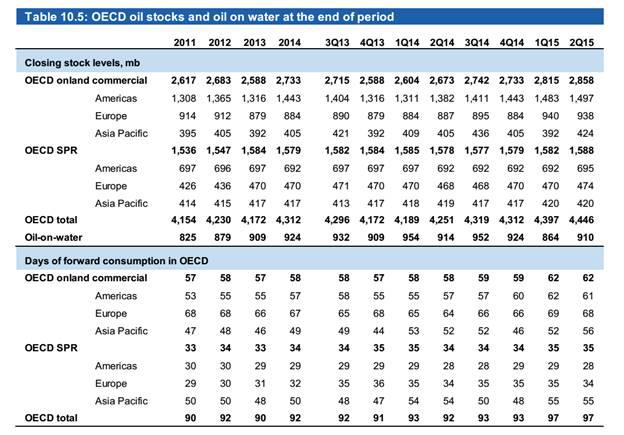 Source of image: August 2015 OPEC Monthly Oil Market Report
At the end of Q1 2015, there were 4.397 billion barrels in OECD storage. At the end of Q2 that figure had risen to 4.446 billion barrels which is an increase of 49 million barrels.
Add to that the 46 million barrels that the MOMR shows as increasing in oil floating around the globe and you get to an increase of 95 million barrels. Divide that by the 91 days in Q2 and the oversupply seems more like 1 million barrels per day and not 3 million barrels per day as the IEA suggests.
Below is the breakdown of that inventory between crude and finished products.

Source of image: August 2015 MOMR
To be clear we aren't arguing that there wasn't an oversupply of crude in Q2. As we noted in our last article the OPEC production increase is what really threw a wrench into the oil price recovery. As the chart below shows, inventories are much higher than normal.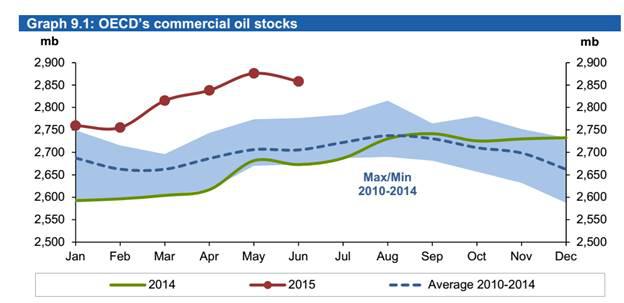 Source of image: August 2015 MOMR
What we do question is the IEA suggestion that the surplus was 3 million barrels per day. If that is the case, where did the other 2 million barrels of oil go that isn't getting picked up in the inventory numbers? We are talking about 180 million barrels of oil here. It had to go somewhere.
It had to go somewhere unless of course it didn't exist. Unless the IEA had missed the rollover in U.S. shale oil production which we believe rolled over back in May at the same time it underestimated global demand which has soared by over 800 thousand barrels per day in the U.S. alone in 2015 and we think perhaps close to 2 million barrels per day globally.
Implications For Investors
The IEA data is the most watched data by oil investors around the globe. Traders watch the weekly EIA numbers, everyone watches the monthly updates from the IEA.
Remember at no point was the IEA out in front of the collapse in oil prices. The IEA didn't issue any warnings about oversupply or a big drop coming. Therefore we wouldn't expect that they would be foolproof about figuring out how tight the market currently is thanks to soaring demand and shale production hitting a wall. Oil (NYSEARCA:USO) is going to languish until it doesn't. Picking the timing of that turn is impossible, but we do believe that forces are pushing demand up and supply down and the market will figure that out eventually.
Disclosure: I/we have no positions in any stocks mentioned, and no plans to initiate any positions within the next 72 hours.
I wrote this article myself, and it expresses my own opinions. I am not receiving compensation for it (other than from Seeking Alpha). I have no business relationship with any company whose stock is mentioned in this article.