Navigator Gas (NYSE: NVGS) held its Q2 2015 earnings call on August 04, during which, I determined to keep a position in my core portfolio. The company is focused on long term and prudent stewardship of its assets and the capital afforded to it by investors.
Impressive Q2 highlights in the earnings release
Revenues up 10.6% over the prior year from $74.16M to $84.1M.
Earnings per share were a record $0.48, in line with estimates, but up from $0.36 in the same period last year.
EBITDA increased 23.3% to $47.7M for the quarter ending June 30, 2015.
Net income rose to a record $26.3M for the period ending June 30, 2015, an increase of 33.8% over the same period in 2014.
On April 27, Navigator took delivery of the newbuild, Navigator Umbrio, a 21,000m³ ethylene-capable vessel, setting current fleet at twenty-eight ships on the water.
Completed the sale of Navigator Mariner, to an undisclosed Indonesian buyer for ~$32.6M, which is above market value (see note below).
Ten semi-refrigerated gas carriers to be delivered between August 2015 and March 2017.
The NewBuild Program as of June 30, 2015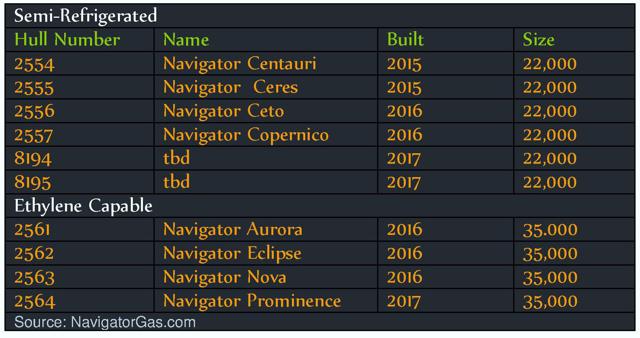 Source: Navigator Gas
With all this good news, why is the stock still retreating? Holders of the stock are vexed by this, but the simple answer is; it trades with oil. Why this is so is a matter we'll attempt to sort through here. Allow me to explain after some background.
I pulled these quick-view stats from GuruFocus.com. If this were another company in a different sector, the stock would likely have risen after the past few quarters were reported.
Operating Margin

40.83%

Net Margin

30.34%

Return on Equity (ROE)

11.95%

Return on Assets

7%

Revenue Growth

24.40%

3 years

EBITDA Growth

31.50%

3 years

P/E

9.45

ttm

Forward P/E

7.56

PEG Ration

0.56

Revenue Growth

20.80

5 years

DCF Value

$25.67

4% terminal growth

12% discount rate
Digging deeper into the call:
Vessel operating costs rose with the fleet expansion, however, average daily op-ex decreased by 9.4%.
Navigator has $66.2M in cash as of June 30.
Total debt of $607M.
Newbuilds should be completed in time for expansion of US export facilities in the gulf.
Mix: 17 vessels under long-term contracts, 11 on spot. Although spot rates are currently higher, Navigator runs a conservative, bird-in-the-hand company, so I think the mix is reasonable. Charter rates have improved over the same period last year.
Utilization rates continue to run in high 90 percentile.
Vessel Sale
The company confirmed the sale of the 15-year-old, ~21m³ LPGcarrier, Navigator Mariner, to an undisclosed Indonesian buyer, for $32.6M. As of August 12, 2015, VesselsValue.com listed the market value of this vessel at $27.58M. Note: VV updates their valuations nightly and are subject to change. That said, given that Navigator has earned "substantial cash" over the short period Navigator owned it, this appears to be a prudent move. The company has two new similarly-sized eco vessels joining the fleet at "very good prices" this year, so any contract revenue lost will be negligible.
The kind folks at VesselsValue explained the disparity in the sale price and market value. "The vessel has just passed its third, and most expensive, special survey at 15 years. We don't actually take this into account with our values, but it can have a big effect when buying one which has just passed. Also it is a combi type: it is an "LPG/C" i.e. has ability to rake ChemGas cargo, in this case both VCM and Ammonia. It will be in this tubular tank on the top."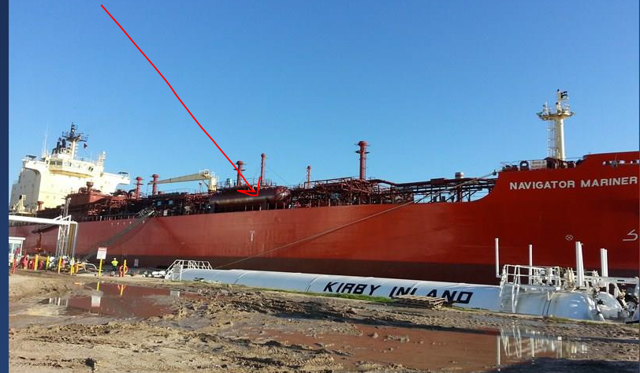 Image: VesselsValue.com
The Crude Conundrum
Evercore analyst, Jon Chappell asked Mr. Butters to explain the business as it relates to the price of oil, which the stock seems to be more correlated to than underlying rates. Mr. Butters discussed what he termed "the immunity of oil pricing," explaining how low crude prices create a "natural beneficiary" for the LPG sector.
As the price of the oil has come down, the propanes and the butanes, all LPGs, have come down in price as well. As a result, we are opening international markets for the US LPGs that we had never seen before, people who are buying it in international markets to replace locally or domestically produced LPG or raw material sourced from crude oil. Those markets once they open, once you've established trade routes and relationships; they tend to stay open."
The team further stated utilization rates across the 28 vessels for Q2 was 97.7%, indicative of strong demand for the company's handysized vessels used in the transportation of LPG and petrochemicals.
Assuming this is correct, and the company's high utilization rates and increased profitability gird that assertion, then why oh why does the stock suffer with the drop in crude prices?
On one level, it's an unfortunate consequence of the way stocks are traded in cohorts such as ETFs, funds and other lemming-like manners, i.e. "if it's petroleum related, we better sell it."
But some of the fault lies with a lack of zeal on the part of both management and the analysts to educate the investing public about the core business. There seems to be little in the commentary about this issue beyond the occasional, "Navigator had good earnings but, oil is down so..."
Conclusion
I'm calling this stock a short-term hold although I own Navigator for the long-haul, for several reasons, not least of which is the breadth of knowledge of management, along with its obvious enthusiasm for the business. It runs a conservative operation. During its conference calls, the team continually stresses prudence, long-range views and the duty to manage its invested capital carefully and profitably.
On the downside, Mr. Butters conceded there needs to be stability in crude pricing before the company can lock down contracts for its newbuild ethane carriers. In addition, on August 11, John Kilduff of Again Capital told CNBC that oil may not see a bottom till $30. Given the tendency of Navigator to trade with crude, there doesn't seem to be the kind of stability Mr. Butters and investors need to see for this stock to rebound.
The company doesn't need cash and will only sell the remaining older vessel in the fleet, the Magellan, when the right deal comes along. Management is confident in its cash position as well as its place in this sector. Mr. Butters stated that Navigator Gas is, "first movers in a specialized market" and that it was, "eager to bring on new vessels." It has no concern with oversupply - rare in the shipping industry. The demand is there. As the US builds out its LPG export infrastructure in the Gulf, that capacity will drive demand for the particular province dominated by Navigator Gas.
As long as oil stays volatile, so will Navigator. Despite this unqualified correlation to crude, until more investors listen to conference calls and/or management takes a more aggressive approach to speaking to investors about this opportunity, those of us in the know can quietly build larger positions.
At some point, management must return value to shareholders, which it will do over time with an expanded fleet, increased revenues and continued profitability. Dividends will not be coming soon, but are under consideration. The outstanding share count is relatively low (55.4M). The only way I see of increasing the share price is to get a campaign going to let investors know what a great opportunity this is and push demand for this low float.
Disclosure: I am/we are long NVGS.
I wrote this article myself, and it expresses my own opinions. I am not receiving compensation for it (other than from Seeking Alpha). I have no business relationship with any company whose stock is mentioned in this article.