It continues to be a perfect storm of detrimental factors for both import and export prices in the United States thanks to currency woes and crude oil prices still down over 50% versus a year ago. According to the Bureau of Labor Statistics, cross-boarder deflationary pressures in July were very evident as import prices declined by a steep 0.9% and export prices down by 0.2%. The chart below shows the month changes in total import and export prices as index points since 2012 and both indexes have been on the decline since last summer.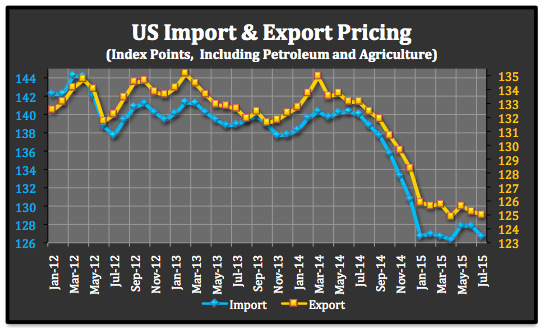 The biggest culprit behind the nearly 1.0% drop in import prices was once again thanks to weakness in oil as petroleum prices were down by a whopping 5.9% in July. Even when the petroleum factor is excluded from import prices, they were still weak for the month dropping by 0.3%, down from the 0.2% decline in June. On a year-over-year basis, total import prices declined by 10.4% and import prices excluding petroleum dropped by 2.8% primarily due to currency concerns. For the month of August, one can anticipate this figure to drop even further as China devalued its currency making their imports to the US even cheaper.
On the export side, prices declined by 0.2% in July after declining by 0.3% in June as prices for industrial supplies, reflecting the massive slump in petroleum prices, were particularly weak in the month. Unfortunately, the decline in industrial supplies more than offset the 0.8% overall increase in the price of agricultural goods. On a year-over-year basis, exports continue to be heavily impacted by oil and overall export prices are down 6.1%. The strong US dollar and weaker global currencies continue to hold down exports, though I do not expect the Federal Reserve to pull a move like the China Central Bank and devalue the currency for the sake of getting more countries to buy American-made products.
All in all, finished products on both the import and export sides continue to show a steak of negative activity both on a month-over-month and year-over-year basis. If there is one major takeaway from this report, it's that deflation continues to be a huge risk factor and since oil prices remain suppressed, it is not likely to go away anytime soon. Policy makers at the Federal Reserve may hinder the rate hike since inflation levels remain less-than-optimal, but of course this is just one of many reports that can be added to the doves' arsenal.
Disclosure: I/we have no positions in any stocks mentioned, and no plans to initiate any positions within the next 72 hours.
I wrote this article myself, and it expresses my own opinions. I am not receiving compensation for it (other than from Seeking Alpha). I have no business relationship with any company whose stock is mentioned in this article.