I reiterate my bullish stance on Sprouts Farmers Market (NASDAQ:SFM); the company's strong strategic growth efforts have been positively affecting its financial performance. Moving ahead, as SFM continues to expand its store base to wider, un-penetrated areas and constantly increases the range of high-quality, private label offerings, I believe the company's store traffic will remain strong in the years ahead. In addition, SFM's increased focus on providing best-in-class customer services will keep store traffic accelerated at its stores, thereby adding more towards the company's top-line growth. In addition, SFM's strong pricing power and aggressive marketing efforts make me believe that the company will continue generating healthy top-line numbers in the years ahead.
Correct Strategic Measures Will Better Long-Term Growth
Given the fact that demand for organic food has been increasing in the past few years, amid growing healthcare concerns, the U.S. Organic Food Retailing Industry growth has picked up. According to the Organic Trade Association, from 2004-2014, U.S. retail sales of organic food have jumped from $11.1 billion to $36 billion. Moving ahead, as the organic food market is poised to grow at a CAGR of 14%, until 2018, I believe organic food retailers will continue enjoying healthy top and bottom-line growths.
As far as SFM is concerned, the company's consistent growth efforts to tap the growth potentials of the Organic Retail Industry have positioned it well in the industry and the company has been enjoying consistent sales growth, as shown below.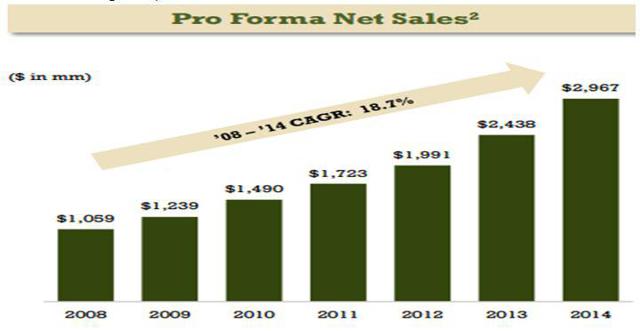 Source: Investor Presentation
As the company has accelerated its growth efforts, its financial performance has been improving. The company enjoyed strong comparable store sales (COMPS) growth of 5.1% and total sales growth of 21% during 2Q'15. Moreover, its quarterly sales increase helped it grow its adjusted net income by 16% to $35 million. Also, its adjusted EPS grew by 10% to $0.22 for 2Q'15.
In its efforts to continue growing financial numbers at a decent pace, SFM is keeping its focus on traditional growth drivers that have been helping it increase its market share and report strong top-line gains. One of the most important drivers for the company is its well thought-out store expansion plan that helps it reach more customers with deeper penetration in existing areas and also by moving into new, un-explored markets. As SFM opened 8 new stores during 2Q'15, the number of its store openings for 2015 reached to 22, which indicates that the company is on track to achieving its goal of opening 27 new stores by the end of 2015. In fact, the company sees the potential for 1,200 new store openings under its current store expansion plan. Given the fact that competitors like Whole Foods Market (NASDAQ:WFM) are constantly increasing the scale of competition for SFM, with continuous store expansion, WFM has been opening new traditional stores, and has also announced opening more stores under a new retail chain brand, "365". Therefore, I believe SFM needs to accelerate its store growth activity in order to strengthen its market share in a highly competitive Organic Retail Industry.
Despite SFM's relatively smaller store base than big organic retailers like WFM, the company's ongoing efforts to increase private label brand penetration have been supporting its performance. As a matter of fact, private label brands contain relatively low priced products than their counterparts' offered under national brands, due to which price conscious customers prefer to purchase private label brands rather than national brands, as shown in the chart below.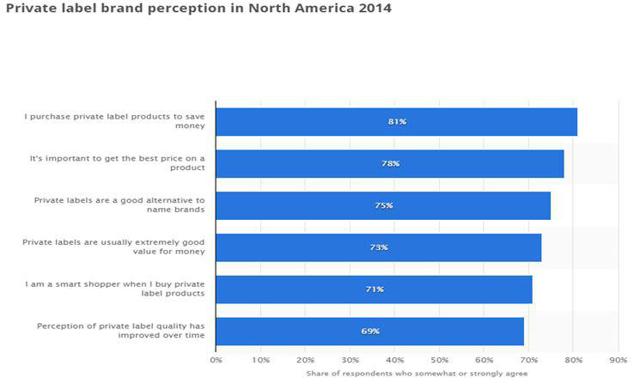 Source: Statista.com
Due to this increase in attention of retail shoppers on private label brands, SFM is continuously introducing more products under its private label; year-to-date, around 150 new and innovative private label products such as raw, non-GMO organic and vegan have been introduced by the company. It is due to the company's effort to constantly add new products to private label brands that private label comparable store sales have been improving. Owing to the positive response for private label products, the company continues to see this product category as a strong driver of its future sales base. Also, the company is confident about the launch of new features, for instance salad bar accumulated with ready-to-eat nutritious and seasoned salad. Given this value merchandising strategy of the company, I believe SFM will continue to price aggressively as compared to its peers, which will mean more upside for its future top-line growth. Moreover, the company's accelerated efforts to target marketing through digital technology and in-store education of its customers, combined with SFM's increased focus on providing best-in-class customer services, make me believe that the company will witness more foot traffic in its stores in the quarters ahead. All of the abovementioned strategic growth initiatives of SFM ensure a constant increase in its top-line numbers in the years ahead; analysts have projected a robust future sales growth of 20.74% for SFM.
Lowered Guidance For 2015
Given the heightened competition in the Organic Retailing Industry, the company's management has lowered its outlook for full year 2015. As per the updated guidance, SFM's net sales figure is expected to grow in a range of 19% to 21%, down from the previously given guidance of 20% to 22%. Also, the comparable store sales guidance has been lowered to 4% to 5% as opposed to the previous guidance range of 6% to 7%. Furthermore, EPS for full year is now expected to be in a range of $0.80 to $0.82, lower than the previous expectation of $0.84 to $0.87.
Conclusion
SFM's strong results for 2Q'15 and its constant growth efforts keep me bullish on the company's long-term growth potentials. As a matter of fact, SFM is taking all the correct measures to fight competitive headwinds, to tap the growth potential and broaden its market share. In fact, the company's rapid efforts to expand the range of private label offerings at the steadily growing store base, and enhanced marketing efforts will portend well for its store traffic, which will ultimately better the top-line and bottom-line growth in the years ahead. Also, analysts are expecting that the company's earnings will grow at a healthy average annual rate of 19.74% in the next five years. Due to the aforementioned factors, I am bullish on SFM.
Disclosure: I/we have no positions in any stocks mentioned, and no plans to initiate any positions within the next 72 hours.
I wrote this article myself, and it expresses my own opinions. I am not receiving compensation for it (other than from Seeking Alpha). I have no business relationship with any company whose stock is mentioned in this article.