In May, HSBC chief economist Stephen King hit markets with an interview in which he suggested that the world economy is currently the Titanic right before it hit the iceberg. He highlighted that we are six years into an economic recovery and therefore much closer to the next economic crisis, but also pointed out that this time, just as with the Titanic, global policymakers lack lifeboats.
King is commenting from the nearly ubiquitous Keynesian perspective here, which I happen not to espouse, but even Keynesians like King are noticing that there has never been an economic recovery that has not had rising interest rates come with it. This is a first. An interest rate buffer is the lifeboat he is referring to. When a crisis hits, interest rates are typically lowered. This time, that can't happen.
As far as what might trigger the recession, King highlighted four potential factors, including wage growth hurting earnings, the Fed raising interest rates too soon, insurance companies not being able to meet their obligations, and a Chinese economic collapse. I consider wage growth and insurance problems effects rather than causes, and am unsure of whether the Fed will ever raise interest rates before a crisis forces them to, but the Chinese issue may be the real trigger. David Stockman said just that when he called a top in stocks last week on CNBC, and he does not go along with the Keynesian crowd.
So a little on China. King suggested that forces beyond the Federal Reserve's control - one of which is the possibility of a Chinese economic collapse - could translate to a global downturn. Extraordinary measures are now being taken by the People's Bank of China including 2 back to back overnight devaluations of the Yuan to combat it. Between mid-June and early July, the Shanghai composite lost more than 30% of its value. The Shenzhen Composite, which is a tech-weighted index, lost nearly 40%. I called a top on June 1 having shorted Chinese stocks and have since covered my short position in the Xinhua China 25 ETF (FXI), though I doubt the bottom is in.
Beyond arresting short sellers (good thing I am not on Chinese soil), the Chinese government has used a state-owned company called China Securities Finance Corp to underwrite the margin lending activity of certain brokerages. This Chinese government-owned entity has, overnight, become a top-10 shareholder in a large portion of Chinese markets. That the Chinese government has done this seems outlandish enough, but it is not much different from the TARP bailouts. Devaluing its currency is also not much different from QE. All stimulus is essentially money printing in different ways.
As proof that money printing does not work, we have Japan, which is also weakening. The yen is now weakened to a point where it looks as though the bank of Japan has lost control of its direction, and national debt in Japan has eclipsed one quadrillion Yen. That's quadrillion with a Q. Clearly (sarcasm follows) they have not printed enough money. Japanese indexes are stalling. The WisdomTree Japan Hedged Equity Fund (DXJ) has been essentially unchanged since December.
Japan's government is caught in a position whereby it cannot raise taxes for fear of recession, while simultaneously it cannot meet its bills through lack of tax revenues. It will have to add to its quadrillion yen debt pile to make up the difference, but how many more zeroes can be added?
Regarding the Fed raising interest rates, Fed prognosticators are now openly doubting whether they can raise interest rates even by a quarter point by September. According to Bank of America, "The Fed call is now closer than before, but it may take a significant reaction by global markets for the FOMC to stay on hold in September." If raising rates by a quarter of a point is enough to trigger a recession, then what kind of recovery is this? Using King's analogy, the Fed may not even be able to breathe one breath of interest rate buffer into its lifeboat.
When it comes down to it though, it's all about money supply. In the end, that is what affects everything. Every tool central banks have is geared toward influencing money supply, even if they themselves don't see it that way. Tinkering with interest rates is effective only insofar as it influences money supply, not the other way around as Keynesians generally believe. Whether it is devaluation, QE, LTRO as they call it in the Eurozone, Operation Twist or whatever other name, it all comes down to how many monetary units are circulating. And on that front, we are very close to where we were in September 2008.
If you look at the Fed's latest monetary release for the week of August 6, you'll see the real one week average for M2 at $11.944 trillion: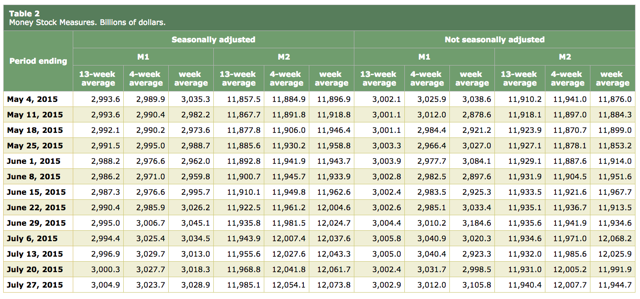 Source: Federal Reserve.
This is lower than the peak hit on April 6 of $12.081 trillion. That's 18 weeks of zero growth using the one week average. You'll also notice that the 13 week average, used by some to measure a broader picture, declined for 3 weeks in June.
Now take a look at the equivalent data from the same period in 2008. One-week M2 data peaked on April 14 that year and only exceeded that peak on September 15, for a period of 22 weeks of zero growth in the one-week , and that was coupled with a declining 13 week average for 5 weeks from June to July. While we did have a situation of zero one-week growth for 24 weeks last year, it was not coupled with shrinking 13-week growth. Now, for the first time since September 2008, we have both. What is happening now is a reflection of what happened in 2008, monetarily. Not a perfect mirror as there never is in economics, but enough of a chance to see something similar happen in the next few weeks that it warrants a good hedge.
If the S&P (SPY) breaks through the 2040 support zone, tested twice since February, then a serious crash is both possible from both a fundamental and technical perspective. The S&P has not gone anywhere since February, and has not stagnated for so long since the 2009 bear market bottom.
Personally, I am going long the VIX here out to November. The closest ETF is the VIX Midterm Futures (VIXM), though rollover of contracts and decay makes holding the VIX options directly more attractive for less capital.