When China devalued the yuan or renminbi this week, it roiled stock markets around the globe.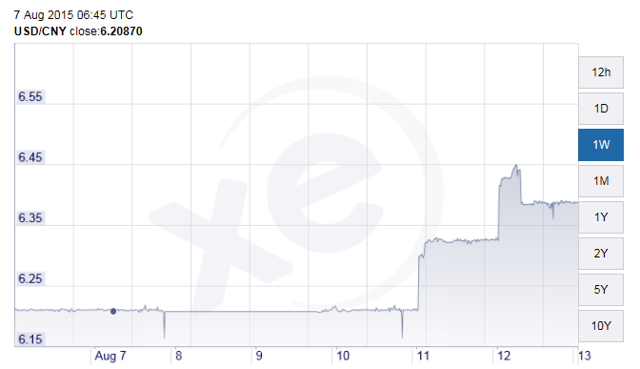 But one sector in the U.S. is poised to benefit from this move. As other countries around the world react to the Chinese by also devaluing their currencies, the net result for US consumers is a lower level of inflation and a possible delay in rate hikes from the Fed.

Yay for the REITs! REITs have been tossed around every time the forecast for rate increases has changed. When economic data revealed a strengthening US economy, the possibility of a rate hike in September drove down REIT share prices even though the underlying fundamentals continue to improve. It's the typical and historical reaction from investors holding dividend-paying stocks when rates rise. Sell now and ask questions later.
Then as other published economic indicators exposed parts of the economy that weren't on solid ground, REIT prices increased with the expectation that the Fed may not hike until December.
One of the primary data points the Fed evaluates when making rate decisions is the rate of inflation. There are many factors that drive inflation and they generally involve high levels of capacity utilization, a strong labor market, higher wages, and inflation among others. While all of these metrics were improving, none of them were getting to the point where rate increases were obvious - hence the back and forth between September and December.
With headline inflation measured by CPI running at an unadjusted rate of 0.1% over the previous 12 months ending in June and core inflation (minus food and energy) running at 1.8%, the Fed was considering a rate hike in September because of the possibility of inflation in the near future. The Personal Consumption Expenditures price, which has been highlighted as the Fed's preferred inflation gauge has been a bit lower at just 1.3%, and yet the Fed was considering a hike in September. Now that the yuan was devalued and other central banks will react to weaken their currencies too, it is more likely that inflation will be even more subdued, increasing the possibility of the first rate hike occurring in December.
For investors keen on getting rid of their dividend-paying stocks like REITs, this is a good reason to hold on just a bit longer and collect one or two more dividends before selling.
As I've mentioned in previous articles (REITs for a Rising Rate Regime) however, there are sub-sectors within the general REIT sector that tend to perform well when interest rates rise. Referring to the diagram below, you want to focus on REITs with short lease durations when interest rates rise. Senior Housing, Manufactured Housing, and Apartments tend to have annual leases - Storage REITs can oftentimes be even shorter - while Hotel REITs can change their pricing daily.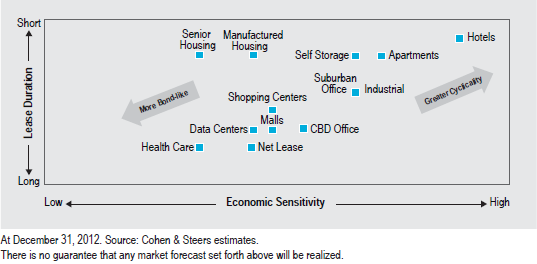 When interest rates are rising, it usually means inflation is accelerating, and REITs with short lease durations are able to increase pricing accordingly. Not so for REITs with longer leases, even though some may have annual elevator clauses that allow for modest increases.
Some select large and mid-cap REITs to consider within each category:
· Manufactured Housing: Equity LifeStyle Properties (NYSE:ELS), Sun Communities (NYSE:SUI)
· Hotel REITs: Host Hotels and Resorts (NYSE:HST), Hospitality Properties Trust (NYSE:HPT), LaSalle Hotel Properties (NYSE:LHO)
· Self Storage: Public Storage (NYSE:PSA), Extra Space Storage (NYSE:EXR)
· Senior Housing: Health Care REIT (HCN), Ventas (NYSE:VTR), HCP (NYSE:HCP), Omega Healthcare Investors (NYSE:OHI), Senior Housing Properties Trust (NYSE:SNH)
· Apartments: Equity Residential (NYSE:EQR), AvalonBay Communities (NYSE:AVB), Essex Property Trust (NYSE:ESS), UDR (NYSE:UDR), Camden Property Trust (NYSE:CPT)
Historically, REITs tend to decline in anticipation of rate increases and through the first and second rate hikes. But over time, the underlying fundamentals prevail and REITs perform according to the economics of the properties they own and not the reactions to investor sentiment and flows. This time will be no different, but it looks like the initial decline may have to wait a few more months.
Sources: PM101, Cohen and Steers, Bureau of Economic Analysis
Disclosure: I am/we are long HST.
I wrote this article myself, and it expresses my own opinions. I am not receiving compensation for it (other than from Seeking Alpha). I have no business relationship with any company whose stock is mentioned in this article.