Last week, I introduced a reincarnation of the speculative portfolio we had so much fun with during the second half of 2011. In a nutshell, I'm getting more aggressive this time around, leaving my relatively conservative, growth and income strategies for other articles and endeavors. I want to try to turn the $100,000 portfolio into the $500,000 portfolio by the end of 2012.
That's a fun, likely impossible, challenge. No different than the ones financial media outlets across the websphere conduct on a regular basis. But, for me, the challenge is secondary. Instead, I want to build off of what we did last year by focusing on strategy, process and/or the mechanics of the stock, ETF and option trades I put on.
A few folks did not seem to catch my drift last week, unfairly characterizing me as a gun-slinging trader unconcerned with risk. As one of Seeking Alpha's most insightful regular commenters noted in response: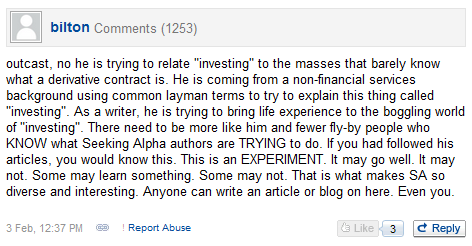 I appreciate that. And I could not have said it better myself. All it takes is a quick run through my Seeking Alpha article history to see that I probably talk about risk and mitigating it as much, if not more, than most writers. In fact, you do not even have to buy my basic options strategy eBook to see this plainly stated. It's where I place focus in the free sample Amazon.com (NASDAQ:AMZN) gives you. I also address the other major complaint - you're lucky when you trade paper money and you could not replicate it with real money. Maybe. Maybe not. But, I do agree that, with the stakes different, the outcomes definitely are as well. I've never even hinted otherwise. But, to chide the use of a simulated account shows a complete lack of understanding of the waters of trading and investing.
It seems that other people concern themselves with whether or not I hit $500K more than I do. While it would be nice, readers who followed the $10,000 portfolio know that I sometimes entered relatively weak trades or forced myself to stay in some positions longer than I normally would just so we could create a greater number of learning opportunities. If this thing drops to $50,000, I will not be happy about it, but I'll have accomplished my goal if more than one person, including myself, learns something from the experience.
Current Positions Update
I use this past Friday's prices throughout the entire article.
Closing the Lululemon (NASDAQ:LULU) position. Purchased 100 shares at $55.25. Selling them at $64.58 for a gain of $933. Value (in cash): $6,458.
I love LULU. And, while I find that many bear cases against the stock tend toward flimsy, I just do not want to be in it after such a nice run for both the stock and the broader market. Though I'm not doing it in this portfolio, in "real-life," as part of a long-term plan, I would take only some profits in LULU now and add to the remaining position on any dips.
Bears push a short of LULU on the old and tired basis of valuation, no barriers to entry and the notion that,
Not every lady on earth is going to fall for the yoga craze and shop for new gear every other week. This means that, even in the absence of any competition, sales will taper-off, as the market approaches saturation.
Calling LULU a fad is akin to arguing that Apple (NASDAQ:AAPL) fan boys would not buy iPhone 4S because they already had iPhone 4. That's not the way consumers operate in relation to loyal, lifestyle brands. Lululemon defines many affluent women, even if they never do yoga, just as owning the latest thing from Apple makes a social status statement, or at least that's how large numbers of folks think, even if on a subconscious level. LULU has plenty of room to grow. If it loses its grip on the relatively high-end female shopper, it certainly will not be because she was fickle. LULU is not a diet; it's not a fad.
I'm keeping the remaining three positions open:
AAPL Jan '14 $600 call. Purchased one contract for $32.80. Holding at $28.10 for an on-paper loss of ($470). Position value: $2,810.
Netflix (NASDAQ:NFLX) Jan '13 $130 puts. Purchased five contracts for $35.50 each. Holding at $32.85 for an on-paper loss of ($1,325). Position value: $16,425.
Pandora (NYSE:P) Mar $11 puts. Sold 20 contracts for $0.50 each. Holding at $0.35 for an on-paper profit of $300. Credit banked: $1,000.
Pandora reports on February 22nd. If the stock gets hit on earnings, plus pulls back ahead of them, assuming the Facebook-related euphoria fades, I would be more than happy to scoop up shares at $11.00. Despite the volatility in the stock, I'd be surprised to see it receive a greater than 20% haircut in just over a month. If it does, $11.00 with an effective price of $10.50 ($11 strike minus the $0.50 credit received) looks like a pretty attractive entry to ride out 2012. And that's the key part of the equation.
I never sell a put on a stock that I would not want to own. In theory, it sounds great to say, there's no way that stock drops that low (to the strike I sell) so the premium I collect is "free" money. There's no such thing. You absolutely have to ask yourself: Would I be alright getting put shares of this stock at the strike? If you're really not, but fool yourself into believing that you are, you might end up racing to buy the put back for a heck of a lot more than you sold it for.
Add it all up and the value of the $100,000 portfolio stands at $100,138. That includes a cash balance of $80,903 (previous cash balance of $74,445, which includes the P credit plus the $6,458 in proceeds from the LULU sale).
New Positions
First, I deal with NFLX. The long-term bear case remains intact. That, however, does not change the reality that the market often acts irrationally, particularly with momo stocks, and NFLX bears, including the company's management, have a way with smoke and mirrors. As such, I want to protect myself - and even profit from - any near- to mid-term upside while following my conviction of a longer-term implosion.
Buying 2 NFLX March $120 calls for $13.45 each. That's good for a debit of $2,690, bringing the cash balance to $78,213.
Entering 10 NFLX bull put spreads. Selling 10 NFLX March $97.50 puts for $1.43 apiece and buying 10 NFLX March $77.50 puts for $0.27 for a net credit of $116 per spread and $1,160 total, bringing the cash balance to $79,373.
The calls represent a pretty straightforward hedge. As for the bull put spreads, I used them quite effectively early on in the $10,000 portfolio to generate income in association with consistent upside in AAPL and AMZN.
The equity required to back each spread comes to roughly $2,000 (the difference between the strikes). Given the actual cash balance and margin buying power this portfolio would have, it can easily cover the $20,000. I'm hoping that either upside in NFLX or time decay with or without upside renders the spread worthless before too long or allows me to close it for a nice profit.
Second, I bank on a near-term pullback or even full-blown correction. I expect these to be short-term trades that I will stop myself out of if they move too hard against me.
Buying 1,000 shares of the Direxion Daily Total Market Bear 1X Shares ETF (NYSEARCA:TOTS) at $34.06. This trade costs $34,060 and brings the portfolio's cash balance to $45,313.
Buying 1,000 shares of the Direxion Daily Retail Bear 3X Shares ETF (NYSE:RETS) at $16.16. That equals a debit of $16,160, bringing the cash balance to $29,513.
Here's my rationale. I'm actually pretty bullish right about now. That said, January was pretty incredible and February is off to quite the start. If nothing else, we're in for a healthy little pullback or something more as soon as this week.
If we get that sort of pullback, I expect retail shares to lead the way. RETS holds companies ranging from AMZN and NFLX to RadioShack (NYSE:RSH) and Sears (NASDAQ:SHLD). Ideally, I am able to jump out of these two ETFs for nice gains and throw some serious cash at AAPL, AMZN and others on dips by broad market sell-off association. That's the working plan at least.
A quick note on these inverse and leveraged ETFs. If you're going to dabble in these, study up on them as much as you do options and make sure you know what you're getting yourself into. ProShares provides some solid education, including the follow three key answers to FAQs:
What type of investor is an appropriate candidate for leveraged and inverse funds?

Leveraged and inverse funds are most appropriate for knowledgeable investors ... Shareholders, or their advisers, should be prepared to monitor their leveraged and inverse fund positions closely, as often as daily, and should use them as part of a diversified portfolio.

What are the investment objectives of leveraged and inverse funds?

A leveraged ETF is designed to provide a multiple (e.g., 2x or 3x) of the return of an index or other benchmark, usually for a single day, before fees and expenses. An inverse fund is designed to provide a multiple of the opposite (e.g., -1x, -2x, -3x) of the return of an index or other benchmark, usually for a single day, before fees and expenses.

What are some common uses for leveraged and inverse funds?

Leveraged and inverse funds are valuable tools that can be used in a variety of ways by knowledgeable investors. Some examples include: a. Using the magnified exposure of a leveraged fund to seek greater profits (of course, losses are also magnified). b. Committing less cash to target a specific level of exposure using a leveraged fund. c. Using an inverse fund to help hedge a portfolio position. d. Fine-tuning exposure (e.g., using an inverse fund to reduce exposure to a sector without selling holdings).
Endpoint - you can get your butt handed to you fast in these ETFs. I'm hoping that will not happen here, but with a $100,000 ultra-aggressive (and simulated) portfolio, I can afford to take what amounts to a several-thousand dollar risk.
Stay tuned.
Disclosure: I am long AAPL, P.
Additional disclosure: I am long NFLX June $40 put options.