(The following article was written by Quantified Alpha contributing analyst Clement Kwong, CFA level 3 candidate.)
Introduction
CenterPoint Energy (NYSE:CNP) is headquartered in Houston, Texas delivering energy and natural gas to approximately 25,000 customers across 20 states. CNP has a market cap of just over $8 billion, and has one of the highest dividend yields in the industry as well as the market. Given the mixed results we've seen from the latest economic data, a delay in raising rates could see investors search for income from dividend paying stocks. After being down almost 8% year to date, the utilities sector is experiencing a rally since June gaining over 6% during that time.
CNP released Q2 earnings this week with mixed results. Although earnings of 19 cents were in line with analyst's estimates, revenues of $1.5 billion missed analyst's expectation of around $1.8 billion. On the positive side, operating income from electric transmission and distribution increased from $145 million in Q2 2014 to $158 million in Q2 2015 representing growth of about 9%. Management reaffirmed full year guidance of $1.00-$1.10 per diluted share while targeting a 4-6 percent growth in dividends and earnings through 2018. We believe CNP offers investors great value as well as one of the highest dividend yield in the market.
Value Overview
Taking a quantitative approach, our analysis looks at certain metrics that have a strong predictive ability. Historical back testing has shown that companies that rank in the top of these metrics have had excessive average return relative to the market.

Our model output suggest CNP is quite undervalued when compared to the market and sector. With an earnings yield of 6.25%, CNP is trading at around 15X multiplies, well below the sector median of 18X. CNP also has a very impressive sales yield putting them in the 69th percentile of the market while boasting a solid free cash flow yield at 4.13%. Historical back testing has shown that on average, stocks with high cash flow yield have significantly outperformed stocks with low cash flow yield. As mentioned earlier, CNP also has one of the markets highest dividend yields at 5.05% putting them in "Dividend Channel's" top 10 dividend paying utility stocks for 2015.
Growth Overview
After earnings almost doubled in 2014, first quarter earnings were down around 40% causing the stock to underperform relative to the sector. We believe the 16% drop in price over the last 12 months to be a great entry point for investors looking for an undervalued stock. With CNP's improving return on equity and assets right in line with the market median, their ability to maintain growth in earnings will be important for investors to see that the company is going in the right direction.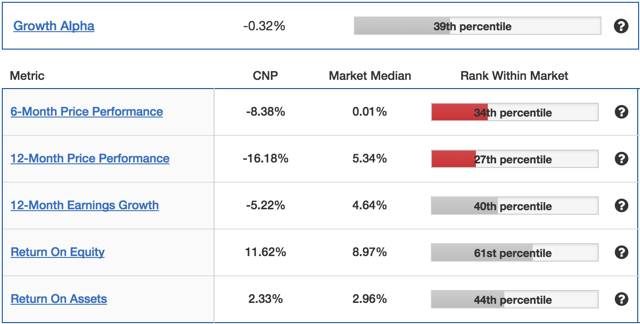 Sentiment Overview
Investor's sentiment has been positive as CNP's short ratio has been fairly low at 1.89%. The low ratio indicates the low level of confidence in short sellers betting against CNP, suggesting a rally is in sight. We believe short interest is a good indicator of future returns due to short sellers having more information than retail investors. The positive sentiment is also supported by strong insider ownership. In May, the director and vice president bought up 12,000 shares suggesting that management is confident that the company will turn it around. Although there was little change in institutional ownership, the combination of a low short ratio as well as high insider ownership suggests that CNP is poised to outperform in the year to come.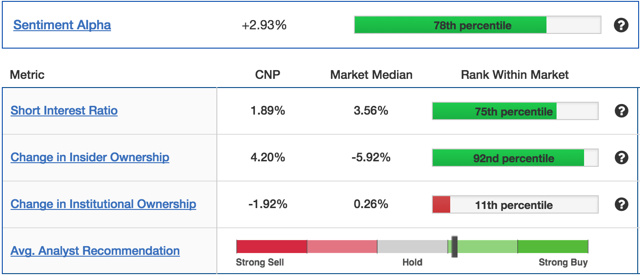 Outlook
The effects of low commodity prices and milder weather have put downward pressure on the utility sector. As a result, utilities have been one of the weakest performing sector in 2015. With little relief in sight for commodity prices, it will be important for CNP to grow their customer base in electric transmission and distribution. Results from Q2 earnings show that CNP grew the number of metered residential customers by 2%, right in line with expectations. Due to limited competition in areas where CNP services, CNP should be able to offset weaker margins from its natural gas and energy business so long as its able to continue growing its customer base by 2%. The performance of CNP's natural gas and energy line has been quite poor relative to previous years due to the low prices of oil and gas. With prices expected to stay low in the near term, CNP's success in the electric transmission and distribution space will be essential for future success. We also like CNP because of management's commitment to grow dividends over the next several years. A growing dividend will provide shareholders with return on their investment even when the stock is underperforming.
After an extended period of price decline, we believe CNP is ready for a rebound. With solid fundamentals supported by positive investor sentiment, CNP has an attractive quantitative profile that should outperform the market over the next 12 months.
Our equity pricing model uses historical back testing to predict the excess returns that a stock will generate. Using the CAPM model, we combine the stock's calculated alpha with the stock's beta to predict a range of 12-month target prices. Our base case scenario predicts a price target of $22.99 representing upside of 17% compared to Wall Street's target price of $21.67 which represents upside of 11%. Our model projects with 75% probability that CNP's stock price will be between $20.58-$24.33 over the next twelve months.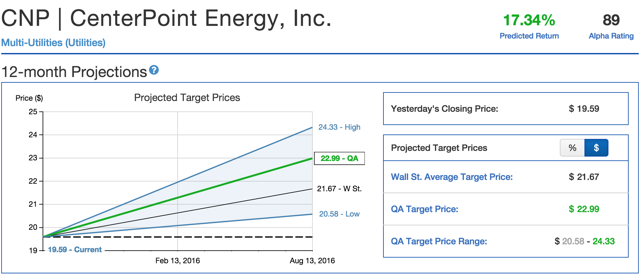 Disclosure: I/we have no positions in any stocks mentioned, and no plans to initiate any positions within the next 72 hours.
I wrote this article myself, and it expresses my own opinions. I am not receiving compensation for it (other than from Seeking Alpha). I have no business relationship with any company whose stock is mentioned in this article.