A little over a year ago on August 9, 2014, I published my very first Seeking Alpha article entitled "3 Small Cap Companies for Your Portfolio." In this article, I suggested that investors can find excellent publicly traded companies in the small cap arena with market capitalizations ranging between $300 million and $2 billion. Moreover, I emphasized that good fundamentals in the form of revenue, net income and free cash flow, along with a rock solid balance sheet, are even more important when investing in relatively underfollowed companies.
For this article, I analyzed three companies that resided in the small cap value range at the time. I chose these companies based on their ability to grow revenue, net income, and free cash flow over the previous five years. I also chose them based on strong balance sheets with decent cash positions and low debt, which can be especially hazardous since it creates profit choking interest costs. Let's take a look at how these three companies are doing now.
Off to a good start
For the article, I picked auto parts supplier Dorman Products (NASDAQ: DORM), egg producer Cal-Maine (NASDAQ: CALM) and WD-40 (NASDAQ: WDFC) known for its multi-purpose lubricant line as well as other lesser known household items. All three of these companies beat the S&P 500 in terms of total return. Dorman Products, Cal-Maine and WD-40, respectively, gave shareholders a 22%, 47% and 32% total return vs. a total return of 9% for the S&P 500 as a whole from the time of the article's publication on August 9, 2014 to August 9, 2015 (see chart below).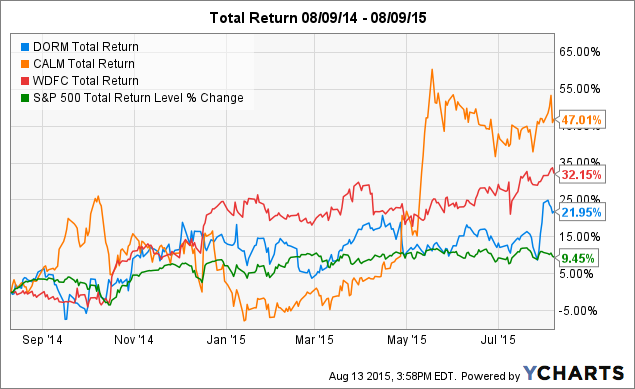 DORM Total Return Price data by YCharts
Of course, one year hardly represents long-term success. These companies may see a few years of underperformance as well (more on that later). But, I still feel that these companies will do well over the long term.
The fundamentals
Dorman Products ended its FY 2014 on a pretty solid note. Dorman Products continued to benefit from extended ownership of cars due to bad memories in the minds of the consumers from the great recession. The company expanded its revenue and net income 13% and 10%, respectively, during that time. However, free cash flow declined 19% year over year partially due to investments in an enterprise resource planning system.
Throughout FY 2015, Dorman Products' net income remained constricted due to expenses and capital expenditures associated with its enterprise resource planning system. So far this year, Dorman products has seen its revenue increase 2% year over year, while its net income declined 5% year over year. The enterprise resource planning system installation is nearly complete and net income should resume expansion. As a result, capital expenditures were less. This contributed to a 622% year over year increase in Dorman Products' free cash flow so far this year.
Cal-Maine has experienced robust gains in its fundamentals over the past year. Its revenue, net income and free cash flow increased 9%, 48%, and 75%, respectively, in its FY 2015, which ended in May. Robust gains in demand stemming from the increasing popularity of organic specialty eggs as well as positive factors beyond Cal-Maine's control, such as avian influenza, contributed to Cal-Maine's fortunes.
WD-40 ended FY 2014 on an okay note. Its revenue and net income increased 4% and 10%, respectively, year over year, while its free cash flow declined 28% during the same time. Its multipurpose products contributed heavily to expansion in revenue and net income. The timing of accruals and customer collections, as well as increased capital expenditures, put a dent in WD-40's free cash flow in FY 2014.
WD-40 is doing well on the profitability front so far in FY 2015 due to lower expenses. Its year-to-date revenue, net income and free cash flow expanded 0.3%, 3% and 64%, respectively, year over year. The company experienced lower sales in its Europe, Middle East, Africa and India unit due to adverse foreign currency translations. Political instability in regions such as Russia and Ukraine also hampered overall sales during this time. Lower petroleum costs, price increases, storage and advertising costs contributed to the expansion in WD-40's net income. Favorable changes in inventory and accruals contributed to gains in free cash flow.
The future
In a more recent article, I talked about how Dorman Products may face a muted mid-term future due to consumers' increasing tendency towards newer vehicles. Investments in its enterprise resource planning system seem to indicate that Dorman Products' senior management is preparing for a slower growth future. Keeping costs under control can conceivably keep profits growing as revenue growth slows down.
However, as fellow Seeking Alpha contributor, Patrick Lauziere, pointed out in the comments section, another economic downturn will happen. At that point, consumers will return to buying products that Dorman Products provides. Depressed earnings have caused the P/E ratio to expand to 21 vs. 17 a little over a year ago.
The medium term prospects for Cal-Maine remain on the sour side as well. After the temporary effects of avian influenza wear off, the supply of eggs will probably return to normal. This will most likely cause prices to fall, temporarily impacting fundamentals. Over the long term, however, I feel that Cal-Maine will deliver superior shareholder returns. The continued overall growth in demand for its specialty eggs, as well as Cal-Maine's desire to expand its market leadership via acquisitions, will serve as some of the bigger catalysts. Interestingly, Cal-Maine trades at a P/E ratio of 16, which is where it stood last August.
Lower petroleum prices will help boost the bottom lines of WD-40. Over the long term, WD-40's brand recognition will help move this company forward in providing shareholders with decent fundamental and, subsequently, shareholder returns. WD-40's P/E expanded some over the past year. Currently, the company's P/E ratio clocks in at 29 vs. 25 a year ago.
Concluding remarks
A little more than one year later and my attitude towards these three companies hasn't changed. Dorman Products, Cal-Maine and WD-40 still provide needed and practical products that aren't prone to obsolescence. The valuations of Dorman Products and WD-40 have expanded some. However, if these companies run into some temporary trouble causing their stock prices to adjust, investors should jump in and buy more shares. It pays to maintain a long-term mindset.
Disclosure: I am/we are long CALM, DORM, WDFC.
I wrote this article myself, and it expresses my own opinions. I am not receiving compensation for it (other than from Seeking Alpha). I have no business relationship with any company whose stock is mentioned in this article.