Back in August 2010, I wrote my very first article for Seeking Alpha on Safe Bulkers, Inc. (NYSE:SB), suggesting to readers that the risk/reward for an investment in the company was disproportionate. I argued that SB had the potential to reward shareholders even if industry conditions continued to get worse. A lot has happened since then and I thought that it would be worth re-evaluating the investment case for SB.
So, how has my previous investment thesis turned out? Not great, but not terrible either. The total return for holding SB over this period of time was 2.3% (dividends not reinvested). This return is hardly the phenomenal growth story of other more "exciting" investments, but it's pretty impressive when you consider the industry developments. I was initially banking on a recovery in rates through aggressive scrapping and the cancellation of oustanding orders. Companies have been scrapping vessels and canceling orders to deal with the oversupply within the industry, but this has not been enough to take any pressure off of rates resulting in 18 months of lower trending prices.
Secondly, growth in demand from China has slowed significantly, due to the government tightening lending standards. On top of that, if China goes through a major recession (which I think is a very likely possibility) then demand will fall even further. The Western world is also going through a prolonged slowdown of its own with the European debt crisis and a possibility of America sinking in a double dip recession (see my macro view of the U.S. economy).
Essentially, none of the developments over the past 18 months have been bullish for demand accelerating as I had initially expected to happen when I made my investment in the company back in July 2010. As a matter of fact, shipping rates (as measured by the Baltic Dry Index) have fallen below their 2009 lows and are 75% lower than they were when I wrote in 2010.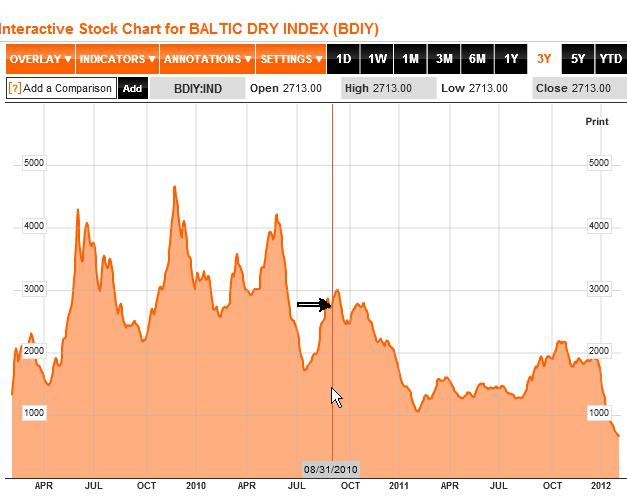 So what am I telling you? Industry conditions have deteriorated substantially, the sector is not likely to recover any time soon, and the globe is on the precipice of what could be another global recession and SB has still managed to return 2.3% over the past 18 months. It sounds like I was exactly right in describing this as a "heads I win, tails I don't lose much" situation when comparing the different possible outcomes for SB's performance.
Not only has SB been able to provide investors with modest returns, but it is in a substantially better financial position then it was when I had written before. SB's debt-to-equity ratio has declined from about 2.25 to 1.39*. This is still isn't a "good" number, but the display of consistent and marked improvement in the figure gives me more confidence in management's capabilities of prioritizing and improving the company's financial condition. Even revenues have shown modest improvements as additional vessels make up for lower rates. Another margin of safety for the company is that if we do enter another prolonged slowdown, the management could temporarily suspend the dividend to further prioritize debt reduction (a plus in my book).
Note: *1.39 is taken from reported results from 09/30/2011. Year end results for 2011 will be released February 14, and we can see if the trend has continued.
The decrease in leverage is quite impressive when we consider that SB has grown its fleet substantially over this period of time. SB now has 18 vessels under operation (up from 15 in Aug 2010) and 10 due to be delivered over the next 2 years (up from 7 in Aug 2010). So we have had a company that has been paying an impressive dividend and improving its financial condition and setting itself up to have greater earnings capacity once the market improves while business conditions for their industry have deteriorated. This is the kind of management that I want in charge of companies I invest in!
It should be noted that the increase in vessels may actually hurt SB in the short term. Due to the possibility that they remain unchartered or are chartered out at unprofitable rates. I do like the management's push to acquire a lot of vessels during a period of depressed market prices, but there may be some pain involved with this decision in the short term.
Despite SB's relative success in being able to navigate itself through these troubled waters, investors can have it for less than they did when I originally wrote about it (all of SB's positive return was due to its high dividend). I'm not suggesting that SB is the best investment that you will ever make or that you will get rich over night; however, I do believe that the past 18 months of results have shown a management that is competent, responsible, and able to take advantage of the industry cycle to maximize long-term benefit. Given that this industry is largely commoditized (anyone can buy a boat and ship your coal), management is of huge importance to relative value and investor returns.
I do not foresee the dry bulk industry recovering by any appreciable amount in 2012, and probably not in 2013 either. Despite that, I still believe that SB provides a lot of potential on the upside with limited down side risk. If 2011 year end results are good, investors may consider slowly building a position in this company over time as prices likely won't be this attractive once the outlook for the industry changes from "trouble at sea" to "smooth sailing."
Disclosure: I am long SB.
Additional disclosure: Potential investors are encouraged to do their own due diligence. I am not a professional analyst, nor do I do anything related to investment analysis in my career.