There is open debate as to whether the Federal Reserve will raise interest rates in September. A simple quarter-basis-point rate hike should not matter this much. But of course the hike itself is only symbolic. It is a psychological fulcrum and a potential tipping point. Sometimes a data point is more than just a data point - it is a "tell" as to the broad direction in which things are going. Other times it is a social signal around which a viewpoint consensus can cluster. Still other times it is both.
So the Fed matters, and opinions are split. For example there is this:
China's currency move is turning the mood of the market against an imminent Fed lift-off. If the mood was reasonably gung-ho last week, it had a whiff of draft-dodging by the time the implications of the strategic shift in the People's Bank of China's exchange rate policy sank in.

The likelihood of lift-off being announced at the FOMC's September meeting in five weeks is receding, judging by 30-day Fed funds futures prices, and currency strategists are telling investors they expect the Fed to hold fire.

~ Financial Times, China puts September Fed rate lift-off in doubt
Versus this:
An overwhelming majority of private forecasters polled think the Federal Reserve will begin raising short-term interest rates next month, capping a historic era of unprecedented monetary stimulus.

About 82% of economists surveyed Friday through Tuesday by The Wall Street Journal said the Fed's first rate increase will come in September, versus 13% who said the central bank will wait until December.

"I don't think there's unanimity, by any means, on the [rate-setting Federal Open Market] Committee," said Joel Naroff, president of Naroff Economic Advisors, who said he expects a liftoff in September. But, he said, "I think there's a general consensus that they need to go as soon as possible."

~ WSJ Survey: Economists Expect Fed Rate Liftoff in September
Below (via WSJ) we see the anticipated federal funds rate as implied by fed funds futures contracts. You can see that, in January 2015, average expectations were just under 50 basis points (half a percent) by October. That steadily dropped throughout the year, but we still see a solid floor around 0.25%, meaning the futures markets still expects a quarter point hike from yon Fed at the September meeting.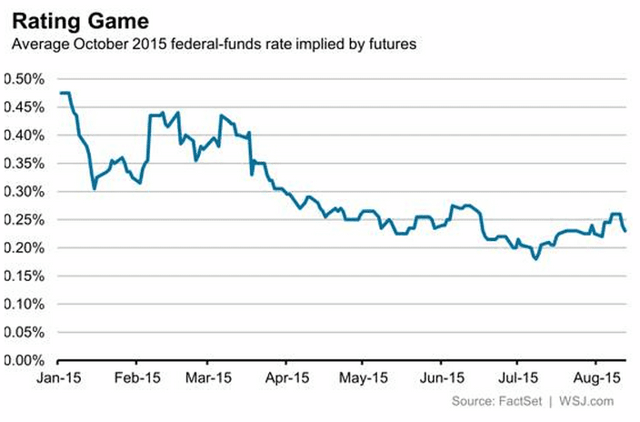 It makes sense that the Fed would NOT be deterred by China, at least for the first hike. After all, the US Federal Reserve has a long and storied history of ignoring policy impacts on the rest of the world. They consider global stability in their decisions, but the health and well being of other countries is well down on the list. Plus, if the Fed chooses not to raise now… and inflation starts to build up and China continues to stall… won't it be the same problem later on? There is both precedent and logic in the Fed ignoring China - and ignoring crashing copper and oil prices at six year lows.
But economics professor and Fed observer Tim Duy sees something else:
[The US Federal Reserve] expects that interest rates will need to rise farther to tame inflationary pressures. In fact, the Fed believes that the economy will evolve in such a way that it can raise short-term rates back to levels comparable to the old normal.

Financial markets participants, however, are not on the same page. They see the Fed staying persistently lower than Federal Open Market Committee meeting participants anticipate.

I would argue that financial markets are signaling that a soft landing has already been achieved and that much additional tightening will risk tipping the economy back into recession. The Fed staff is stuck in between…

~ BloombergBusiness, The Fed Is on Thinner Ice Than It Realizes, and It May Be Setting Us Up for Recession
Duy and Gavyn Davies, a former Goldman Sachs economist, believe the Fed could risk triggering a recession by hiking too soon - not realizing the US recovery is eggshell fragile:
My concern now is that the FOMC is on thinner ice than members realize because they don't believe they have already tightened policy. The soft landing may already be upon us. They just don't know it, or won't admit it.

That's a recipe for recession…
Quite an interesting juncture. The Federal Reserve is itching to hike at least a quarter basis point and start "getting things back to normal." Market expectations reflect the likelihood of this. And yet there are also clear arguments as to why the Fed should hang back, namely, deflation possibilities created by China slowdown and the potential for the US economy to have already soft landed, making the US recovery vulnerable.
And if the US economy does go back into the tank - with interest rates still in the zero range - that could trigger a wave of deflation fear, which would count as one of the Fed's worst nightmares.
Fear of deflation can be a self-fulfilling prophecy. The fear of deflation in a populace leads to cash hoarding, business cost-cutting, and widespread layoffs as a hunker down kind of response in the face of likely probability that things are going to get worse. These deflation anticipating actions then reduce economic activity and slow down local businesses, which creates a feeling that the initial worry was justified. The more that deflation is anticipated, the more that natural behaviors bring it about. Then the feedback loop starts again…
A deflation scare from current levels would be the Fed's worst nightmare - or close to it - because of the zero lower bound (ZLB).
To put it simply, when interest rates are high or already elevated, a downturn offers room to stimulate by cutting back on current rates. With rates already at zero, there is nowhere to go if a downturn hits. If we see full-blown recession in the United States before interest rates are meaningfully increased, there is no telling what the Federal Reserve might do. It is the "out of bullets" scenario for the downturn to show up too early in the hiking cycle.
As a 'Hail Mary' move (if the US went into recession with interest rates at the zero lower bound), the Fed could potentially be forced into extreme negative interest rates, to the tune of negative one or two percent (100 to 200 basis points) or even more. Holding USD cash (versus spending it) would then bear a substantial cost. In effect the banks, by order of the Fed, would start charging citizens just to park money in regular bank accounts. This would cause a political firestorm of epic proportions. And it isn't clear the modern financial system is capable of handing substantially negative rates in the first place.
Long story short, we should hope that Tim Duy is, in fact, overthinking things and not correct…
The last time investors in the $11 trillion corporate-bond market were so risk-averse, it was 2013 and the Federal Reserve's move to unwind its crisis-era stimulus had triggered what became known as the "taper tantrum."

A little more selling and the market will be at its worst since the fourth quarter of 2012, when the world was still recovering from Europe's sovereign debt crisis….

~ BloombergBusiness, The World's Credit Investors Are Getting More and More Skittish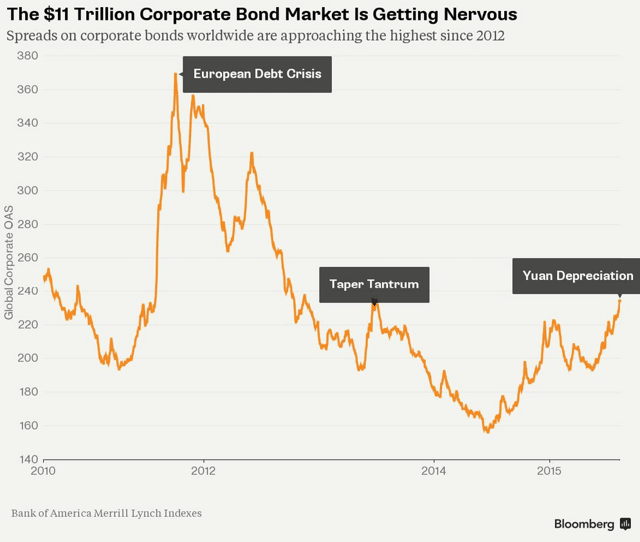 Because if Duy is right… and the US soft landing has already come and went… then premature hike activity will only fuel pain - and a potential nightmare scenario for the Federal Reserve.
The credit markets are already looking worried…
Disclosure: I/we have no positions in any stocks mentioned, and no plans to initiate any positions within the next 72 hours.
I wrote this article myself, and it expresses my own opinions. I am not receiving compensation for it. I have no business relationship with any company whose stock is mentioned in this article.