So I handed him my bottle
And he drank down my last swallow
Then he bummed a cigarette
And asked me for a light
And the night got deathly quiet
And his face lost all expression
He said, If you're gonna play the game, boy
You gotta learn to play it right
- The Gambler
CLO - The Shadow Banks Dirty Laundry?
CapitalOne ask's "What's In Your Wallet?" Ask not what's in your wallet? Ask "What's In My Fund?"
A reader comment:
To me the ETFs are just passive fund managers. They will not make active decisions, but the traders in the products will.
Before the 2008 crisis, the bulk of CDOs were collateralized by MBS (mortgage backed securities) ABS (asset backed security). Depository banks "securitize" loans they originate, often in the form of CDO securities, because this removes the loans from their books. Security buying investor banks replenish the dealer banks' capital while taking the risk.
Today, a new paradigm, because it is different this time. Activity in the leveraged loan markets surpassed the levels recorded before the crisis, as 55% est. of CDO consist of leveraged loans. Read that again and reflect.
As of mid 2014, cov-lite (covenant lite) issuance in the U.S. was 60% of CLO. Alright, I can hear certain readers now; what the hell does CDO, CLO and cov-lite have to do with ETFs, mutual funds, bond funds and mREITs? Class, please sit down, face forward, head down, keep reading, eyes on the prize. All in good time.
Cov-lite are high-yield, leveraged, junk bonds issued with little of no enforceable covenants. Translated, this paper does not contain the usual protective covenants for the benefit of the lending party. Meaning, little or no reporting, i.e. material adverse changes, or recourse. Back on track.
As of mid 2014, cov-lite (covenant lite) issuance in the U.S. was 60% of CLO, or half a trillion dollars. In 2015, around 65% of leveraged loans were securitized by CLOs, while the remaining 35% of issuance were sold outright to insurance companies, asset managers, mutual funds, and exchange traded funds. Back up and read that again. Why?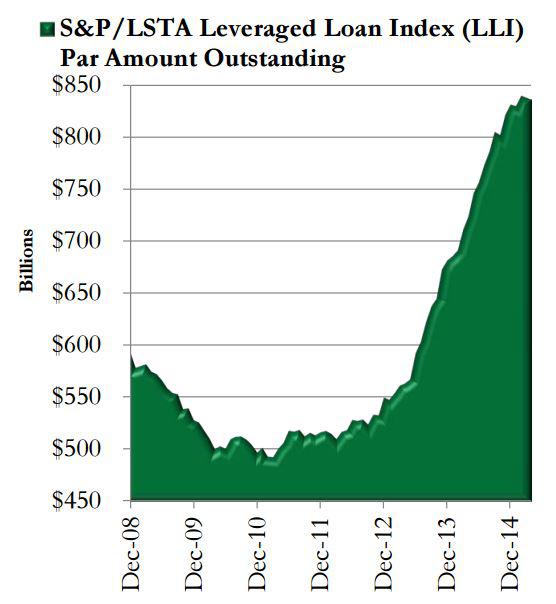 With almost $850B outstanding, anyone holding ETF, Mutual or Bond funds, you need to know how much leveraged debt, CLO and cov-lite your fund is holding. Why?
From the Fed report:
This deterioration in loan underwriting has come hand-in-hand with an increased presence of retail investors in the leveraged loan market primarily through mutual funds and exchange traded funds. Such investors are relatively less sophisticated than banks and hedge funds whose share in leveraged loan ownership is declining. The funding of leveraged loans by mutual and exchange traded funds represents a financial stability risk, as the loans have long maturities, are opaque and are inherently risky.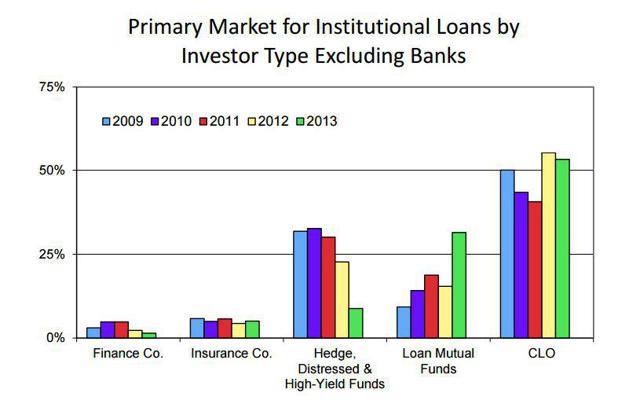 Above note, hedge, distressed and high yield funds backing out, who backed in? Stretching for yield, ETFs, mutual funds and bond funds. Below note, the changing landscape in issuance 2002 - present. 2015 YTD, mutual funds 20%; CLO 65% of the institutional loan market for leveraged debt.
Investors chasing yield to the Fed's whistle are blind to risks. They buy anything with a little extra yield without reading the small print. Issuance of these "covenant lite" junk bonds has soared over the past few years as covenant quality has deteriorated.
- Martin Fridson
Something we brought up long ago in Global Asset Correlation, Peak What? Christmastime in Hell Part 5 and The Midnight Sun, Part 3. And what are the majority of those CLOs, that mutual funds, ETFs and bond funds may have purchased, potentially holding inside of their dirty little tranches? Leveraged, high yield, oil, energy and commodities debt. You have to ask yourself this question: How much of this debt was written when oil was $100+ per barrel or when the stock of the company involved in the LBO, buyback or M&A was hyper inflated, and with the anticipation of such price levels, remaining in effect?
You've got to know when to hold 'em
Know when to fold 'em
Know when to walk away
Know when to run
You never count your money
When you're sittin' at the table
There'll be time enough for countin'
When the dealin's done
- The Gambler
What happens if those underlying companies default or leveraged debt comes under stress, for any reason? CLO is a repackaging of leveraged loans by any other name. Who repackaged those loans? The banks that made the leveraged loans used CLO to shift the credit risk off their balance sheet, and sell it to others. So there shall be no collateral call on those banks.
Cov-lite (60% of all leveraged) is a non recourse loan by any other name. Does this sound vaguely like Alt-a and Sub Prime MBS being marketed on a global basis with the AAA seal of approval? And who bought it, and is holding it this time? It is estimated that 45% of leveraged loans outstanding, were purchased OUTRIGHT without upstream packaging into a CLO. Many investors have bought it in the form of a mutual fund, ETF or bond fund, $18T USD; $22T Foreign. Are we having a deja vu, yet?
Yes there is a reach for yield but people are doing it with a gun to their head. I worry deeply about what will happen to these people when junk really gets hit in recession. They have no idea what they own and what kind of risk they are taking.
- Joseph Calhoun
The Takeaway
The new paradigm represents a shift in three key elements from 2008 to present:
Holdings: MBS vs Agency MBS and Leveraged
Holders: hedges, distressed, high yield, mREITS vs ETFs, mutual fund, bond fund, mREITS, Agency mREITS.
Operating Environment: banks vs shadow banking.
All of the shifts above, along with regulatory changes (Basel III, Dodd-Frank), affect material adverse changes from the pre 2008 crisis market. Market making and liquidity are the two areas most effected. The price of that liquidity is usually reflected in the widening of spread between bid and ask.
Bond market factors: less players, lower dealer inventories, increased issuance, greater retail ownership.
X-factors: Dollar, Eurodollar, oil, commodities. EM, China, export or commodities based sovereign, leveraged, student debt.
Overall market factors: Funds are NOT banks. Risk has been shifted from the banking system to capital market investors.
In Part 1, we stated "where banks have shrunk their balance sheets, shadow banking has filled the void" effectively putting everyone in the same operating pot. We also used the phrase "forced deleveraging anyone?" Forced selling to service margin calls often involves selling whatever one can sell, that being the most liquid holdings. Just because your fund is diversified, hedged and holds a low percentage of potentially "toxic" paper doesn't mean its "ringfenced" or immune when contagion is present and everyone is in the same pot.
IF an event occurs, as opposed to 2008, there is a lot MORE money in the casino and the exits and market making are in worse condition. And we all know what happened in 2008, with wider exits, more liquidity and a lot LESS money trying to exit. So what makes anyone think, it would shake out better next time? I'm shocked, shocked.
This guy will probably lose everything on the two shale energy bonds - I see no way either of them will avoid bankruptcy - so he'll invade principal whether he wants to or not.
- Joseph Calhoun
Life is all about timing and choices. What if that "guy" who bought leveraged debt outright or in CLO, is your fund manager? Do you want to be the "guy" getting asked, where's the money? Or do you want to be the "guy" asking, do you feel lucky? Your choice.
And when he finished speakin'
He turned back toward the window
Crushed out his cigarette
And faded off to sleep
And somewhere in the darkness
The gambler he broke even
And in his final words
I found an ace that I could keep
- The Gambler
If your going to play the game, you should know the rules, written and unwritten, before you sit at the table. Lest your money be lost, swiftly. Exerting your due diligence is your fiduciary responsibility to no one but, yourself. Having been duly notified and advised, you can only guide a horse to water.
Those who wish to expand their minds, and anyone holding ETF, Mutual fund, Bond fund, mREIT, CLO, EM, HY or Junk would do well to read the referenced Fed report and missives, in full.
In Contractions In Money Flows And Market Liquidity, we presented many charts of leveraged debt and other measures indicating potential contagion which could spread. For further elucidation, see Pater Tenebrarum's more recent A 'Stealth Bear Market' In Junk Bonds.
So the ostrich's, with their heads buried, who screech apoplectic, "chicken little" can now go screech in front of the Marriner S. Eccles building as well. Just like the Fed, we are pointing out subtleties, so carry on as you were, at your own peril. For those in tune on the wavelength, IF the sky falls or NOT, opportunities abound.
Investing is an inherently risky activity, and investors must always be prepared to potentially lose some or all of an investment's value. Past performance is, of course, no guarantee of future results.
Before investing, investors should consider carefully the investment objectives, risks, charges and expenses of an investment vehicle. This and other important information is contained in the prospectus and summary prospectus, which can be obtained from the principal or a financial advisor. Prospective investors should read the prospectus carefully before investing.
Recommended reading for inquiring minds. Warning: Reading not only those listed below, but every installment of these multi-part missives could lead to a better understanding of the market forces in play and how to profit from them.
For a complete missive series listing click here.
These global economic developments could affect numerous markets, sectors, indexes, commodities, forex, bonds, mutual funds, ETFs and stocks.
A List of Market Plays
DIA, SPDR Dow Jones Industrial Average ETF
SPY, S&P 500 Trust ETF
IVE, iShares S&P 500 Value ETF
IVV, iShares Core S&P 500 ETF
VOO, Vanguard S&P 500 ETF
DVY, iShares Select Dividend ETF
VTI Vanguard Total Stock Market ETF
SHY, iShares 1-3 Year Treasury Bond ETF
TLT, iShares 20+ Year Treasury Bond ETF
AGG, iShares Core Total U.S. Bond Market ETF
TBT, ProShares UltraShort 20+ Year Treasury ETF
USO, The United States Oil ETF, LP
OIL, iPath S&P Crude Oil Total Return Index ETN
XLE, Energy Select Sector SPDR ETF
UCO, ProShares Ultra Bloomberg Crude Oil ETF
UWTI, VelocityShares 3x Long Crude Oil ETN
OIH, Market Vectors Oil Services ETF
DHF, Dreyfus High Yield Strategies Fund
EMB, iShares J.P. Morgan USD Emerging Markets Bond ETF
PCY, PowerShares EM Sovereign Debt Portfolio ETF
BNDX, Vanguard Total International Bond ETF
DSUM, PowerShares Chinese Yuan Dim Sum Bond Portfolio ETF
TIP, iShares TIPS Bond ETF
TMV, Direxion Daily 20+ Year Treasury Bear 3x Shares ETF
IEF, iShares 7-10 Year Treasury Bond ETF
TBF, ProShares Short 20+ Year Treasury ETF
EEM, iShares MSCI Emerging Markets ETF
EFA, iShares MSCI EAFE ETF
VWO, Vanguard FTSE Emerging Markets ETF
EDC, Direxion Emerging Markets Bull 3X Shares ETF
EDZ, Direxion Emerging Markets Bear 3X Shares ETF
GLD, SPDR Gold Trust ETF
IAU, iShares Gold Trust ETF
PHYS, Sprott Physical Gold Trust
SGOL, ETFS Physical Swiss Gold Trust ETF
UGL, ProShares Ultra Gold ETF
DGP, PowerShares DB Gold Double Long ETN
GLL, ProShares UltraShort Gold ETF
DZZ, PowerShares DB Gold Double Short ETN
VNQ, Vanguard REIT Index ETF
AGNC, American Capital Agency Corp.
NLY, Annaly Capital Management, Inc.
ARR, ARMOUR Residential REIT, Inc.
ANH Anworth Mortgage Asset Corporation
CMO Capstead Mortgage Corporation
CYS CYS Investments, Inc.
DX, Dynex Capital Inc
HTS Hatteras Financial Corp.
IVR Invesco Mortgage Capital Inc.
MFA MFA Financial, Inc.
SNH, Senior Housing Properties Trust
STAG, STAG Industrial, Inc.
MORL UBS ETRACS Monthly Pay 2x Leveraged mREIT ETN
NRF Northstar Realty Finance Corp.
O Realty Income Corporation
RSO Resource Capital Corporation
TWO Two Harbors Investment Corp.
WMC Western Asset Mortgage Capital Corporation
Disclosure: I/we have no positions in any stocks mentioned, and no plans to initiate any positions within the next 72 hours.
I wrote this article myself, and it expresses my own opinions. I am not receiving compensation for it (other than from Seeking Alpha). I have no business relationship with any company whose stock is mentioned in this article.