I get the question "What are the best oil stocks to buy?" all the time. Recently I've been asked that more and more as oil continues to drop. For some reason Americans love oil. Even more, they love oil stocks. We've been pounded over the head so much with "peak oil" theories and talk of oil going up forever that the thought of a new paradigm in oil prices is just beyond us.
Don't think that the bottom for oil is in. There is new supply coming online daily, a weak Chinese currency isn't going to help, and neither will changes on the demand side of the equation. If you're looking to pick that bottom, good luck. The problem with trying to pick bottoms is you can only be right once, but you can be wrong a lot of times.
That doesn't mean you can't make money in the oil business. You just have to adjust what you're looking for. Let me ask you a quick question, when oil was at $140 a barrel, how much did you pay for gasoline? We can call it $4 to be safe. Now that oil has dropped down to nearly $40 a barrel, a whopping 70%+ lower, have gas prices dropped to $1.20? Nope. They haven't even broken $2.50. Heck, in Chicago I can't find gas below $3.
Who is pocketing this money? The refiners. You see, refiners make money on what's known as the crack spread. Take a barrel of oil, and "crack it" or break it down into petroleum products. The crack spread is the theoretical refining margin. The 3-2-1 crack spread is a commonly used formula of the industry. This represents the approximate real-world ratio of refinery output.
For example, heating oil is at $157, RBOB gasoline at $171.67 and crude is $42.14. Using the 3:2:1 method, a barrel of crude would have a crack spread of $83.72 per barrel. That's a great profit margin and a good reason why the refiners are a great place to be right now.
Here I've provided five oil refiners that are Zacks Rank #1 (Strong Buy) and Zacks Rank #2 (Buy) stocks for you to profit on this trend. These five names are all great ideas to make money in the oil market while prices continue to bounce around.
Alon USA Energy (NYSE:ALJ)
Alon USA Energy, Inc. is an independent refiner and marketer of petroleum products, operating primarily in the Southwestern and South Central regions of the United States. Alon markets gasoline and diesel products under the FINA brand name and is a leading producer of asphalt in the State of Texas.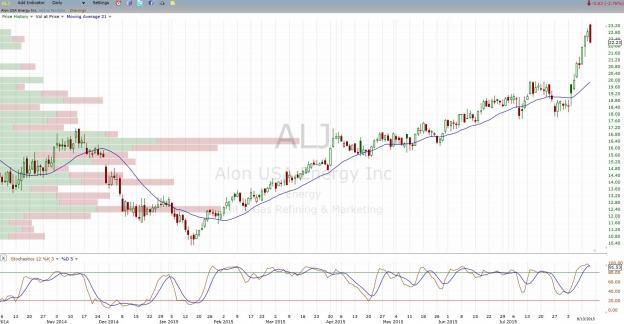 A fierce rally off lows near $10 in mid-January peaked as ALJ shares jumped to a fresh 52-week high above $23. A rough day yesterday brought shares back to reality. With an overbought stochastic indicator flashing a "Sell" signal, you have a couple days wait before you jump in on these shares at a discount.
HollyFrontier Corp (NYSE:HFC)
HollyFrontier Corporation is engaged in refining petroleum. It produces and markets gasoline, diesel, jet fuel, asphalt, heavy products and specialty lubricant products.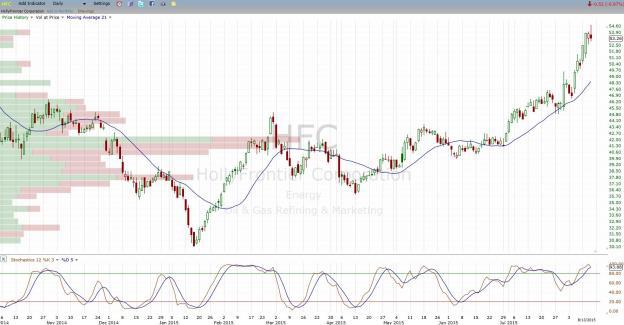 Another great chart that bounced off a bottom in mid-January. HFC shares look a bit overbought but the important $50 level has been leapfrogged. I think the bullish sentiment will continue as shares consolidate briefly ahead of fresh buyers stepping back in.
Tesoro (TSO)
Tesoro was founded in 1968 as a company primarily engaged in petroleum exploration and production. In 1969, Tesoro began operating Alaska's first refinery near Kenai. Today, Tesoro is a FORTUNE 500 company and one of the largest independent petroleum refiners and marketers in the Western United States.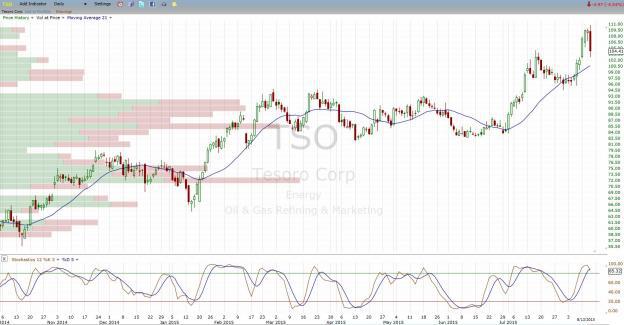 TSO shares entered a long consolidation period earlier this year as the stock price bounced back and forth between $82 and $94. A bounce off the bottom end of the range in early June sparked the latest rally. After hitting new highs near $110 shares have retraced a bit. I don't believe this is the start of a downturn with the 21-day moving average providing support to the downside near the century mark.
Valero (NYSE:VLO)
Valero Energy Corporation owns and operates refineries in the United States and Canada with a combined throughput capacity of approximately two million BPD, making it one of the nation's top refiners of petroleum products. Valero is also one of the nation's leading retail operators with retail outlets in the United States and Canada under various brand names including Diamond Shamrock, Ultramar, Valero, Beacon and Total.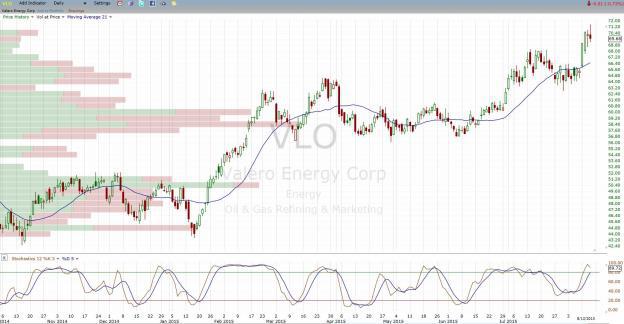 Shares of Valero have staged a rally very similar to TSO. The chart is still a bit overbought here but the 21-day sits 5% off the current price. A tight consolidation in late July sets the bottom end of the trading range now. The top of the early July range at $68 is the first level of support to the downside for a stock that sits near $70.
Western Refining (NYSE:WNR)
Western Refining, Inc. is an independent crude oil refiner and marketer of refined products headquartered in El Paso, Texas, and operates primarily in the Southwestern region of the United States, including Arizona, New Mexico, and West Texas.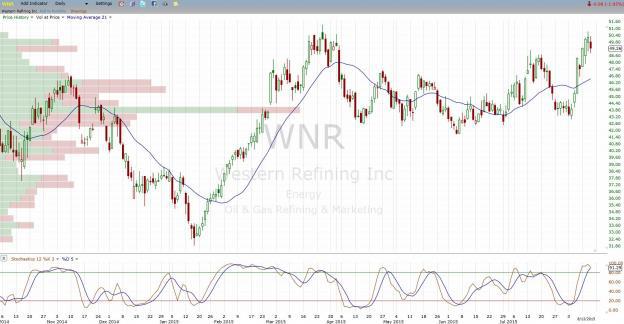 The Western Refining chart is the choppiest of the refiners here. Like the others it entered a spring consolidation but the difference is in the highs. While most refiners have hit fresh highs over the last week or so, WNR shares peaked in late March. This could imply that more
Bottom Line
Trying to catch a falling knife is risky business. Don't believe me? Just ask my friend Stubbs. Let this oil market take its course. If you really want to know where the money is, stick with the refiners like I've been saying all year.