Dividend growth investors for a more secure retirement are a special breed. We see value when there may not be as much value as we would like. We see an opportunity to increase our income right now when a dividend aristocrat like Johnson & Johnson (NYSE:JNJ) is already correcting by 10% or more.
The focus is income for retirement, and my approach is to avoid timing the market and by taking advantage of what I consider fair pricing for a super juggernaut stock like JNJ.
Look At The Team Alpha Retirement Portfolio
There are quite a few dividend aristocrats in this portfolio and plenty of cash. Exxon Mobil (NYSE:XOM), AT&T (NYSE:T), Proctor & Gamble (NYSE:PG), Coca-Cola (NYSE:KO), Con Edison (NYSE:ED) and Altria (NYSE:MO) just to name a few, but my focus right now is on JNJ.
Why JNJ Looks "Ripe" To Start Nibbling At
Well, to my naive approach I see a stock that is not going out of business, is part of everyone's lives around the world, has a name brand that is recognized by just about everyone, and has paid and increased its dividend for more than 25 consecutive years (52 years to be exact), through good and bad times and has even beaten wall street estimates this quarter.
Yes the company had guided lower back in April, so the results seems to have disappointed some analysts. That being said, it was less than a month ago that even Jim Cramer suggested that JNJ could unlock 50% more growth within the company itself by perhaps breaking the company up into three separate entities. That may or may not happen, but I believe that even if the company stays the way it is, dividend growth investors can now take advantage of an accidental high yield of 3.07% due to the drop in the share price from its 52-week highs.
While it is true that JNJ put up lower numbers than last year the same quarter, this time the company is raising earnings estimates going forward:
EPS guidance raised to $6.10-6.20.
This might not sound like much, but it was a quick reversal from just 5 months ago!
The Fundamentals Speak For Themselves
Being that this is a dividend aristocrat, mega cap, world class company, all one needs to do is take a peek at some basic fundamentals:
A trailing P/E ratio of just 17.35
A forward P/E ratio of just 15.38
A current yield on cost of about 3.07% (first time in quite awhile that JNJ has breached the 3% benchmark by the way).
67% of all shares are held by institutions.
A very appealing payout ratio of just 50% (just what we DGI'ers love).
Earnings growth of 4.4% year over year, even though revenues were short by 8.8% year over year (margins increased).
Operating margin of nearly 28%.
A rather large short interest that would take more than 4 days to cover.
I am absolutely not saying that the share price will not go lower from here, but I do believe that layering into a position at the current levels makes sense.
Look at this chart: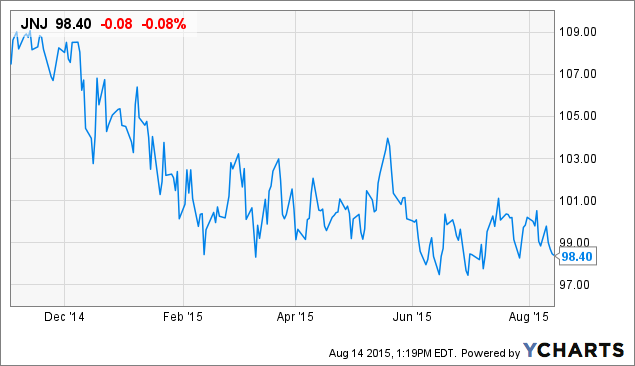 JNJ data by YCharts
It is my opinion that JNJ has gotten caught up with many of the dividend aristocrats over the last year and has corrected to levels that make it more of a value for my money.
Not only that, but you can pick up the dividend, which goes ex on 8/21 by nibbling at some shares right now that are about 10% less than they were last November.
The Bottom Line
Buying JNJ makes sense to me but you really should check your own risk tolerance and make sure of your strategy. For every 1,000 shares, the yearly income is $3,000, no matter where the share price heads.
I would take a guess that this stock will go up by 10% before going down by another 5%, but that is just my simpleton guess.
For now, JNJ is on sale for me. How about for you?
One Final Word
Much been stated about contributor performance and while it may be hard to follow in some cases, there is a site that does the best it can do. "Tip Ranks".
Here is my 2 year ranking for whatever it may be worth: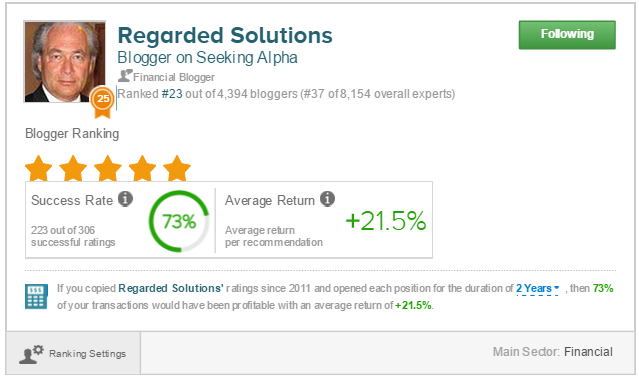 Disclaimer: The opinions of the author are not recommendations to be either by or sell any security, nor is it an endorsement for anyone to follow the authors personal investing strategy. Please remember to do your own research prior to making any investment decisions.
Disclosure: I am/we are long ED, JNJ, KO, MO, PG, T, XOM.
I wrote this article myself, and it expresses my own opinions. I am not receiving compensation for it (other than from Seeking Alpha). I have no business relationship with any company whose stock is mentioned in this article.