The recent devaluation of the Renminbi has raised two sets of questions. How far will the USD/CNY go? How serious are the economic problems and challenges of China? Two charts can provide a lot of answers to those questions.
1. Structurally, there is a big issue regarding:
a/ The return/efficiency of capital (something well illustrated by the ICOR: a higher figure suggests a lower marginal efficiency of new capital). The sharp increase registered since 2008 suggests that the efficiency of newly added capital has drastically fallen.
b/ This is a big issue since it has been financed by a sharp increase in leverage. The trend of the associated debt load, as a share of GDP, has drastically steepened after the Great Recession.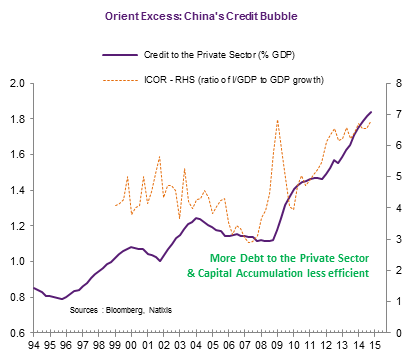 The message is clear: there is a double structural issue for China: a combination of inefficient capital accumulation with a huge debt hangover.
2. Cyclically: Capital outflows (proxied here by cumulative changes in FX reserves and the trade balance) are huge. The link with the USD/CNY has historically been loose but significant, which is quite surprising given the administered FX regime. The current reading clearly points toward a much weaker Yuan.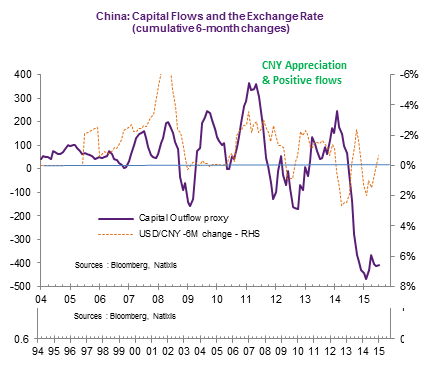 Here too the message is straightforward: If "market forces" have to drive the USD/CNY, the depreciation will continue.
Two charts thus to highlight the short-term risk of depreciation and the long-run challenges of China, suggesting that it won't be the global growth enhancer that it used to be.
Disclosure: I/we have no positions in any stocks mentioned, and no plans to initiate any positions within the next 72 hours.
I wrote this article myself, and it expresses my own opinions. I am not receiving compensation for it (other than from Seeking Alpha). I have no business relationship with any company whose stock is mentioned in this article.