For many companies, brand awareness is the make or break factor that contributes to their success. In the alcoholic beverage industry, the same rules apply. Brown-Forman (NYSE:BF.B), Anheuser-Busch InBev (NYSE:BUD), and Diageo plc (NYSE:DEO) have survived all these years because they own widely known brands such as Jack Daniels, Bud Light, and Captain Morgan. The growth at these companies has slowed considerably over the years, but due to the nature of the business, there is a large barrier to entry. For many of these brands, the process of making the alcohol takes years, so it is quite difficult for competitors to enter the market and become immediately successful. Although the growth has slowed, similar to tobacco stocks, the alcoholic beverage companies continue to generate stable cash flow that is in return handed over to investors, a trend that looks to be ongoing for years to come.
In this article I will highlight three dividend companies in the alcoholic beverage industry and focus on their results from the latest quarter as well as their dividend growth potential.
Company: Brown-Forman
Price: $110.60
Yield: 1.14%
P/E: 33.92
Payout Ratio: 39.13%
Years of dividend increases: 31
Brown-Forman DGR
| | | | |
| --- | --- | --- | --- |
| 1-yr | 3-yr | 5-yr | 10-yr |
| 11.8% | 10.6% | 9% | 10% |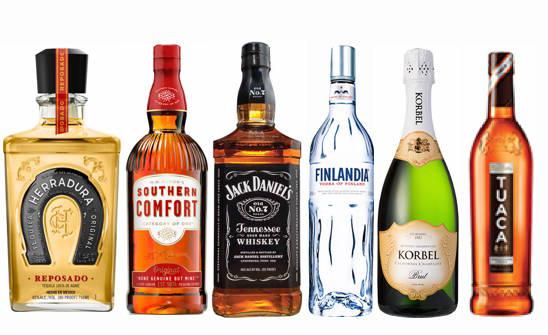 Image Rights: Brown-Forman.com
Brown-Forman reported a strong quarter in June with EPS of $0.66 in-line and revenue beating by $28.51M (+6% Y/Y). Net sales increased by 4% in large part thanks to the premium American whiskey brands. In 2011, Jack Daniels unveiled a new brand for only the third time since 1866, Jack Daniels Tennessee Honey. The Tennessee Honey brand saw underlying net sales rise 28%. From the conference call, management reported that the United States delivered its fourth consecutive year of value share gains and that sales growth was balanced worldwide. Operating income grew 9% and management was able to return $256M to shareholders in the form of dividends and repurchased $462M of stock. A key highlight from the press release was that Brown-Forman, "generated a ROIC of 22%, and delivered a ten-year compound annual growth rate in TSR of 15%, nearly double the S&P 500s TSR of 8% per year."
The dividend looks very sustainable for the foreseeable future. I was quite surprised to see the average volume of shares exchanged daily was only 505,820, quite low for a company that I consider best-of-breed. Overall, with a payout ratio of under 40% and sales growing 9% in emerging markets, a key location for all of these companies, Brown-Forman looks poised to continue delivering on its dividend growth. Brown-Forman recently announced they have acquired Slane Castle Irish Whiskey. This is a great decision, as long term it will give them a foot in the door for the Irish whiskey business and allow them to grow and expand into other product categories.
Company: Anheuser-Busch
Price: $120.95
Yield: 2.88%
P/E: 20.63
Payout Ratio: 58.58%
Years of dividend increases: 5
Anheuser-Busch DGR
| | | | |
| --- | --- | --- | --- |
| 1-yr | 3-yr | 5-yr | 10-yr |
| 7% | 40% | n/a | n/a |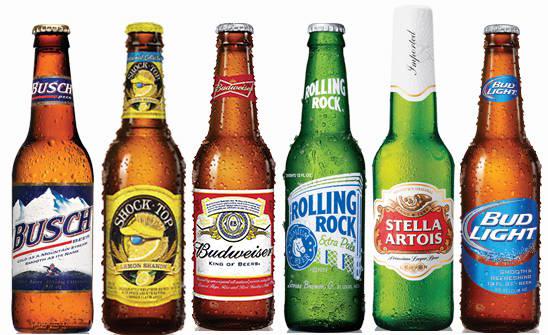 Image rights: AnheuserBusch.com
Anheuser-Busch has performed well in the past year but earnings in the most recent quarter were rough. EPS of $1.21 missed by $.04 and revenue of $11.05B missed by $520M (-9.4% Y/Y). BUD's EBITDA (Earnings Before Interest, Taxes, Depreciation and Amortization) grew by 4.6% and was way below analysts' expectations of 8% growth. I feel the high analyst expectations are due to the strong 2014 Q2 earnings report as revenue jumped thanks in large part to the World Cup. Anheuser-Busch is still struggling, however, as total volumes declined 2.2%. Beer volumes were down 2.1% and non-beer volumes down 2.9%. A large concern for many investors was the fact that beer shipments declined 8.6% y/y in Brazil in Q2. This looks like a problem, but a lot of the decline was due again to the World Cup boost given in Q2 of 2014. The Asia-Pacific market was relatively flat, but due to the Chinese market crash and other economy-related items, it wouldn't be a shock to see spending by consumers decline in that region.
The company announced in their latest conference call that the $1B share buyback announced on February 26, 2015 has been completed on June 22, 2015. Net debt for the company is hovering around $39B, in large part to the Modelo deal. In 2014, Moody's upgraded BUD's long-term rating to A2 from A3, and its short-term rating from Prime-1 to Prime-2, citing a positive outlook going forward. The payout ratio at ~58% appears to be in a good spot for now as long as Anheuser-Busch is able to benefit from price hikes and continue to grow in emerging markets. In June, the company announced a $1.5B investment within the company. $850M will be focused on brewery expansion, $720M for efficiency initiatives, and $220M in the product innovation category.
Company: Diageo plc
Price: $110.26
Yield: 3.14%
P/E: 18.60%
Payout Ratio: 70.06%
Years of dividend increases: 5
Diageo DGR
| | | | |
| --- | --- | --- | --- |
| 1-yr | 3-yr | 5-yr | 10-yr |
| 12.4% | 9.1% | 8.3% | 5.3% |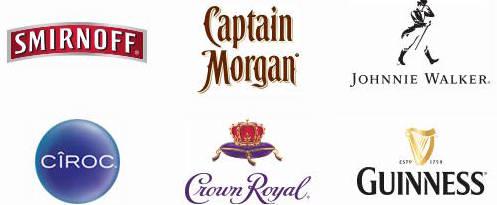 Image rights: Diageo.com
On June 30th, Diageo reported operating profit fell 0.8% and earnings per share fell 7%. Organic sales were flat and sales volumes in North America fell 3%. A large reason for this decline is the shift away from brands like Smirnoff and Captain Morgan and more towards the small company alcohol products by many consumers. The small-time craft business is certainly eating into many alcoholic beverage companies sales as more consumers try the local or regional craft drinks. Although the company has had a poor time delivering sales growth over the past few years, CFO Deirdre Mahlan believes the company will start to deliver higher single-digit growth starting in 2017 as she considers 2016 to be a transition year.
The payout ratio of 70% may scare many investors away who have a policy on companies that have higher than say a 60% payout ratio. Of the three companies, Diageo has definitely struggled the most, down almost 13% in the last two years, while Brown-Forman and Anheuser-Busch have been up 55% and 22% respectively. On the other hand, Diageo is the cheapest of the three in terms of P/E and has the highest yield. As mentioned earlier, the company has had a rough couple of years and could be seen as a turnaround play for many investors.
Looking Forward
Brown-Forman is currently trading above its 5-yr average P/E of 23.6, similarly Anheuser-Busch is trading above its historical average of 17.9. Diageo is the only one of the three trading below its historical average of 19 (18.5 currently). Brown-Forman is without a doubt the heavyweight favorite for dividend investors with 31 years of dividend increases, but I think BUD represents the best buying opportunity at the moment. Unlike Brown-Forman, Anheuser-Busch isn't trading incredibly higher than its historical P/E, sports an attractive yield, and the company is so big it can continue to grow through acquisitions if growth slows down.
Brown-Forman will look to add to the 31-year dividend streak this winter, and I approximate the company will stick to the 3-yr average and increase the dividend another ~10%.
AB InBev is in need of a deal to increase slowing growth worldwide. Some interesting targets going forward could be Boston Beer Co. (NYSE:SAM), MillerCoors or even Heineken N.V. (OTCQX:HEINY).
In June, Diageo became the center of conversation as 3G Capital was rumored to be in talks over purchasing the company. A few weeks ago, Diageo announced they will end their partnership with Heineken in Africa as it plans to go head-to-head against AB InBev and SABMiller. Management plans to scale back production of products in 2016 so in the future the company can focus and shift with consumer demand in the market more easily.
Despite all these being great companies, I would highly suggest investors wait before purchasing any of these stocks. For many dividend investors focused on income, these companies, similar to the tobacco companies, may see slower growth but the cash flow will still provide steady income for years to come, as shown on the graph below. The fact is, many of these big companies aren't going anywhere unless people stop drinking. It's hard to imagine a world where college students don't party seven days a week, people don't tailgate for sporting events, and friends don't get go out to dinner and get a cold beer every once in a while. I think these companies will continue to profit for a long time.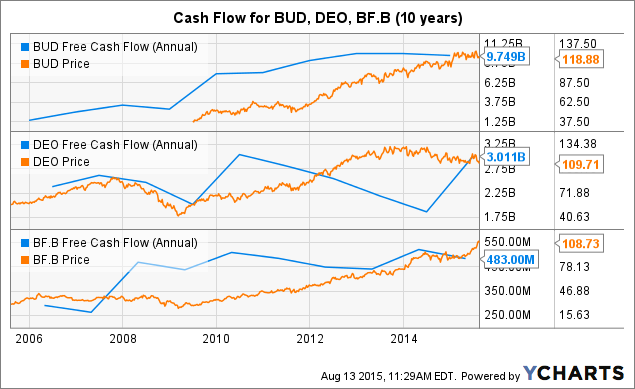 BUD Free Cash Flow (Annual) data by YCharts
Stock data gathered from www.dripinvesting.org
Disclosure: I/we have no positions in any stocks mentioned, and no plans to initiate any positions within the next 72 hours.
I wrote this article myself, and it expresses my own opinions. I am not receiving compensation for it (other than from Seeking Alpha). I have no business relationship with any company whose stock is mentioned in this article.