Overview
Due to the overwhelmingly positive feedback I received in highlighting income investment ideas in the Utility and REIT sectors, I have now extended my number-crunching to companies operating in the Industrial segment of the market.
Much like the previous two sectors, certain segments of the Industrial Sector have also been hard hit in recent months, with many companies trading well below recent highs.
As you can see in the table below, 17 of the 25 companies are now trading more than 10% below their respective 52-week highs, while 8 companies have seen greater than 20% pullbacks.
| | | | | | |
| --- | --- | --- | --- | --- | --- |
| Company | Ticker | Sub Sector | 52-Week High | Share Price | % Below 52-Wk High |
| 3M Company | (NYSE:MMM) | Conglomerate | $170.50 | $148.52 | -12.89% |
| Caterpillar | (NYSE:CAT) | Industrial Equipment | $109.73 | $78.06 | -28.86% |
| CH Robinson Worldwide | (NASDAQ:CHRW) | Transportation | $77.49 | $69.84 | -9.87% |
| CSX Corp. | (NYSE:CSX) | Railroad | $37.99 | $29.33 | -22.80% |
| Cummins | (NYSE:CMI) | Machinery | $151.25 | $127.98 | -15.39% |
| Deere & Company | (NYSE:DE) | Farm Equipment | $98.23 | $96.24 | -2.03% |
| Donaldson Company | (NYSE:DCI) | Industrial Equipment | $43.31 | $33.61 | -22.40% |
| Dover Corp. | (NYSE:DOV) | Industrial Equipment | $90.65 | $64.43 | -28.92% |
| Eaton Corp. | (NYSE:ETN) | Machinery | $73.82 | $60.11 | -18.57% |
| Emerson Electric | (NYSE:EMR) | Industrial Equipment | $65.94 | $48.93 | -25.80% |
| Fastenal Company | (NASDAQ:FAST) | Trading Company | $48.43 | $39.77 | -17.88% |
| General Electric | (NYSE:GE) | Conglomerate | $28.68 | $25.73 | -10.29% |
| Illinois Tool Works | (NYSE:ITW) | Machinery | $100.14 | $89.22 | -10.90% |
| Lockheed Martin Corp. | (NYSE:LMT) | Aerospace/Defense | $211.57 | $208.92 | -1.25% |
| Norfolk Southern Corp. | (NYSE:NSC) | Railroad | $117.64 | $80.98 | -31.16% |
| Parker Hannifin Corp. | (NYSE:PH) | Industrial Equipment | $133.41 | $112.59 | -15.61% |
| Pentair | (NYSE:PNR) | Industrial Equipment | $70.45 | $61.10 | -13.27% |
| Raytheon Company | (NYSE:RTN) | Aerospace/Defense | $113.36 | $108.51 | -4.28% |
| Republic Services | (NYSE:RSG) | Waste Management | $43.35 | $42.93 | -0.97% |
| Rockwell Automation | (NYSE:ROK) | Machinery | $127.05 | $116.74 | -8.11% |
| Union Pacific | (NYSE:UNP) | Railroad | $124.52 | $92.31 | -25.87% |
| United Parcel Service | (NYSE:UPS) | Freight & Logistics | $114.40 | $103.02 | -9.95% |
| United Technologies | (NYSE:UTX) | Conglomerate | $124.45 | $98.61 | -20.76% |
| W.W. Grainger | (NYSE:GWW) | Trading Company | $261.57 | $228.05 | -12.81% |
| Waste Management | (NYSE:WM) | Waste Management | $55.93 | $51.52 | -7.88% |
This deep correction has brought several companies down to, or even below fair value, which has resulted in some more attractive dividend yields for potential investors. With this article, I will put a numbers-based analysis to some of the top companies in the sector, and attempt to determine which are the Top 10 Industrial Stocks For Dividend Growth And Income.
The Selection Process
As in the previous articles, the starting point for the industrials watch list was David Fish's U.S. Dividend Champions List, also known as the "CCC List." For the uninitiated, this spreadsheet lists all of the U.S. traded companies that have a history of five or more years of increasing dividends.
In the case of the industrial companies, the CCC List currently contains 97 companies operating in the sector. With this article focusing on the top companies for dividend growth and income, I have limited my watch list to those stocks providing a current yield of greater than 2%. I am also looking for the highest-quality companies, so will be limiting the list to companies rated BBB or higher from S&P or to those with debt/cap ratios below 40%.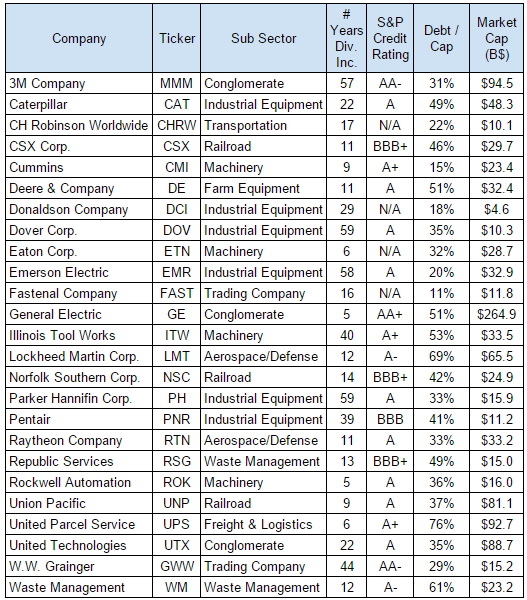 Data Collection
After the initial screening process was complete, information was gathered from the CCC List, Yahoo Finance and F.A.S.T. Graphs to show the historical dividend growth information for each company and to find the analyst expectations for 2015 EPS for each company. These estimates were then used to determine the 2015 P/E ratio and the expected dividend payout ratio for each of the companies.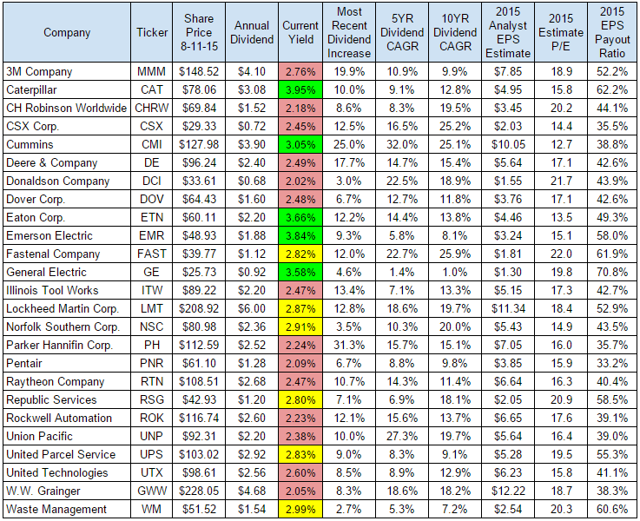 The first thing I notice here is that the yields and payout ratios are much lower in the industrial sector that those provided by the utilities and the REITs. There are still some attractive stocks for dividend income, however, as ten different companies are providing yields of 2.8% or higher, and Caterpillar (CAT) is now nearing the 4% yield mark.
Future Projections
Now that we've seen the past and the present, let's attempt to take a look into the future. For this next portion of research, I scanned the past quarterly conference call transcripts available on Seeking Alpha for each of the companies to try to get a feel for guidance on targeted payout ratios for dividends.
I then went to each company's investor relations websites and scanned available presentations for further guidance relating to dividends and future growth prospects for the companies.
Finally, I checked Yahoo Finance and F.A.S.T. Graphs to see what analyst expectations are for 5YR earnings growth rates then looked at each company with F.A.S.T. Graphs to determine the "fair value" P/E ratio for each company.
I then used the 2015 payout ratio, the targeted payout ratio, earnings estimates and 5YR earnings growth estimates to produce my estimated future dividend growth rates for each company. This was then used to create a 5YR yield on cost (YoC) estimate and a 5YR YoC estimate with the reinvestment of dividends. Then putting everything together using the projected dividends and adjustments to "fair value," the far right columns show the potential total returns over the next 5-year period.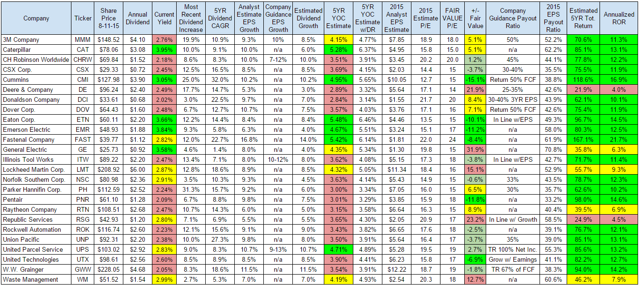 I just want to be clear that these are simply projections based on current prices and the information as known today. If companies aren't able to meet the analyst growth rates, both the projected YoC and the future total returns will likely fall short. Additionally, if P/E ratios don't normalize to "fair value," returns will end up either higher or lower than what is shown.
Nonetheless, there are some interesting results, and I was a bit surprised to see who was near the bottom of some of these metrics. Deere (DE) and General Electric (GE) scored poorly due to their current high P/E ratios and lowered expectations for future dividend growth. I am projecting just 3% and 4% dividend growth for each over the next 5 years as Deere struggles with a low earnings growth environment and a much higher than target payout ratio, while General Electric is going through a business realignment and has guided for a dividend freeze through 2016.
On the other end of the spectrum are Cummins (CMI) and Fastenal (FAST), which are both expected to see earnings growth of greater than 10%, leading to some of the higher yield on cost numbers and possible 5YR total returns over 100%.
The Top 10
The final top ten for this list was selected primarily for the 5YR yield on cost estimate, with some consideration also given to the current yield. I believe these metrics are most relevant to current and near-retirees who are looking for income in the near future.
Keep in mind that this list is based on dividend rates and share prices as of August 11th, and is subject to movement as prices and growth projections change.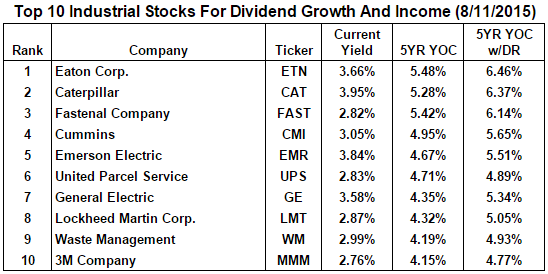 Eaton Corp., a power management company located in Dublin, Ireland, tops the list with an attractive yield of 3.66% and an expected dividend growth rate of 8.4%. This leads to an expected yield on cost of nearly 5.5% after five years.
Eaton is a member of the Challengers List, having frozen its dividend in 2009 during the recession. However, even with the one-year freeze, the company has produced a 10.5% CAGR in the dividend over the last 15 years and has an excellent track record since the recession, during which it has grown dividends at a 14.4% annual rate. The Irish domicile may be a deterrent for some investors, but a high single-digits growth rate and expectations for dividend growth to match earnings growth makes this an attractive company.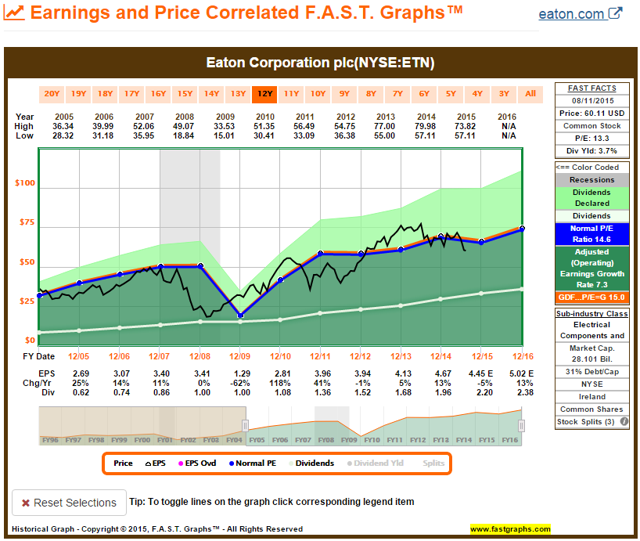 Caterpillar Inc. is an industrial equipment manufacturer based in Peoria, Illinois. It is a member of the Contenders List with a 22-year streak of increasing dividends. The company has been struggling in recent years due to a large pullback in commodity prices and headwinds due to the strong dollar, but management recently verified the company's financial strength when it announced a 10% dividend increase and a $1.5B accelerated share buyback.
CAT is currently providing the highest yield among the group at nearly 4% and analysts are projecting long-term earnings growth at 10%. I expect the dividend growth to lag that a bit as the payout ratio is currently above 60%, but with such a high initial yield, it looks like an attractive investment for those looking for income.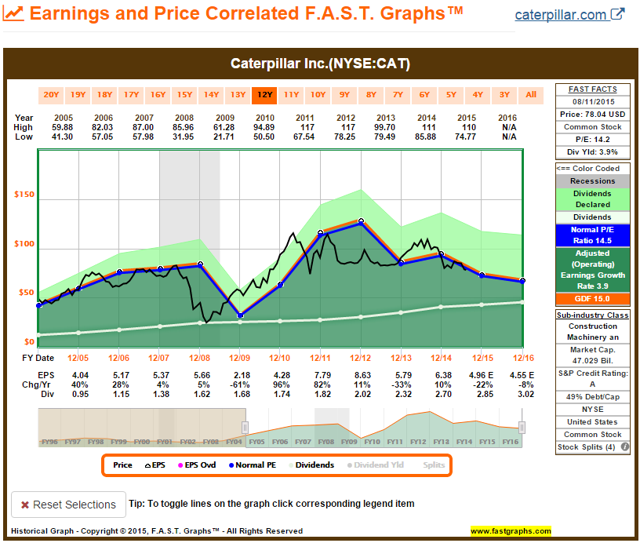 Fastenal Company, a wholesale distributor of industrial and construction supplies based in Winona, Minnesota, has produced one of the best track records of growth I've come across. A dividend Contender, the company has grown earnings at an 13.9% annualized rate over the last 15 years, during which its grown the dividend at a 42.4% annualized rate and seen the payout ratio steadily increase from the single digits to the current ~60% rate.
Since the recession, the company has grown dividends roughly in-line with earnings, as the payout ratio has ranged from 50%-60%. The current yield isn't overly attractive at just 2.8%, but expectations of mid-teens earnings growth make this one of the better options for dividend growth going forward. I am projecting dividend growth to lag slightly behind earnings, with a target payout ratio of 55% after 5 years.
The stock is a bit difficult to peg a "fair value" rating on due to its long history of trading at a premium, but considering a long range growth rate of 15%+, I think a 24 multiple is a reasonable target.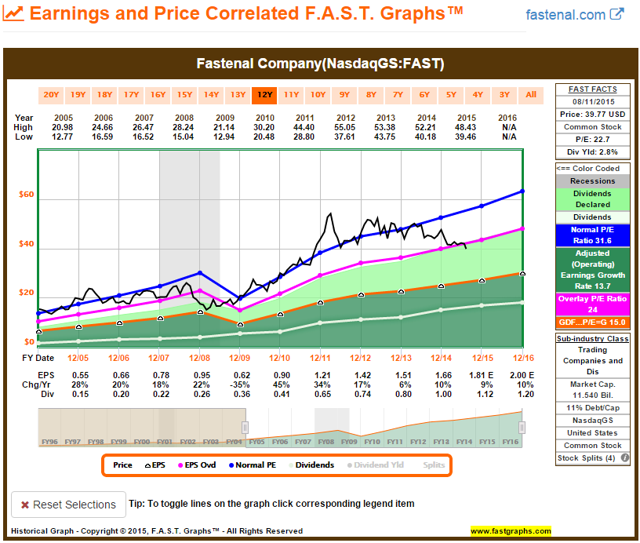 Cummins Inc. is an engine manufacturer and distributor based in Columbus, Indiana. A recent graduate to the Contenders List, Cummins has grown dividends at a 25% annualized rate over the last decade, a trend that it continued in July with another 25% increase.
Like Fastenal, Cummins has a great track record of earnings growth, as it has grown earnings at a 16.9% rate over the last decade. This is expected to slow a bit going forward, but analysts still see a double-digit rate over the next 5 years. With a current yield of just over 3%, this growth could lead to a yield on cost of nearly 5% after 5 years, making it an attractive option for those looking for both income and potential capital appreciation.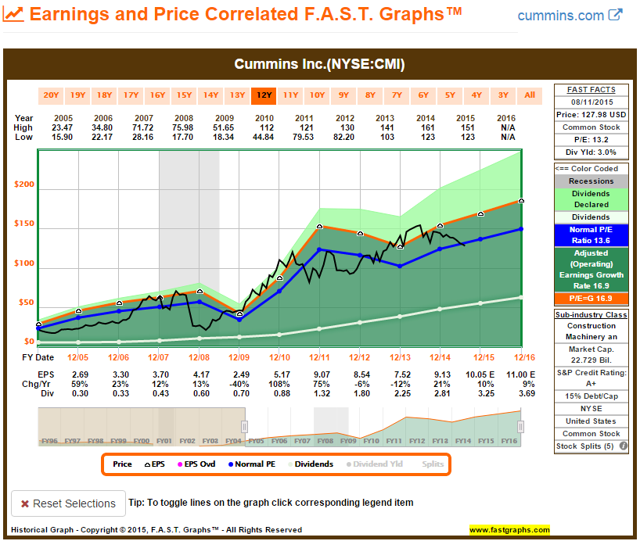 Emerson Electric is an industrial electric equipment company headquartered in St. Louis, Missouri. It is one of the longest-standing members of the Champions List, with a 58-year streak of increasing dividends. With an 8.1% dividend growth rate over the last ten years, Emerson doesn't have quite the growth rate as some of the previous companies, but remains attractive due to its higher initial yield and track record of consistency.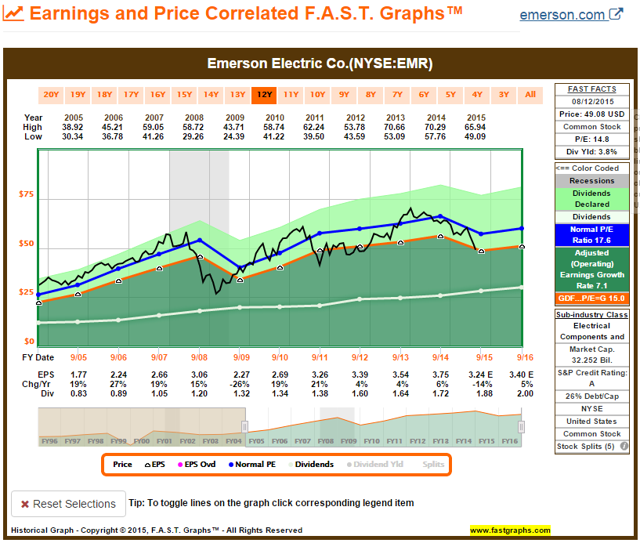 I wasn't able to find any company guidance for a target dividend payout ratio for Emerson, but looking at the historical payout ratios on F.A.S.T. Graphs, it appears that 50% is the sweet spot for the company. With the current payout ratio up to 58% of 2015 earnings, I am projecting just 4% dividend growth over the next 5 years, compared with an expected earnings growth rate of 6.3%. However, with a current yield of 3.8%, the second highest on the list, this is still an attractive income target for a portfolio.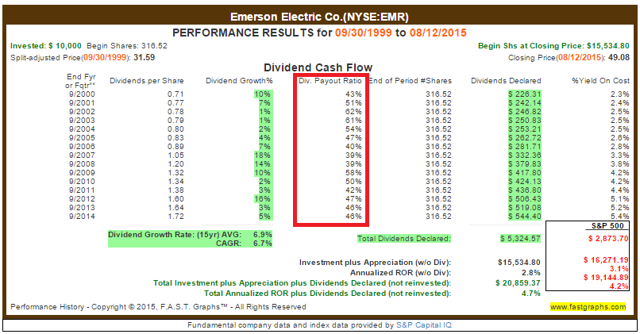 United Parcel Service is a package delivery and logistics company located in Atlanta, Georgia. The company is a Dividend Challenger, with a 6 year streak of dividend increases after it froze the payout for a year during the Great Recession. Even though it had the one-year freeze, the company has produced an impressive 13% annualized dividend growth rate since coming public in 1999.
Analysts and the company itself are bullish on growth prospects in the future, as both are projecting double-digit earnings growth over the next few years. With a current payout ratio at a reasonable 55%, I expect dividend growth to mirror earnings growth going forward.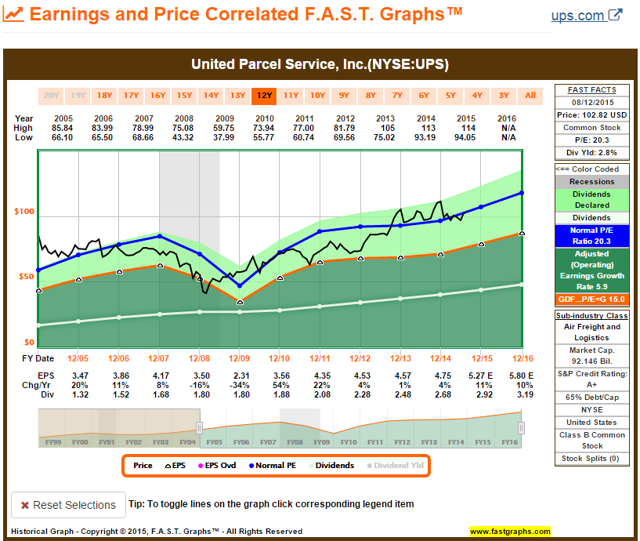 General Electric, an industrial conglomerate located in Fairfield, Connecticut, is a bit of an enigma in the dividend growth world. Prior to the Great Recession, it had one of the great track records of dividend growth in the market, only to see it cut as a result of its financial arm nearly taking down the company. It has since moved to downsize the financial portion of the business, yet recently announced that the dividend will be frozen through 2016 as it works to shed those assets.
Analysts are projecting an attractive earnings growth rate of 8% going forward, but with the earnings cut due to the loss of income from the financial portion of the business, the payout ratio is the highest on the list at nearly 71%. As a result, I am projecting a dividend growth rate of 4%, which is half of the expected earnings growth. This would bring the payout ratio down to a more reasonable 58% at the end of 5 years. However, General Electric remains attractive even with the lower expected dividend growth rate due to its higher current yield of nearly 3.5%. It may be slow going for a while, but investors are being paid well to be patient for the turnaround.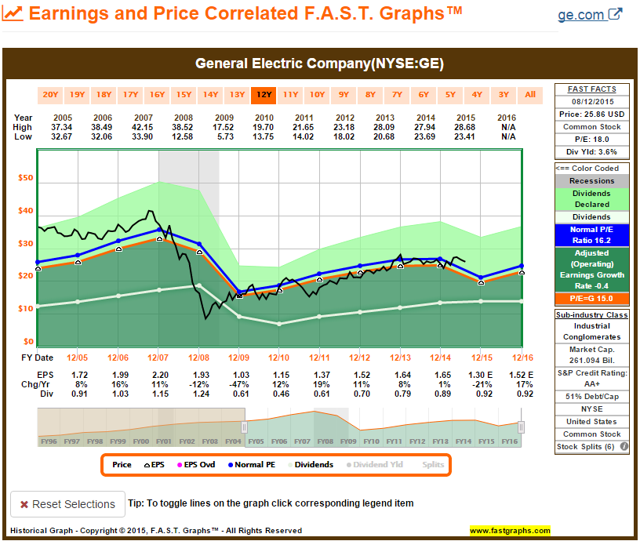 Lockheed Martin is an aerospace/defense company headquartered in Bethesda, Maryland. It is a Dividend Contender with a 12-year streak of dividend increases, during which its grown the payout at a nearly 20% annualized rate over the last decade.
The company is trading at a rich valuation right now at 18.5 times expected 2015 earnings, but with earnings and dividends expected to grow at an 8%+ rate going forward, it remains an attractive income stock with a current dividend of around 2.9%.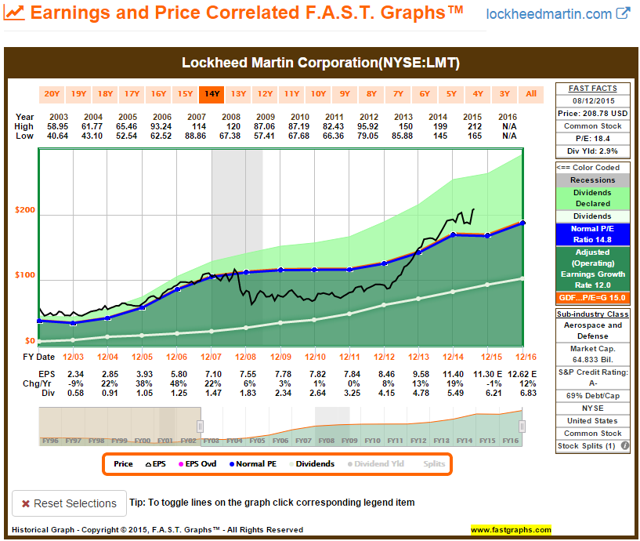 Waste Management, based in Houston, Texas, provides waste management services for residential, commercial, industrial, and municipal customers in North America. It also is a member of the Contenders List, with a 12-year streak of increasing dividends.
The stock has fallen out of favor a bit with dividend growth investors as it has slowed the dividend growth rate in recent years. However, with the payout ratio now down to about 60%, I expect dividend growth to more closely mirror earnings growth going forward.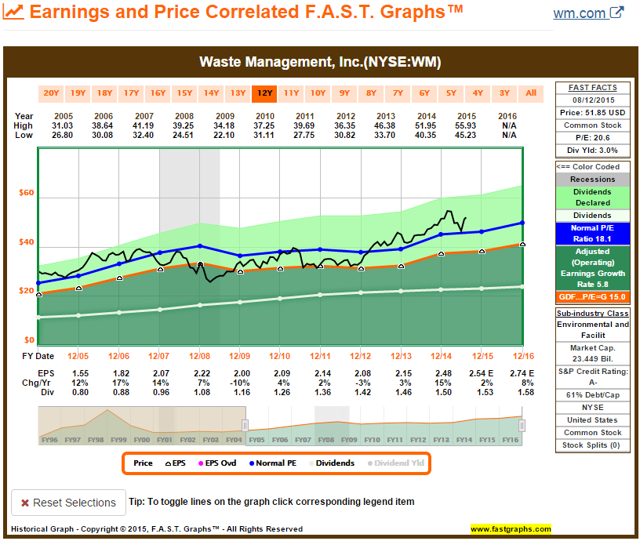 The final member of the top ten, 3M Company, is a diversified industrial conglomerate headquartered in St. Paul, Minnesota. 3M is a Dividend Champion, with a 57-year streak of dividend growth. It has been a trendy pick of dividend growth investors of late as it has produced strong growth of 35% and 20% with the two most recent increases.
I don't expect this high growth rate to continue, however, as the outsized increases were simply the company expanding the payout ratio to a new 50% target rate. With the payout ratio now at 52% of expected 2015 earnings, I believe the dividend growth rate will slightly lag the analyst expectations of 9.3% going forward.
Shares are a bit expensive at about 18.8 times 2015 earnings, but this is one of the great blue chips in the market, and deserves a look for any long-term portfolio.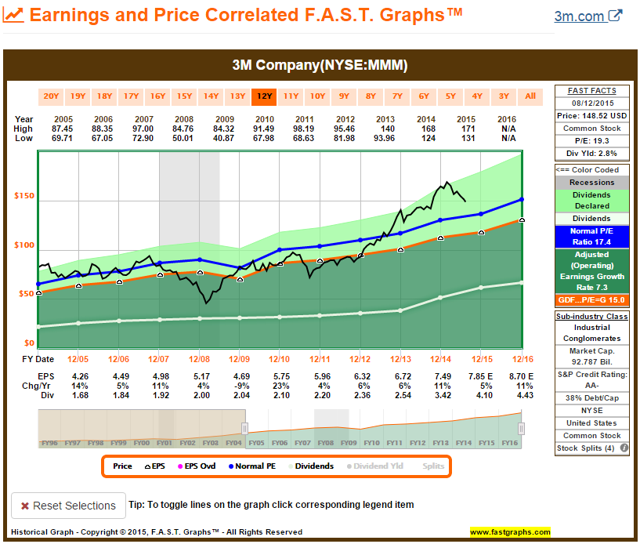 Conclusion
With many of these companies now trading 20% or more below 52-week highs, there are beginning to be some compelling opportunities in the sector. Dividend yields in the 3%-4% range and long-term earnings growth expectations in the high single-digits and above make shares attractive for both income investors and growth investors alike.
I personally have taken advantage of the opportunity by adding to my position in Cummins and opening new positions in Fastenal and United Parcel Service (UPS). I also continue to hold Deere, General Electric, Lockheed Martin (LMT), Norfolk Southern (NSC), and Union Pacific (UNP).
Disclosure: I am/we are long CMI, DE, FAST, GE, LMT, NSC, UNP, UPS.
I wrote this article myself, and it expresses my own opinions. I am not receiving compensation for it (other than from Seeking Alpha). I have no business relationship with any company whose stock is mentioned in this article.
Additional disclosure: I am a Civil Engineer by trade and am not a professional investment adviser or financial analyst. This article is not an endorsement for the stocks mentioned. Please perform your own due diligence before you decide to trade any securities or other products.