Natural gas prices have been in a major bear market because of the vast amounts of production added in recent years from new shale gas discoveries. The slump in prices has hurt major natural gas producers such as Exxon Mobil (NYSE:XOM), Chesapeake (NYSE:CHK), Southwestern Energy (NYSE:SWN), and Conoco Phillips (NYSE:COP). Prices are so low that CHK recently announced major production cuts. This news has helped natural gas prices to rally off of 10-year lows, but much of the rally has already faded. The best way to trade natural gas is to buy companies that benefit from low natural gas prices.
5-year Natural Gas Chart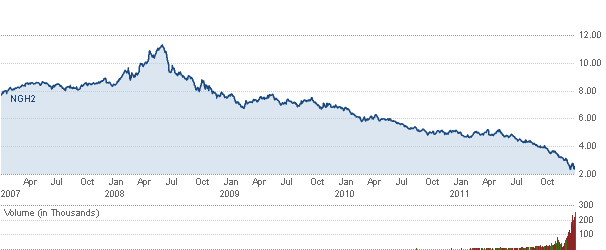 (CNBC)
Westport Innovations (NASDAQ:WPRT)
Below are some statements from WPRT's website.
Westport has the industry's most comprehensive patent portfolio of robust, reliable and efficient natural gas engine and related technologies. Our intellectual property is backed by over a decade of research, development, and commercial product success.

Westport works directly with top global manufacturers to seamlessly integrate our ideas and technologies into new and existing products and services. We have unique partnerships with 3 of the 5 top engine companies, 5 of the 6 biggest truck makers, and some of the largest natural gas fuel suppliers.

The switch to natural gas offers tremendous cost savings and operational advantages for fleet owners. Westport makes it easy by consolidating key value chain components (fuel supply, comprehensive maintenance and support) into a single, user-friendly package.
WPRT is a play on the transition to natural gas powered vehicles. WPRT's business becomes more viable as natural gas prices go down relative to oil prices. While WPRT is not yet profitable, current earnings are not driving the stock price. Rather, the potential for massive future growth has powered WPRT to a fresh all time high.
10-year chart WPRT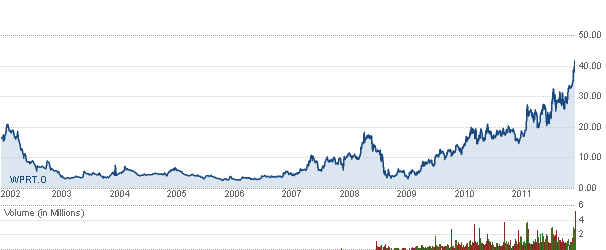 As you can see, WPRT stock has moved up significantly while natural gas prices have plunged.
Clean Energy Fuels Corp (NASDAQ:CLNE)
CLNE builds natural gas fuelling solutions. Below are some statements from CLNE's website.
The leading provider of natural gas fuel for transportation in North America, Clean Energy is the smart decision for vehicle fleets demanding the most reliable connection to CNG and LNG.

With an integrated offering of best-in-market services, we have the flexibility to adapt to your specific fueling needs - from constructing, equipping and maintaining fueling stations to converting vehicles to securing the financing.
Like WPRT, CLNE's business becomes more viable with low natural gas prices. Low natural gas prices make the decision to switch to natural gas powered vehicles more viable. Growth in the number of natural gas powered vehicles means more demand for CLNE's fueling solutions.
CLNE chart since 2007 IPO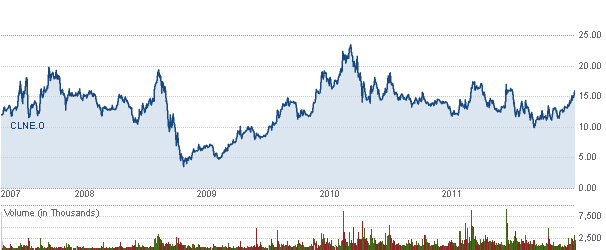 CLNE shares have not yet taken off as the fleet of natural gas powered vehicles has not grown as fast as CLNE had hoped. However, low natural gas prices will lead to more demand for natural gas as a fuel.
Cheniere Energy Inc (NYSEMKT:LNG)
LNG is a play on exporting natural gas. Prices for natural gas are much higher in other parts of the world than in the U.S., this has led LNG to transform a natural gas import facility to a natural gas export facility. The Sabine Pass export plant in Louisiana will be the first U.S. natural gas export terminal in nearly 50 years. Low natural gas prices will help ensure strong demand for natural gas LNG's Sabine Pass export facility.
3-year chart LNG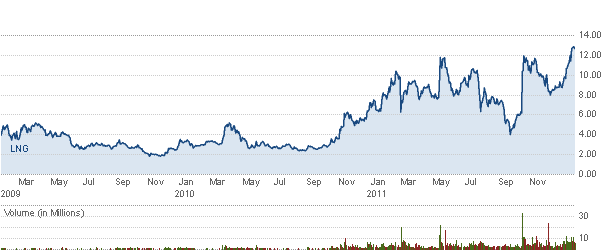 As you can see, LNG shares have benefited from lower natural gas prices.
Dow Chemical Co (DOW)
DOW manufactures raw materials used to make consumer products. One of DOW's major input costs is ethane, a component of natural gas that is used to make many chemicals. Lower natural gas prices mean lower ethane prices which means high margins for DOW. DOW CEO Andrew Liveris told Reuters,
Every 10-cent drop in the cost of ethane boosts earnings by $200 million
3-year chart DOW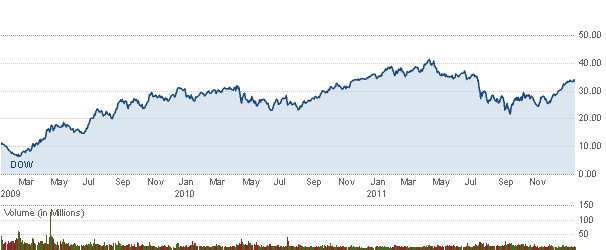 DOW has benefited from lower natural gas prices.
Conclusion
The best way to play natural gas is to buy companies that benefit from lower natural gas prices. Prices are so depressed that even a significant rally would not change long-term positive effects that WPRT, CLNE, LNG, and DOW are currently experiencing.
Disclosure: I have no positions in any stocks mentioned, but may initiate a long position in LNG over the next 72 hours.