Quite a few of the junior miners have recently begun or are set to begin actual mining operations. With gold continuing its rise and the goldbugs shouting "I told you so" its easy to get swept up in the excitement. Additionally, there are many who believe the train long ago left the station and that gold is overpriced and has entered a bubble. I am still willing to bet that gold has upside. Further, when looking at companies in the early stages of growth, be it gold miners or widget makers, fundamentals in my view are key. A company that is growing with a healthy balance sheet and is producing and more importantly getting to market something tangible is vital.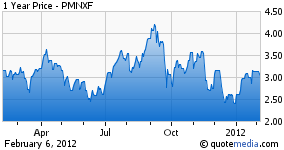 Perseus Mining Limited (OTCPK:PMNXF) is a junior miner that very recently began actual mining operations. The company currently has two projects in West Africa. The first is the Edikan Gold Mine (located in the Ashanti Gold Belt) in Ghana. Commercial production began on January 1, 2012. Perseus has set a 2012 production goal of 220,000 ounces reaching 300,000 ounces by 2013. Further, the company plans on operating six rigs on the site by the end of the year. The Edikan mine has 5.3 Moz Measured and Indicated (M&I) and 1.78 Moz Inferred Mineral Resources. The company, in late December 2011, also released the results of additional exploratory drilling for the Edikan Gold Mine which increased the M&I by 954,000 oz. Perseus pays an off the top royalty to the Government of Ghana of 5% and 1.5% to AngloAshanti Gold Ltd. (NYSE:UA).
The second West African project Perseus has is currently in the permitting stage in Cote d'Ivoire. The Tengrela Gold Project should have permits secured by March and is planned to enter production in Q4 2013 with a production target of 170,000 oz for the first two years of production. The figures Perseus currently has for the TGP is 0.9 Moz M&I and 0.3 Moz inferred. Start-up costs are estimated at $115 million USD which the company has calculated a repayment time-frame of 14 months with gold at $1,100 oz USD. Obviously with gold's rise in price the additional income could move the repayment timeline forward or cover any potential cost overages (ideally I would like to see debt paid down and additional income re-invested in the business). The company is also currently working on licensing two additional sites near the Tengrela site in Cote d'Ivoire.
It is Perseus's management of costs and financials that lend increased credibility to the feasibility and profitability of their projects. For fiscal year 2012 the company has a cash cost of $581/oz which considering where the price of gold is currently trading is extremely attractive. Further, they are anticipating their cash costs to decrease for FY13 ($511/oz) and FY14 ($535/oz). The company anticipates EBITDA of $200 million for 2012 with a $700 margin between production costs and the price of gold. Perseus is due to provide guidance on mining activities in mid-February and results for the current quarter are due in March.
In addition to the Edikan Mine and the Tengrela Gold Project Perseus has a 24% stake in Manas Resources Ltd. which has gold mining operations in the Kyrgyz Republic and a 23% stake in Burey Gold which has gold mining operations in Guinea. Also of important note is that companies like Newmont Mining (NYSE:NEM) and Golden Star Resources (NYSEMKT:GSS) have operations in Ghana which also leaves open the possibility of Perseus being acquired by a senior company.
Disclosure: I have no positions in any stocks mentioned, but may initiate a long position in OTCPK:PMNXF over the next 72 hours.