It is "Whale Watching" season when most hedge funds and institutional investors file their Form 13-F's with the SEC that lists their fund's holdings. In this article we will take a quick look at interesting additions, removals, new positions, and closed positions from Duquesne Family Office LLC.
Duquesne Family Office LLC, is not your ordinary family investment office, it is the personal family investment fund of legendary investor and billionaire Stanley Druckenmiller.
Top Buys and Sales for Duquesne Family Office as of 06/30/15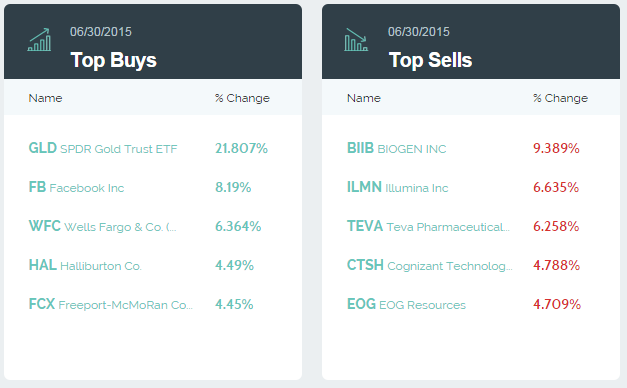 Source: Whale Wisdom
As investors can see, Duquesne Family Office (DFO) increased its stakes in Facebook (NASDAQ:FB), Wells Fargo (NYSE:WFC), Halliburton (NYSE:HAL), Freeport McMoran (NYSE:FCX), and of course GLD. What's very interesting is that out of the top six holdings, four of them were completely new positions.

Out of these four, gold represented by far the largest buy, with DFO buying 2.88 million shares worth around $324 million dollars, or 22% of the total portfolio - in one quarter.
Conclusion for Gold Investors
Since we focus on hard assets, the thing that really piques our interest is the large purchase of GLD by Druckenmiller's personal fund. Not only was it a large purchase, it was an extremely large percentage of the fund's portfolio at over 20%, quite significant considering that most gold bulls only recommend a maximum of 10% dedication to the yellow metal.
Further, investors need to remember that Stanley Druckenmiller isn't the average billionaire, he made his name and a good portion of his wealth with George Soros in the Quantum fund. He and Soros famously "broke the Bank of England" when they shorted British pound sterling in 1992, reputedly making more than $1 billion in profits. The important takeaway here is that his expertise was in currencies, and of course gold should be thought of as a currency and not a commodity.
We know it is difficult for investors to invest in anything gold-related right now, but obviously Mr. Druckenmiller believes that there is some value in investing in gold - and enough to make it his largest portfolio position at over 20% of his portfolio. As we've stated before, we still believe gold holds a lot of value (especially at these prices) and thus investors should consider physical gold and some of the gold ETF's (SPDR Gold Shares (NYSEARCA:GLD), PHYS, CEF). Additionally, the miners that have been underperforming gold over the last few months may offer investors considerable leverage to any rise in the gold price. Investors looking for this leverage may want to consider evaluating gold miners such as Goldcorp (NYSE:GG), Agnico-Eagle (NYSE:AEM), Newmont (NYSE:NEM), or even some of the explorers and silver miners such as First Majestic (NYSE:AG) (we're not suggesting these companies specifically - only suggesting them for further investor research).
Disclosure: I am/we are long SGOL.
I wrote this article myself, and it expresses my own opinions. I am not receiving compensation for it (other than from Seeking Alpha). I have no business relationship with any company whose stock is mentioned in this article.