SUMMARY
Last week's decision by the PBoC has certainly produced interesting price actions in the global markets, but not a significant impact to the NZD when compared to the last two major corrections. The NZD/USD has seen tremendous volatility - 15% depreciation - since May 2015, and 26% since July 2014. The overall stabilization of the currency this past month is largely due to the 2nd quarter CPI report, which showed prices increase by 0.4% versus the 0.6% consensus, but still higher than the previous figure of 0.1%. More recently, however, both the consensus (+0.5%) and actual (+0.1%) Quarterly Retail Sales disappointed versus the previous change (+2.7%). This article will explain some of the upcoming events and provide our short-term and long-term outlook for NZD/USD.
WHAT'S ON YOUR CALENDAR?
GDT Price Index, released by the Global Dairy Trade (the world's leading online dairy auction platform), is calculated from the total quantity sold in a trading event across all products, contract periods and sellers. These products include: anhydrous milk fat, butter, butter milk powder, cheddar, lactose, rennet casein, skim milk powder, and whole milk powder. The change in GDT Price Index after the last trading event on August 4, 2015, was -9.3%. This was the lowest price point in 10 years. The next trading event (Event 146) will be held on August 18, 2015. Land O'Lakes, which handles over 12 billion pounds of milk annually, formally withdrew from the GDT on August 7, 2015 (offering Skim Milk Powder) in order to focus on other sales channels for this product. Let's see how this change will affect the upcoming trading event. Even though the number of active bidders increased by 13% in last week's trading event, we expect the price index to report an 11th straight decrease and a new 10-year low.

Q2 2015 Producer Price Index Input and Output, although reported separately in many forex website's economic calendar, is now reported as part of the overall Business Price Index. Q1 PPI Input and Output fell by 1.1% and 0.9%, respectively, as compared to December 2014. Annual change as of Q1 2015 is -4.0% and -2.5%, respectively, largely influenced by low prices for petroleum and coal product manufacturing - those outputs fell 19% and inputs fell 23%. These lower fuel prices have also affected export prices by -7.6% as of Q1 2015 (YoY). Due to the temporary stabilization of fuel between $40 and $50 per barrel YTD, we expect Tuesday's release of PPI Inputs and Outputs to drop, but in the range of 0.1-0.5%.
Finally, this week, Statistics NZ will release Visitor Arrivals to New Zealand. Tourism represents a large part of New Zealand's total GDP. In June 2015 compared with June 2014, visitor arrivals (177,000) were up 14,800. The biggest changes were in arrivals from:
· Australia (up 8,500)
· China (up 3,600)
· United States (up 2,300)
In the June 2015 year, 61% of all arrivals were represented by visitors from the three countries above: Australia (1.29 million), China (313,400), and the United States (233,300). Historically (since 2008), June to July Visitor Arrival figures have dropped by an average of 2.5%. We are maintaining that average as our outlook for July - the projected percentage increase in the range of 5% to 6%.
MARKETS
The average yield of all bonds listed in the NZX Debt Market is about 4.1%, which is 1.1% higher than the current interest rate (a/o July 22, 2015) of 3% (down from 3.25%). We are tracking iShares MSCI New Zealand Capped ETF (NYSEARCA:ENZL), which is currently yielding 5.75% in the last 12 months and a 2.05% net investment income in 2014. ENZL is trading at a 52-week low (just above 33.23) and performed better than the NZD/USD over the last 24 months.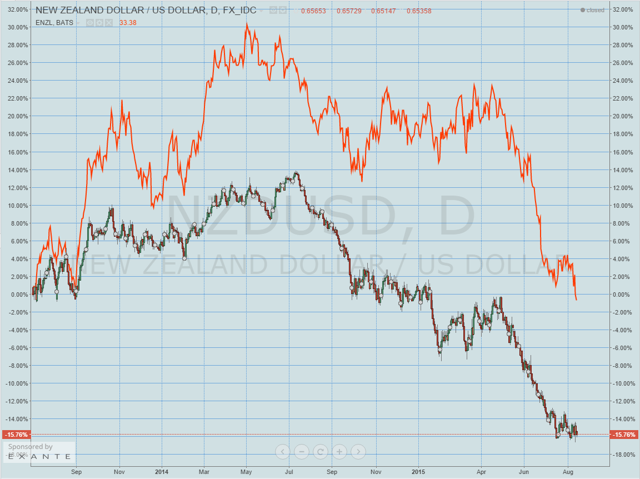 OUTLOOK
In the beginning of this write-up, we mentioned that the NZD has stabilized relative to the U.S. dollar since mid-2014 devaluations. It is no coincidence that the DXY index has been consolidating in preparation for its bullish continuation. In a recent article by FXStreet, it is states: "USD Index (DXY): The up-trend remains paused with the market still digesting the break above the 1985 Plaza accord topline."
We are slightly bullish NZD/USD in the short-term, but caution readers to consider the possibility of a continued range-bound environment. When looking at the aforementioned NZD reports, both in the previous week and the week ahead, the major theme is price-pressure related. In theory, when inflation is lower than expected or simply lower on an absolute basis, an increase in the respective currency value is expected.
Overtime, we expect the NZD CPI and other price-pressure indices to bottom, subsequently beginning their ascents -- this is one of the reasons we feel the NZD is a long-term bear. Concerning the U.S. dollar, the consolidating DXY Index points to an eventual bullish breakout after some possible dips and sideways action. We feel the catalyst that will propel the U.S. dollar out of its range and add fuel to the longer-term NZD/USD devaluation is the expected FOMC rate hike initiation discussed in our previous article.
Disclosure: I/we have no positions in any stocks mentioned, and no plans to initiate any positions within the next 72 hours.
I wrote this article myself, and it expresses my own opinions. I am not receiving compensation for it (other than from Seeking Alpha). I have no business relationship with any company whose stock is mentioned in this article.