Bank of Internet's (NASDAQ:BOFI) shares have been on quite a rise of late, gaining more than 65% year to date versus a 16% gain for the NASDAQ banking index. BOFI's earnings increased year over year an impressive 39.5% on a fully diluted basis. Quite a healthy increase for a regulated banking institution that often requires significantly more capital to generate more earnings.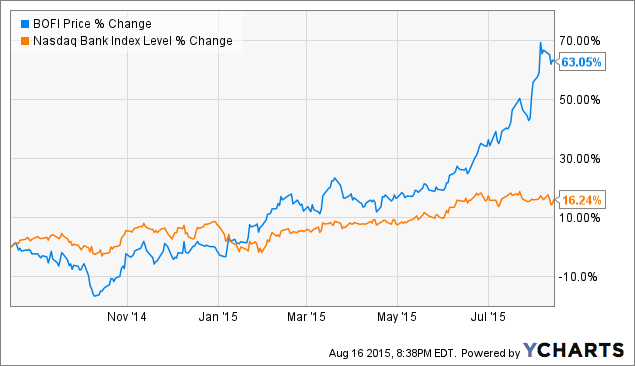 BOFI data by YCharts
The long case for BOFI suggests it enjoys a significant competitive advantage over traditional banks without the heavy cost of real estate and the branch banking footprint. To an extent this may be true as the bank has a healthy interest rate margin at the moment.
Peeling the onion a bit more we see some disturbing facts regarding BOFI
First - Price to Tangible Book is Astronomical
Most banks trade at a multiple of book value or tangible book value of usually more than 1, but not more than 2 times, with only the highest-quality banks exceeding that range. BOFI trades at an astronomical 3.8 times tangible book. Compare this to Wells Fargo (NYSE:WFC), one of the most well-managed banks, at 2.3 times tangible book value and you can see BOFI is quite expensive.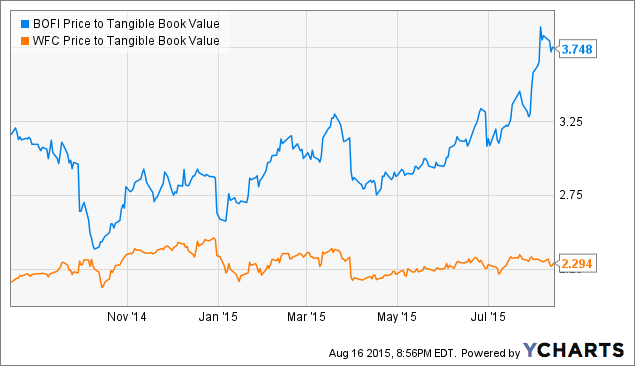 BOFI Price to Tangible Book Value data by YCharts
Second - BOFI's Growth Driven by Risky Residential Portfolio Lending
BofI's total assets increased $1,420.7 million, or 32.3%, to $5,823.7 million, as of June 30, 2015, up from $4,403.0 million at June 30, 2014. The loan portfolio increased a net $1,395.8 million, primarily from portfolio loan originations of $3,271.9 million
The above is from the company's latest earnings release, and you can see its balance sheet increased by more than 30% yoy almost entirely from portfolio loan originations. Digging deeper, BOFI is originating a healthy dose of residential mortgages. Turning to the company's marketing makes things more interesting. BOFI targets borrowers who are unable to get mortgages through traditional channels. Directly from its website:
Bank of Internet USA offers a variety of niche portfolio products. With unique programs for *asset depletion, foreign nationals, pledged assets, and entity vesting, we provide many loan products that you will not find at other banks.
Well, unique is an understatement. BOFI advertises to the same crowd of low documentation and asset base rather than income-based lending of years past - even suggesting no other bank would be willing to make these types of loans.
Third - BOFI is Turning Into a Mortgage REIT
The mortgage REIT business model is to buy mortgage pools and leverage them through short-term financing arrangements at a lower interest cost, pocketing the spread between the two. We've already established that the majority of the bank's balance sheet is comprised of medium- to long-term mortgages of questionable credit quality. The trouble for BOFI's investors isn't just its exposure to credit risk but short-term rates as well.
BOFI has funded its balance sheet largely through interest-bearing deposits. As of the last 10-Q, you can see that $4.12 billion of $4.37 billion of its deposits are interest bearing. Since BOFI has no branch banking network, it is highly dependent on "hot money" of the Internet banking crowd that quickly moves funds to higher-yielding investments. As the Fed hikes kick into gear, BOFI will find its interest margin declining with a fixed-rate asset base and variable rate funding.
Ultimately, investors in the stock will suffer from the poor quality lending and shrinking margins from interest-bearing deposits.
Disclosure: I am/we are short BOFI.
I wrote this article myself, and it expresses my own opinions. I am not receiving compensation for it (other than from Seeking Alpha). I have no business relationship with any company whose stock is mentioned in this article.