The core activity of any commercial bank is to trade money. The NIM (Net Interest Margin) is the primary metric of this trade and drives ROE and ROA of banks. In Q1 2015, the average NIM was 2.87%, down 16bp from 3.03% in Q1 2014. The NIM has been on a steady decline since 2010, but when is it going to stop? And what are the underlying dynamics that push the NIM in a particular direction?
I did a bit of research using FDIC and St Louis Fed data. I found that NIM are quite predictable using the change in the past net interest margin, loan loss provisions, FFR change, net interest expense, net interest income, and the spread between the 5 year treasury and the federal funds rate.
Variables
I conducted a number of regressions using the quarterly NIM as dependent variable. This exercise should find how the variables listed below impact NIM. All variables except macro interest rates are quarterly averages across all banks with more than $10bn assets as a percentage of assets.
NIM
The NIM is the net interest income as percentage of assets.
Net charge-offs
Losses on loans should be a factor that determines NIM. The margin compensates banks for all costs associated with savings and loans operations, and especially risk. I've also tested past due loans as well as forward and trailing charge-offs, but found that current charge-offs have the largest effect on NIM.
Federal funds rate change
This variable measures the change of the FFR versus the average of the past year. It's the short term interest rate and closely trails Federal Reserve target. A change in the FFR has a near term effect on NIMs, as banks generally borrow short maturities and lend long maturities. It takes time for long maturities to adjust to the new rates.
Non-interest expense
A study using cross country data found that non-interest expense has a significant effect on NIM. The reason why is that non-interest expense may act in some cases as a substitute for interest to depositors (gifts, additional services, etc.). Another important reason is the competitive landscape. Competitive forces account for costs and will push ROA closer to what it should be by steering NIM.
Non-interest income
The non-interest income is by itself not a very valuable predictor. But combined with net interest expense, it can tell us to what extent non-interest expense is tied to lending activity. Banks can have periods of high commission and fees expense that are not related to lending, so it's useful to control for that. In the model I used the spread between non-interest expense and revenue, but this has no effect on the rest of the model.
The model finds that a larger spread (non-interest costs - revenue) is associated with lower net interest margins.
5 year Treasury-fed funds rate spread
The primary activity of banks is borrowing short duration (i.e. deposits) and lending high duration loans (e.g. mortgages). Therefore, the spread between risk-free rates for these could explain a lot.
Trailing NIM
Average interest rates on a bank's loan portfolio don't change overnight, and the average interest paid is also a bit sticky. So it takes time for the variables to affect the NIM. Also, there are macro-economic factors (regulation, economic cycle, and various supply & demand factors for credit) that are not accounted for in the other factors. Therefore, I added the average NIM of the past 4 quarters as a variable to the regression model.
Results
The graph below depicts the effect of a 1%-pt increase of the respective variable on the NIM (in %-pt). So a 100bp increase in non-interest expense results in a 28bp increase in NIM. The period tested in is Q1 1990 to Q1 2015. The model has an adjusted R-squared of 0.91 (out of 1) and all variables prove to be statistically significant at the 1% level, except for FFR which is significant at the 5% level.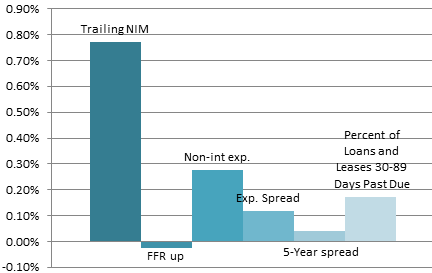 The model was back-tested for 1985-1989, and showed the same accuracy over that period. Using the model, it should be possible to predict whether the NIM will go up or down in the next quarters. This was tested in 98 quarters between 1990 and 2015 and the model pointed to the right direction 65% of the time. In 33 out of the 34 other cases, the direction of the prediction changed over the next year, so estimating the development of the underlying variables would have provided even more useful predictions. I also constructed a model without trailing NIM as a variable.
The current value suggests that the NIM will go down as the value from the model is lower than the current NIM. In addition to the first model, I constructed a second one without trailing NIM to get a clearer grip of where NIM will go. The table below displays both models of which all variables are statistically significant at the 5% level. Model 2 has an R2 of 0.68, while model 1 has an R2 of 0.91.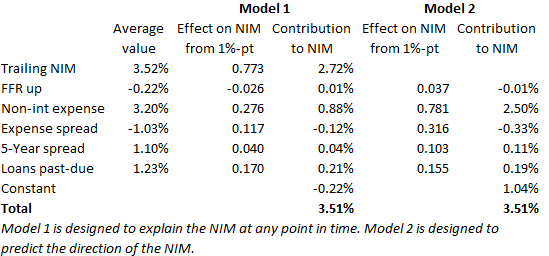 The 65% predictive score of model 1 sounds impressive, how does this compare to simply extrapolating the current trend (trailing NIM versus current to predict direction of NIM 1 year)? The graph below suggests that a trend may be useful.

As it turns out, since 1990, the trend predicts NIM correctly for 63% of the time. However, this is mostly due to the good performance after 2000. The table below shows the results per pentad. Beginnings and ends of periods are always January 1st.
| Trend | Period | Model 1&2 | Model 1 |
| --- | --- | --- | --- |
| 45% | '85-'90 | 70% | 75% |
| 65% | '90-'95 | 75% | 75% |
| 20% | '95-'00 | 55% | 55% |
| 65% | '00-'05 | 50% | 50% |
| 85% | '05-'10 | 75% | 65% |
| 83% | '10-'15 | 100% | 83% |
| 60% | '85-'15 | 70% | 67% |
This table shows the average accuracy of predicted direction of NIM in 1 year. Model 1&2 is the average accuracy of model 1 and model 2. Trend is the accuracy resulting from extrapolating the current NIM trend.
The models seem to be more stable than the trend and show a higher average accuracy. In total one would expect 50%, so the value added by the trend is 20%, but that should probably be 0%, as it is an unreliable method for some time periods. The added predictive value of the average of the two models is 40% and quite stable over time. For Q1 2015, the combined model estimates a NIM of 2.75%, while model 1 says 2.86% and the actual value is 2.87%. This means we have a 70% chance that NIM will be lower in Q1 2016 than it was in Q1 2015.
Comparison to research by the Chicago Fed
The Chicago Fed has conducted a study on the impact of higher interest rates on bank profitability. There are some important differences between my findings and the Chicago Fed study. They find that for large banks (>$10 billion assets) the NIM is not significantly sensitive to the 3-month treasury bill interest rate or the spread between the 10-year and 3 month treasury bill. I used different inputs (fed fund rate) and saw different results. I measured a positive and significant effect of 3.1bp on NIM of an every 1%-pt increase in the 5 year - FFR spread. This makes sense, because banks should suffer a short term impact when variable interest rates rise, as it takes time to take the whole loan portfolio to the new interest rate level.
Where will the NIM go?
It will probably continue its slide, albeit at a slower pace. Banks are targeting expense management while legal costs are finally settling down. In addition, a small effect will be felt from the probable upcoming rise of the FFR. Loans past-due are at multi-year lows, but should not be expected to rise further in this economic climate. If trailing NIM goes to 2.89% (equal to current), and loans 30-89 DPD goes down to 0.66%, it would result in a NIM of 2.77%. The NIM of 2.77% compares to 2.87% in Q1 2015 and would bring the pre-tax ROA back to the 1990-2014 average of 1.40%.
US banks
The table below shows some of the current variables (averages from the FDIC) that impact NIM alongside data from banks. Note that the NIM is not the reported margin, but the net interest over all assets. The banks included are Citigroup (NYSE:C), JPMorgan (NYSE:JPM), Bank of America (NYSE:BAC), and Wells Fargo (NYSE:WFC).
| H1 2015 | NIM | Loans past-due | Non-int. income | Non-int. expense | Pre-tax ROA | Expense spread |
| --- | --- | --- | --- | --- | --- | --- |
| Average >$10bn banks | 2.87% | 0.75% | 1.70% | 2.55% | 1.51% | -0.85% |
| Citigroup | 2.54% | 0.21% | 1.72% | 2.37% | 1.50% | -0.65% |
| JPMorgan | 1.66% | n/a | 2.06% | 2.28% | 1.29% | -0.22% |
| Bank of America | 1.89% | 0.38% | 2.22% | 2.80% | 1.17% | -0.58% |
| Wells Fargo | 2.64% | 0.34% | 2.41% | 2.96% | 1.98% | -0.55% |
| Average across these 4 | 2.18% | 0.31% | 2.10% | 2.60% | 1.49% | -0.50% |
Average across all banks with over $10bn assets is for Q1 only. Source: author's own calculations
A 10bp reduction in NIM hurts some more than others. For Wells Fargo, it would mean 5% off its pre-tax earnings, for Bank of America that would be 8.5%. It should be noted that Citigroup is the most international bank among these 4, and it suffered comparatively little from adverse developments on NIM in the US since 2010. Bear in mind that factors that direct overall NIM are not the same as factors that determine NIM for an individual bank. For individual banks, capitalization, size, liquidity, and strategic choices have an impact on NIM.
| | 1Q14 | 2Q14 | 3Q14 | 4Q14 | 1Q15 | 2Q15 | 3Q15E | 4Q15E |
| --- | --- | --- | --- | --- | --- | --- | --- | --- |
| All banks >$10b assets | 3.03% | 3.01% | 3.00% | 2.97% | 2.87% | n/a | 2.82% | 2.77% |
| Citigroup | 2.90% | 2.87% | 2.91% | 2.92% | 2.92% | 2.87% | | |
| JPMorgan | 2.20% | 2.19% | 2.19% | 2.14% | 2.07% | 2.09% | | |
| Bank of America | 2.29% | 2.22% | 2.29% | 2.18% | 2.17% | 2.37% | | |
| Wells Fargo | 3.20% | 3.15% | 3.06% | 3.04% | 2.95% | 2.97% | | |
The NIMs of individual banks in this table are as reported. Source: 10-Q's and earnings presentations (for the four banks).
The table above shows that three out of four banks saw their NIM rise in Q2. This could point towards a trend break. After all, the regulatory environment is much different from the past, as well as capital levels, possibly requiring a higher ROA. We must not take this trend break too seriously, its predictive power is very low and the four banks in the sample are hardly representative for all banks with assets over $10bn. Also, Bank of America had a positive one-off item in interest income in Q2. A better reflection of the US interest rate environment, U.S. Bancorp (NYSE:USB), saw its reported NIM decline from 3.08% to 3.03% from Q1 to Q2.
To do
What is left to do is to closely monitor NIM, make estimates of where non-interest expense of your bank stocks will go compared to the sector, and to keep an eye on the 5-year spread and loans past due as well. It will make you able to make a better estimate of where NIM will go. It may be a good idea to closely watch market expectations of earnings. At some point, the NIM will affect ROA while cost-cutting only lowers the ROA. That is probably great for the economy, but not very helpful to stockholders of banks. Just make sure that you know where the money will come from when you see earnings estimates for banks.
Disclosure: I am/we are long C.
I wrote this article myself, and it expresses my own opinions. I am not receiving compensation for it (other than from Seeking Alpha). I have no business relationship with any company whose stock is mentioned in this article.