After having run up more than 60 points, we think the S&P (NYSEARCA:SPY) and U.S. markets in general are due for some consolidation of the gains. We're looking for shares that experienced a more extended rally to profit from a necessary consolidation phase. Here are a couple of suggestions.
McGrath Rentcorp (NASDAQ:MGRC)
McGrath RentCorp operates as a business-to-business rental company in the United States. It operates in four segments: Mobile Modular Management Corporation (Mobile Modular); TRS-RenTelco; Adler Tank Rentals, LLC (Adler Tanks); and Enviroplex, Inc. (Enviroplex).
Some basic metrics (Yahoo):
Market cap is $808M on 24.4M shares outstanding
Revenue is $337.4M
Cash is $652K with $289.6M in debt
Operating cash flow is a solid $33-36M per quarter but capital investments are of a similar order, leaving the business generating little cash
It does pay dividend, but less than 1%
Eps will rise from $1.50 in 2010 to $1.91 last year to $2.03 this year, according to the three analyst following the stock
It does have a history of substantial earnings surprises though, at least the last four quarters
While it's a solid business, it isn't cheap (selling at 2.5 times sales and having a debt that is almost as big as a year in revenue). It has guided 2011 eps upward, but not really by a whole lot. The shares are on a tear though, up 50% from the beginning of October 2011, reaching a 52-week high last Friday:
(Click charts to expand)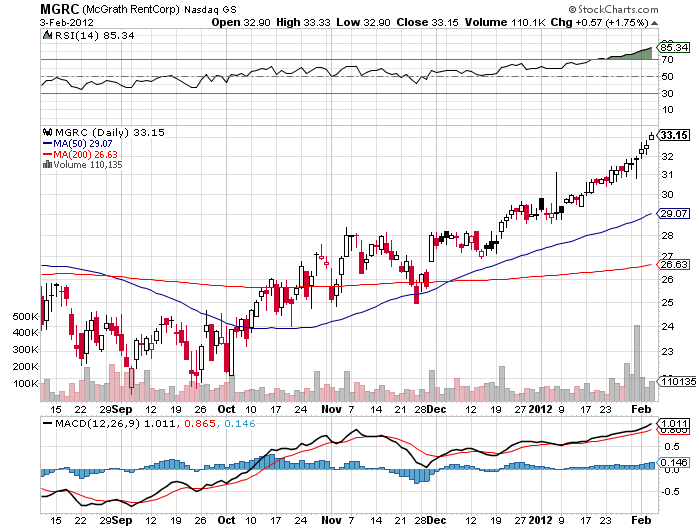 While the business seems to experience a mild acceleration, we think a 50% rise in the share price is ample reward for that, and, as it happens, so do some of the executive officers. They are selling and exercising options in non-negligible amounts. There are no options available, which is a pity, as selling out of the money short-term calls would have been our preferred way to profit from this situation, but we do think the risk/reward from an outright short at $33.15 (the price of writing) are pretty good.
GigaMedia (NASDAQ:GIGM)
This is a bit harder to assess, we have to say, even if the shares are really quite extended. Gigamedia Limited, through its subsidiaries, primarily engages in the operation of online games for online game players in Asia. The company provides a portfolio of online games, including MahJong, a traditional Chinese tile game; MMORPG, an Internet-based computer game; advanced casual games; and card, chance-based, and simple casual games
Some metrics (Yahoo):
Market cap of $79.4M on 53.3M shares
Revenue $35.9M
Cash $52.65M with $12.7M in debt
But that still very large cash position has gone down pretty fast
And cash from operating activities was solidly negative the last two years and this year won't have been better.
One has to admire the CEO for the frankness in the last quarterly earnings report:
We experienced a challenging environment during the third quarter with low levels of customer activity in our casual games and strong competition," stated GigaMedia Limited Chief Executive Officer Yichin Lee . "Weaknesses are clear: our offerings are not broad or deep enough and our business unit operations are not efficient. As a result, our financial performance continues to suffer." "We are making incremental improvements but need to restructure to respond to an ongoing, dramatic shift in online gaming from PCs to mobile devices," added CEO Yichin Lee . "As a third-party publisher, we are at a competitive disadvantage in today's environment where the risks for major games are higher than ever and speed and flexibility are critical. In sum, our strategy as a publisher is not working.
It's been a long time since we saw such frank admission of corporate problems. The company made a loss of 7 cents per share for the quarter and revenue was down 1% (from previous quarter). If you look at the three-year chart, you'll see that the problems have been some time in the making.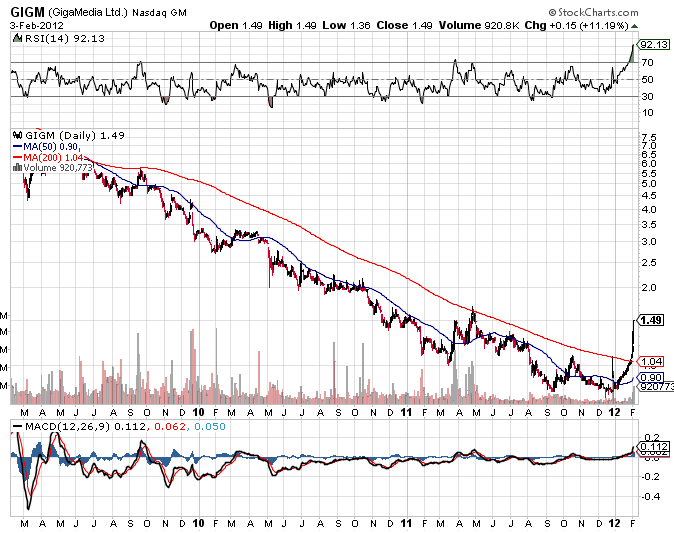 You also see that the downtrend was temporarily interrupted with little spikes. We're now in a rather big spike, with the stock almost doubling in less than a month. What's going on?
Possibility for online gaming to be made legal in Nevada
The sale of T2CM (for $4.8M, effected on December 14), the importance of which is explained by SA contributor Dutch Trader
A rather substantial $11M share buy-back program (even if that was announced on May 23 of last year already)
Or perhaps it's that the frank speaking CEO is now the former CEO and has been replaced by Mr. Stringer. The timing of this makes it the best explanation, as the shares have rallied strongly from early January onwards and Mr. Stringer sure has strong credentials.
This could very well be the beginning of a turn-around in the fortunes of this company, getting rid of T2CM surely is helping here. However, there is as yet little sign that the company's fortunes have made anywhere near the parabolic rise in the share price. That rally seems distinctly long in the tooth. In less than a month we've gone from a 52-week low (actually an all-time low) to almost a 52-week high.
Still, we would be very surprised if the shares would resume the near vertical climb next week from $1.49 at the time of writing. We think a short temporary position to profit from the inevitable consolidation is an interesting trade.
Disclosure: I have no positions in any stocks mentioned, but may initiate a short position in MGRC, GIGM over the next 72 hours.