Thus far in the earnings season we have seen EMC, Fusion-io (NYSE:FIO), and CommVault (NASDAQ:CVLT) report fourth quarter, second quarter and third quarter financial results, respectively. All three reported impressive revenue growth year over year and beat analysts' expectations. On the surface this would indicate all three are long-term buys. Maybe not in the same portfolio because this may cause diversification issues; unless, however, your investment portfolio is extremely large.
With that said, I will discuss why it is time to sell Fusion-io and pick up EMC and/or CommVault. There are two reasons Fusion-io's stock should be labeled a sell for the near to medium term. The first reason is Fusion's lack of spending and margin efficiency. The second reason is Fusion has announced a forecast that will be difficult to beat. Therefore investors and traders should expect to see future losses in 2012.
On the other hand EMC and CommVault's respective equities and companies are cruising. Cruising in this case refers to operating and net profit margins. These are important indicators of a successful company for numerous reasons. The first is that operating margins indicate how much money the company is producing from sales. Net profit margin refers to the ratio of net income, after taxes and all other expenses, to sales. Net profit margin also illustrates how much income the company receives from sales after all operating costs. In both instances a higher percentage leads to a higher probability the company will survive in the long term. It is also important for a company to increase margins over time in order to improve profitability and productivity.
Let us begin with EMC. It is important to note that I will be using margins for comparison because all three companies are increasing revenue at a fast pace due to the growing IT and data market. EMC has been the best of these three companies at steadily expanding margins. As you can see below, EMC's operating margin has increased year over year (y/y) and quarter over quarter (q/q) in 2010 and 2011. This pattern is likely to continue, which means the first quarter's operating margin should be somewhere in the 15%-16% range followed by an increase q/q to around 21.5%-22% by the fourth quarter of 2012. Piggybacking on this margin increase will be an increase in EMC's revenue and operating income.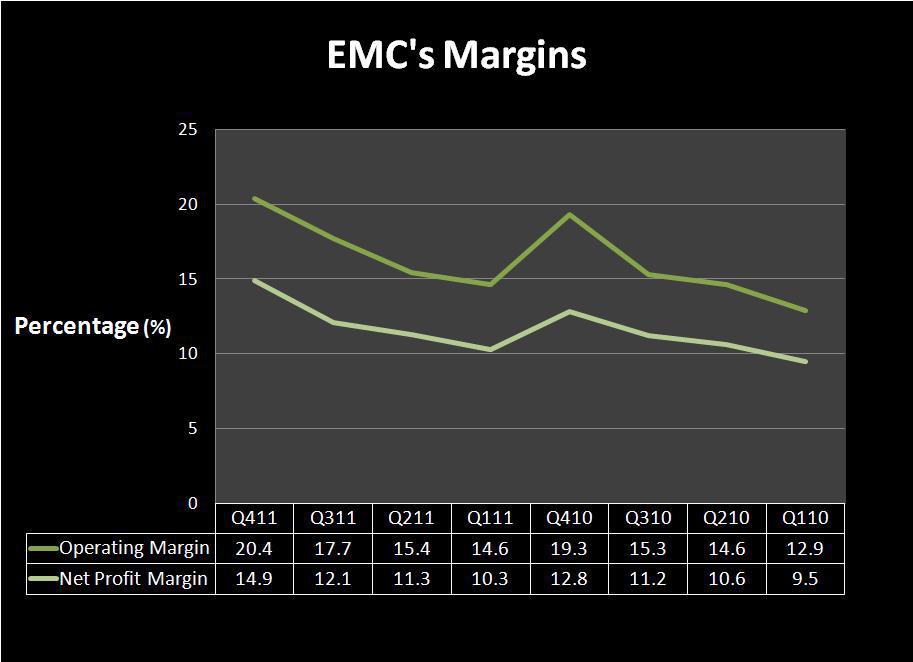 Similarly, EMC's net profit margin has also increased in the same manner as operating margin. Fortunately for EMC shareholders, net profit margins have increased at a much more consistent rate than operating margins. This is a terrific sign for EMC investors because it indicates the company is driven to increase profits and decrease excess spending, which drains revenue.
However, the grass may not be greener on the other side. EMC's 2012 guidance was a bit light on the margins side. EMC guided operating profit to 17% and net profit to 12.3%. The former is 20 basis points (bp) below 2011's operating margin and the later will be even with 2011's net profit margin. With that in mind, EMC beat 2011's guidance by 120 bp in terms of operating margin and 10 bp above net profit margin. Therefore there is hope, and if EMC surpasses the company's $22 billion revenue target investors will likely be thrilled enough regardless of margins.
CommVault has not done as good a job as EMC in the margins department. Excluding CommVault's one outlier from the fiscal first quarter of 2011, CommVault has been able to hold operating and net profit margins relatively steady. And thus far after nine months of the company's fiscal year 2012 operating margins are on pace to beat the four prior years and net profit margins are on pace to eclipse the three prior years. This would be an outstanding achievement for CommVault. However, still, the fact remains that CommVault has been unable to increase productivity in the same manner as EMC.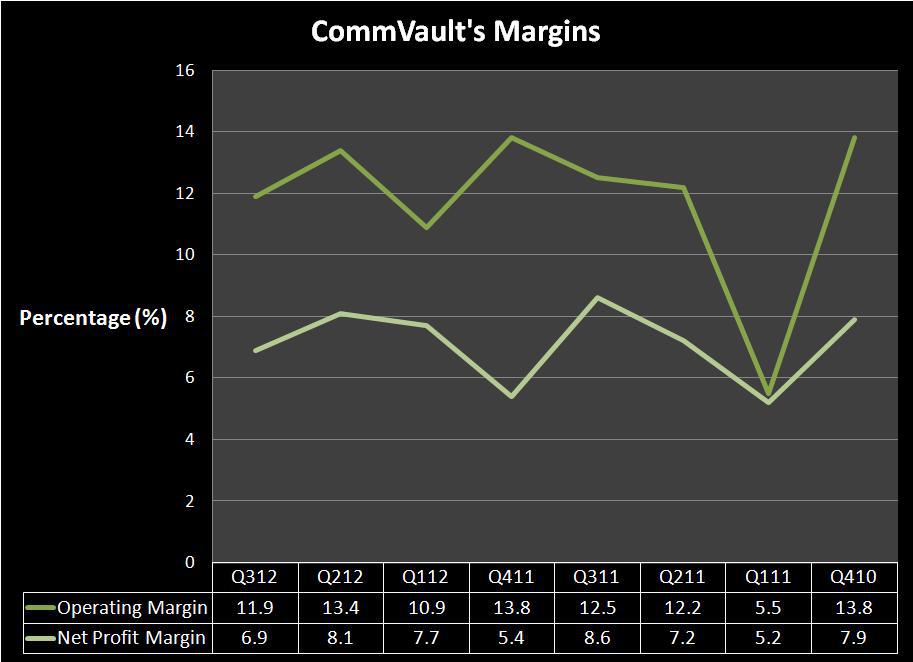 As you can see above, both margins are below their levels from the fiscal fourth quarter of 2010. Unlike EMC, CommVault's margins do not follow any particular pattern year over year. Therefore it is difficult to predict where the company's margins will lie a year from now. With that said, CommVault's ability to maintain operating margins above 10.5% is a positive sign. Also, the firm has been able to make a floor around 5% for net profit margin; which indicates investors should not expect this floor to be broken through. If this does happen we will see a major sell off.
Moving forward investors are more concerned about CommVault's revenue and Simpana software. So long as CommVault continues to build revenue and maintain operating and net profit margins in the range of 11%-11.5% and 6.5%-7%, respectively, the share price will continue to create new 52-week highs. There will come a time, however, that CommVault will need to improve margins to impress investors; unless the firm takes the problem by the horns and increases productivity.
Before delving into Fusion-io, it is important to note the firm was founded in 2005 and is relatively young compared with EMC and CommVault. Nevertheless Fusion's margins increased dramatically prior to going public; which is one of the reasons Fusion went public in the first place. But now after a few down quarters one must question whether the firm is destined to steady off at the 0%-5% range. It would be premature to state Fusion-io will not improve margins at this point because the company is still growing and part of this growth requires selling, general and administrative expenses (SG&A).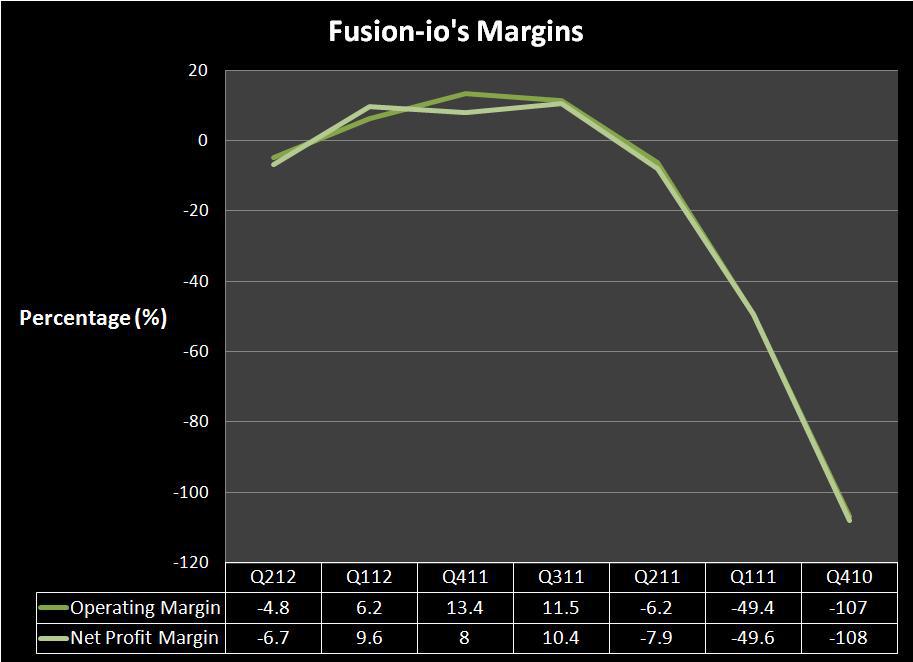 No matter which way you slice the pie, Fusion's most recent quarter's margins were terrible. After giving investors a glimmer of hope with margins hanging around the 10% range, it completely dropped off to unprofitable levels. It can easily be stated this one particular quarter is a fluke and the depressed share price is an excellent buy opportunity; especially with an upward trending market.
However, this may not be in the best interest of traders for three reasons. Beginning with Fusion's revenue guidance for the third quarter we see 1% q/q growth; which is hardly impressive. Now, of course, the $85 million target is a 26.4% y/y increase in revenue. This may seem like a strong indicator, but investors and traders are looking for Fusion to produce 100% y/y increases before sending the share price higher. This presents a problem. This problem is that even if Fusion beats the firm's own expectations, traders may not allow the P/E ratio to stay in the lofty 200 realm; which means another cliff drop for Fusion's share price.
Another problem investors and Fusion traders face is the operating margin guidance. For Fusion's fiscal third quarter the firm is expecting non-GAAP operating margin to come in at 0%-5%. Now, this will be a q/q increase, but not a y/y increase. Also, the range entails that if the firm does not match the lower limit, investors will see another unprofitable quarter; which will send the share price substantially lower. Most importantly, the guided range is non-GAAP based, therefore it is highly probable that Fusion will deliver a unprofitable quarter.
The final reason traders should hesitate to invest in Fusion deals with the second half of the company's current fiscal year. Fusion guided revenue to $325.38-$335.24 million and operating margin around 8%. The revenue quidance is fantastic because that equates to a 65-70% increase in annual revenue. Also, Fusion should be able to eclipse the upper region of this target because the company has seen $158.43 million in the first half of the year and quarterly revenue should continue to increase at a high rate.
The problem, however, lies within the operating margin estimate. An 8% operating margin equates to $26.03-$26.82 million in operating income. After the first half of the year Fusion has $618 thousand; which equals $0.618 million. The only possible way Fusion will reach $26 million in operating income is if the firm is able to outproduce the best quarter by 35%. That is a tall order, especially because the third quarter is expected to see operating income in the range of $0-$4.25 million. Therefore it appears at this point Fusion will come close to this expectation; which will lead to investors, traders, and analysts punishing the stock.
All three companies have a bright future. While Fusion may not be a buy in the short to medium term for the reasons listed above, the company is growing and provides flash based servers that speed up servers. Also, Fusion is working out the kinks for the ioDrive 2; which is turning out to be a more difficult task than expected. Furthermore Fusion may be at a point where company growth is more important than share price growth and until that balance is sorted out the stock should not be viewed as a must buy.
CommVault falls into the same category as Fusion because CommVault also has excessively high SG&A spending; which is one of the primary reasons the company has been unable to expand margins. On the other hand EMC is steadily improving margins and revenue. And as investors have seen the stock has been moving closer to the 52-week highs of the first half of 2011.
EMC should be labelled a buy at this stage because the share price has some room to run before any major pullback. CommVault has surpassed a couple 52-week highs recently and a pullback should be expected. With that said many stocks do not pull back after eclipsing 52-week highs; therefore tread the CommVault waters carefully. Fusion, on the other hand, has set high standards for the company and these standards may be unreachable at the moment; which will cause the stock to fall lower before heading higher in the ultra long term.
Disclosure: I am long EMC.