Microsoft (NASDAQ:MSFT) promised a quick and painless way for Android-only developers to port their apps/games to Windows 10 last April. The still-in-beta-testing "Project Astoria" SDK (Software Development Kit) is a bridge tool for developers to reuse their existing Java-based Google (NASDAQ:GOOGL) Android codes to make Windows 10 versions of their apps
Project Astoria is available for Windows and Mac OS X computers and it will let developers quickly replace the embedded codes of Google Mobile Services (NYSE:GMS) and Google Play Services with Microsoft App Services.
Based on the Project Astoria SDK documentation, disabling GMS and Google Play Services in favor of Microsoft Services is a two-step procedure for seasoned programmers.
Here are two screenshots from Microsoft's documentation kit for Project Astoria.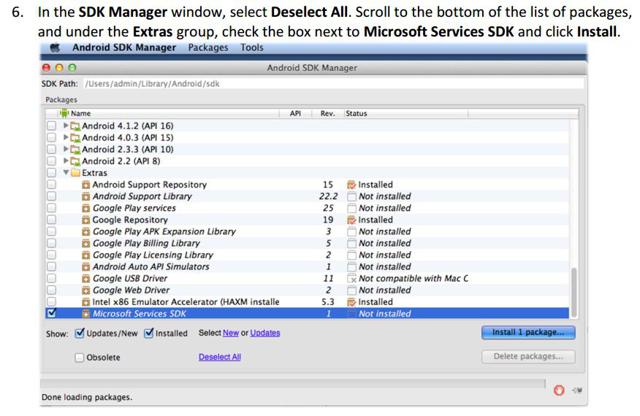 (Source: Microsoft)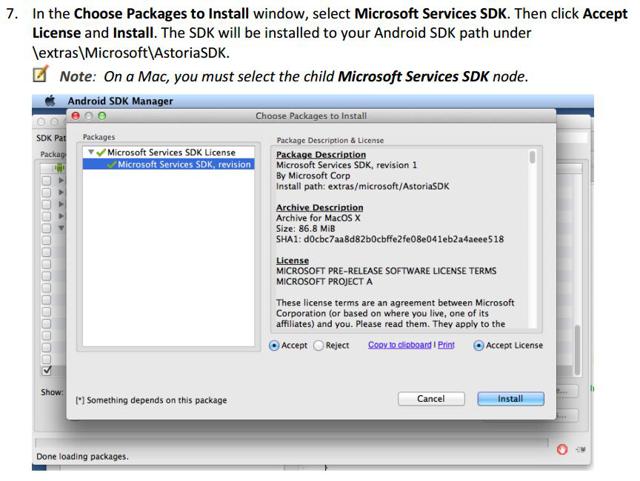 (Source: Microsoft)
Why It Matters
The best part of Project Astoria SDK is that Android apps (such as games that do not need in-app purchases or cloud-based saving) that are not dependent on Google Mobile Services and Google Play could be published and distributed at Windows App Store with very little code revisions.
This almost-automated way of porting Android apps to Windows 10 is a very important tailwind for Microsoft's big shift toward a freemium strategy. The mobile apps industry is a $30 billion/year business. Unfortunately, due to the low global market share of Windows mobile devices, Microsoft's app store business is way behind that of Google, Apple (NASDAQ:AAPL), and Amazon's (NASDAQ:AMZN).
Giving away an easy porting software tool to Android developers is a brilliant tactic for Nadella. Project Astoria will definitely encourage big developers like Supercell and GungHo Entertainment to bring their billion-dollar-generating game to Windows 10 devices.
As of now, only a few major developers like King Digital (BATS:KING), Zynga (NASDAQ:ZNGA), and GameLoft (OTCPK:GLOFY) have ported some of their top-grossing mobile games to the Windows platform.
King Digital used the Project Astoria SDK to port its Candy Crush Saga game to Windows Phone 8.1 devices last December. However, other top-grossing Android games like Clash of Clans and Game of War: Fire Age have not yet been ported by their respective developers.
Supercell, maker of the $150 million/month grossing game Clash of Clans has never released a Windows Phone or Windows 8.1 version.
Unofficial Way of Running Android Apps On Windows 10 Mobile
The Project Astoria SDK beta kit is supposedly for a few professional developers only. However, thousands of Lumia phone owners are now aware of the online tutorials on how to side-load or even install Android apps and games directly from Google Play Store. (Please do not attempt those tutorials if you are not competent enough).
XDRdaniel, a Senior Member at XDA-Developers Forums, has released three methods on how people could install and run APKs of their favorite Android apps/games on Lumia smartphones running Preview builds of Windows 10 Mobile.
XDRDaniel's methods are only compatible with Microsoft/Nokia Lumia phones with 1GB of RAM.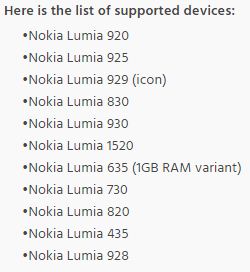 (Source: XDRDaniel)
XDRDaniel's initiative also revealed that Microsoft's Project Astoria tool uses the Dalvik 1.6 Java Virtual Machine of the older Android 4.4.4 OS to run Android Apps on Windows 10 Mobile.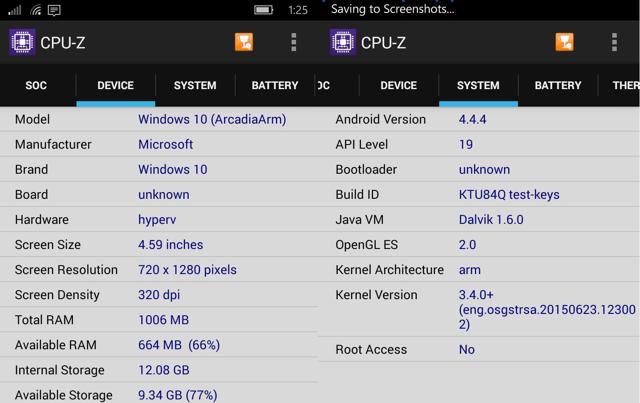 (Source: XDRDaniel)
Please visit WMPoweruser to see an updated list of working Android apps on Windows Mobile 10 phones.
The work of XDRDaniel and others is prima facie evidence that Project Astoria really works. The currently unofficial way of side-loading or installing Android apps directly from Google Play could lead to Microsoft accelerating the commercial release of Project Astoria.
While it is now possible to play Clash of Clans on a Lumia 1520 Windows 10 Mobile phone, it is still not ideal for gamers. Saving game progress in Clash of Clans requires the cloud services of GMS. Buying in-app gems from Supercell's store also needs the Google Play Services enabled.
Google will never allow unofficial activation of GMS and Google Play on Windows 10 mobile devices. It is therefore urgent for Microsoft to negotiate a separate deal with app owners so that in-app purchases on ported Android apps could be done through Microsoft's App Store.
Conclusion
MSFT is still a great hold for long-term growth investors. Project Astoria is a powerful incentive for recalcitrant Android-only developers to finally expand their app monetization to include Windows 10 devices. Microsoft needs more income from app store downloads and in-app purchases to offset the lost revenue from giving away free Windows 10 upgrades.
Apple and Google enjoy multi-billion annual revenue streams from their respective app stores. Offering a lower 15% commission (instead of the 30% that Apple and Google charges on app store sales) could further encourage developers to make Windows 10 versions of their top-grossing apps and games.
The other benefit of more app developers porting their games to the Windows 10 platform is that it might just lead to more people buying Windows mobile phones.
Microsoft's willingness to sell sub-$100 Lumia smartphones coupled with full compatibility with the millions of Android apps, is a strong buy incentive for budget-conscious consumers.
The more people who use Windows devices and Microsoft mobile apps and services, the bigger audience there is for Microsoft's app-install mobile advertising.
The Project Astoria SDK also allows easy replacement of Google's AdMob API inside Android apps with Microsoft's Ads in Apps service.
The two screenshots below are from the July release of Project Astoria SDK Documentation.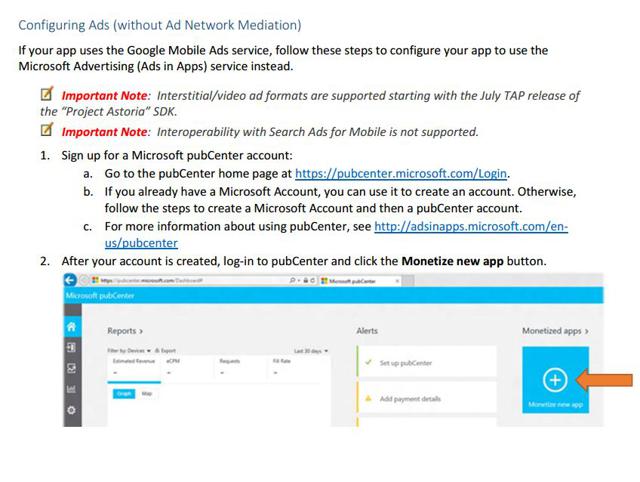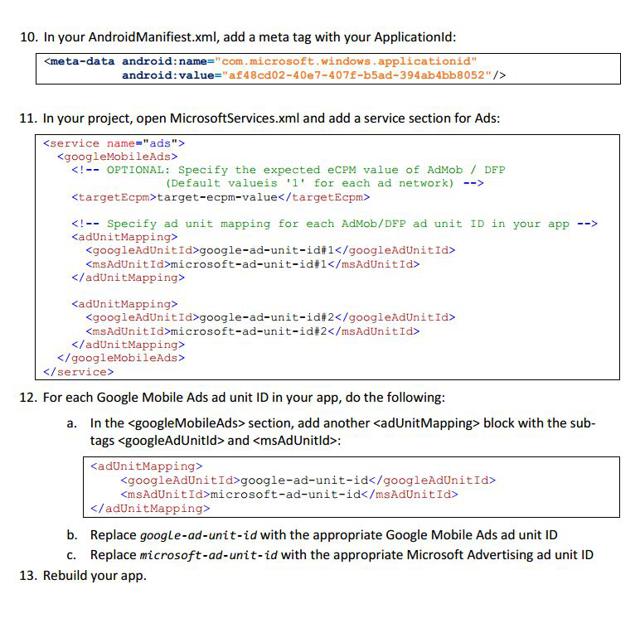 (Source of Images: Microsoft)
Disclosure: I am/we are long MSFT, APPL,KING, ZNGA.
I wrote this article myself, and it expresses my own opinions. I am not receiving compensation for it (other than from Seeking Alpha). I have no business relationship with any company whose stock is mentioned in this article.