If you have ever had the opportunity to take care of a toddler, then you no doubt appreciate the importance of diapers. And not just any kind of diapers, but the disposable ones. Disposable baby diapers have been a life line for infant care givers, making a once daunting task much easier to deal with. Apart from the convenience offered by disposable diapers when compared to cloth diapers, research has shown that one ultimately spend less during their baby's diaper wearing days if electricity and water costs for cleaning the later are factored in.
Whichever way you look at the baby diaper business, one this is pretty clear. It won't be running out of steam any time soon. As a matter of fact, according to Transparency Market Research (TMR), a U.S based market research firm, the global diaper s market is expected to grow to a market value of $63.2 billion by 2017 representing approximately 6.9 percent CAGR from 2014. It is further estimated that disposable baby diapers will represent more than 60 percent of this value which indicates that there is plenty of opportunity here for investors.
The growth drivers
Before getting to the gist of the article, I believe it is important that potential investors looking to have piece of this business be well aware of the driving forces in this particular niche. First, demand for disposable baby diapers will be driven by rising household income which will allow for more spending on babies and children. While most of the buzz in this aspect has revolved around more mature markets such as the U.S, Europe and China, I believe the African market should also be taken into consideration.
As Coca-Cola chief for EuroAsia and Africa Nathan Kalumbu said during the World Economic Forum on Africa meeting in June: "As African consumers are getting wealthier, as they are getting more educated, they are demanding more and more choices," a realization that multinationals are gradually starting to wake up to.
The extremely positive reception of top name brand baby diapers such as Kimberly Clark's (NYSE: KMB) Huggies and Procter & Gamble's (NYSE: PG) Pampers in the continent has reinforced this theory which goes to show that it won't be long before Africa catches up to the more mature markets. To put things into better perspective, another report by TMR estimates that Africa will account for a 59 percent and 57 percent rise in revenue and sales volume for baby diapers by 2017 which leads me to believe that the global estimates may be somewhat conservative.
Secondly, increasing birth rates coupled with decreasing infant mortality rates bode well for the baby diapers business. Infant mortalities were down to 54 per 1000 live births last year representing approximately a 30 percent decline compared to 15 years ago. The World Health Organization (WHO) expects this trend to continue well into the future with projections of 29 deaths per 1000 live births by 2025.

(Source: Data from CIA World Factbook)
Moreover, the debate on whether reusable cotton based cloth diapers are more environmentally friendly than disposable ones is being put to rest. As this article here points out, the cotton diapers may not actually be the greener option based on a number of factors such as the nature of chemical intensiveness required to grow the crop as well as the fertilizers used being major greenhouse gas emitters. The article goes on to give other angles which all support the conclusion that disposable baby diapers are indeed more eco-friendly when compared to reusable cotton based ones.
Key players in the market
Analysts at U.S based asset management firm AllianceBernstein have affirmed their positive outlook in the baby diapers business terming it as one of the few growing markets among consumer goods. However, despite its massive size and potential growth prospects, it is one of the hardest to break into for new players. As the chart below shows, two well established brands control over 50 percent of the market share with the others retaining single digit shares.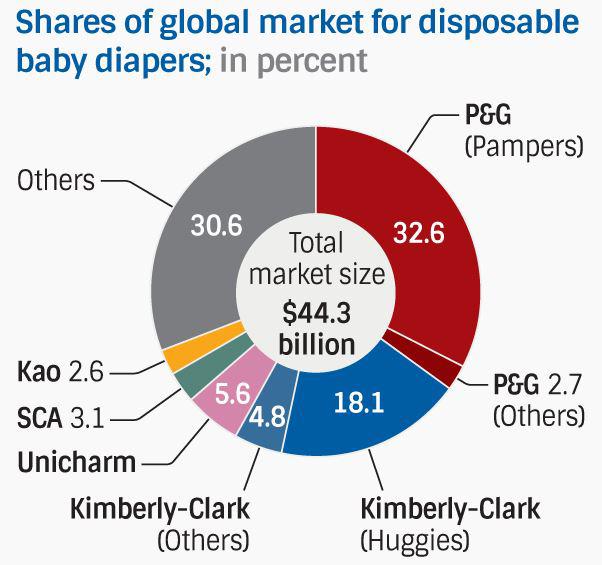 Figures for 2014 (Source: Euromonitor International)
According to Procter & Gamble's most recent annual report, the company booked approximately $10 billion in net sales of baby diapers, a 1 percent uptick compared to 2013 sales. This was the result of mid-single digit increase in volumes from developing regions as well as new higher priced product innovations offered in the more developed regions.
On the other hand, despite having the second best-selling disposable baby diaper brand in the world, Kimberly-Clark hasn't been having an easy time maintaining its market share. 2014 saw the company complete strategic changes related to its Western and Central European consumer and professional business which saw it exit the diaper category in that region.
In spite of this, diaper sales in Eastern Europe grew organically by 30 percent in the last quarter, a clear indicator that plenty of room for further growth exits in the region. China sales have also been doing well with organic sales also increasing by 30 percent with Huggies being sold in about 110 cities. With diapers fueling growth in the top line, Kimberly- Clark's stock has been up almost 4 percent since it reported second quarter earnings.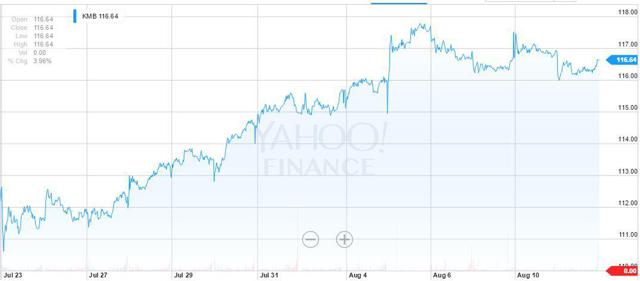 ((Source: Yahoo! Finance)
It is important to note that while market conditions in the baby diaper business make it hard for new players to gain traction, this hasn't stopped newer entrants from angling for a piece of the pie. The WallStreet Journal late last year reported that Amazon.com (NASDAQ: AMZN) would be getting into the baby diaper business with a private label brand called Elements which would be targeting customers willing to pay a premium to know more about the product's origin.
After a couple of months however, Amazon decided to pull it from its online store offering the explanation that the product needed some design improvements. Even with the widespread speculation surrounding the cause of this move, one thing remains clear which is - there is more than one way of cashing in on the baby diaper opportunity.
An alternative to the established players
Amazon's partnership with Elements has exposed a new way of dipping into the baby diapers billions without necessarily having to invest in the more established brand companies. Firms with distribution agreements with baby diaper manufacturers offer a way to limit most of the downside risk that would otherwise be present in companies with a single brand.
One firm that offers such an opportunity is little known Bemax Inc. (OTCBB: OTCPK:OTCPK:BMXC). While it's a relatively young company, it is uniquely set up to get an array of baby diaper products from different manufacturers at discounts and supply them in bulk to customers in Europe and Africa where it currently focuses its operations. These regions offer huge potential for profit based on the fact that there are only a few manufacturers of disposable baby diapers with the bulk of the products being imported from other countries.
Bemax's main target markets include wholesalers, grocery store distributors, supermarkets and large size retailers. The great thing about this company is the fact that its web based platform allows it to keep running costs extremely low with customers having the option of making online orders and subscriptions that can allow the selected products to be automatically shipped weekly or monthly.
Also, by accepting private label orders, wholesalers and supermarkets will be able to develop their own brands if they wish to do so while the fact that all orders are pre-paid limits exposure to risk and reduces the amount of cash in hand the company needs to have for inventory. According to the company's just released annual report and audited financial statement for the period ended May 31, 2015, Bemax has $507,722 deferred revenue attributed to sales order of which $100,000 already received and the rest 0f $407, 722 (as account receivable)of the order expected to be filled before end of the year.
Round up
So far the consumer goods segment has been having a great run if The Consumer Staples Select Sector SPDR Fund (NYSEARCA:XLP) performance over the last one year is anything to go by.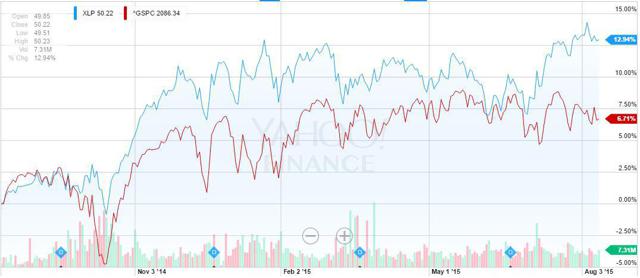 XLP vs. S&P 500 (Source: Yahoo! Finance)
The fund has been up 12.9 percent while the S&P 500 has gone up by only 6.7 percent in the same period. By venturing into the baby diaper business, investors have a chance to ride the momentum in the consumer goods segment through a category of goods that offers substantially minimal risks to their investment. As mentioned earlier one way to do this is through entities such as Bemax whose shares at the time of writing this article were valued at about $1.4 per share.
The truth is that there are numerous ways of profiting from the baby diapers business value chain and an investment in Bemax is just one. However, Bemax sets itself apart from the competition by the virtue of being not only lean in terms of its workforce but also the fact that it doesn't hold any inventory. As usual, I would urge all investors to carry out their own due diligence before taking up a position in any of the companies I recommend.
Disclosure: I/we have no positions in any stocks mentioned, and no plans to initiate any positions within the next 72 hours.
I wrote this article myself, and it expresses my own opinions. I am not receiving compensation for it (other than from Seeking Alpha). I have no business relationship with any company whose stock is mentioned in this article.