The Knives Are Out For GrubHub
Summary
GrubHub is facing tremendous competitive pressure from savvy new entrants.
If the SF Bay Area is any indication, each market will be its own brutal battleground.
Recent operational missteps will compound GrubHub's growth woes.
The biggest risk is GrubHub becoming a footnote - like Myspace or AltaVista.
GrubHub (GRUB) has been a tremendous growth story. To date, it has been impressively managed and operated. They merged with their biggest competitor, Seamless, to dominate restaurant food delivery in major markets, like New York and Chicago. Their profitable rollout plan has been solid.
A not-famous German general once said "no plan survives contact with the enemy." And their enemies are multiplying.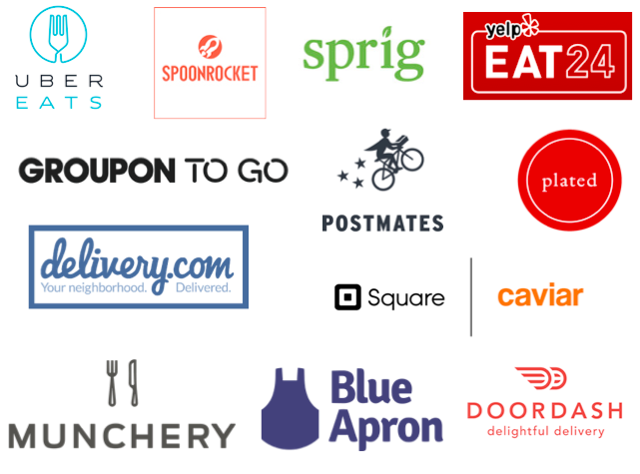 GrubHub Competitors
GrubHub's small competitors have collectively raised over $650 million. The fundraising table below does not even include the four big players that have all recently entered the space: Uber (Pending:UBER), Yelp (YELP), Groupon (GRPN) and Square. Those companies have raised billions collectively.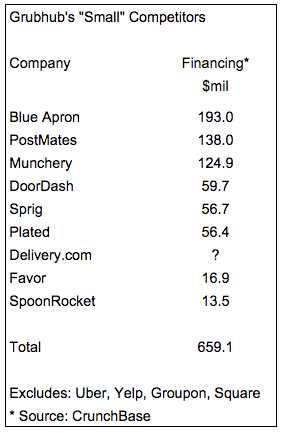 GrubHub (and its subsidiary, Seamless) is well positioned relative to these new entrants. But these new entrants are living by Jeff Bezos' famous mantra: "Your margin is my opportunity." For GrubHub, revenue will be pressured, it may even fall in the next couple quarters. Profits will be squeezed as GrubHub will step up promotional activity to combat the new entrants. Recently, for example, they raised their introductory coupons from $7 to $10.
The good news is that this space seems to be experiencing tremendous secular and geographic growth. Obviously, takeout and delivery are not new. However, in the past, either the delivery options were limited (pizza, Chinese), ordering was inconvenient and takeout was just a huge waste of travel time. These services are rushing to fill this void and consumers are loving the newfound convenience… and of course the venture capital funded promotions. The most important point is that the winners have not yet been solidified with challengers on all sides.
Challengers from Below: Doordash, Delivery.com, PostMates and Favor. A year ago I would have guessed that GrubHub/Seamless had the market locked up. Bam. Then came Doordash. This YCombinator company is in the process of crushing GrubHub in the Bay Area market. Why? They don't just have restaurants that sign up with Doordash - they have EVERY restaurant that allows takeout. Including your favorite one. In the Bay Area, GrubHub's list is incomplete and on the whole subpar. GrubHub's restaurants outside of New York and Chicago have the whiff of adverse selection - restaurants that are not busy and not popular are more motivated to push takeout and delivery. The equivalent would be Uber only taking you to some places you want to go, but not your favorite places. Meanwhile, Doordash is expanding into other cities. Doordash's model is probably not sustainable as configured, but they will negotiate a revenue share with restaurants while stealing market share in the process. You can be sure all the other players on the competitors chart are watching the Bay Area closely. Below, you can see how successful Doordash, Eat24 and Munchery have been in gaining mind share in the Bay Area over the past couple of years.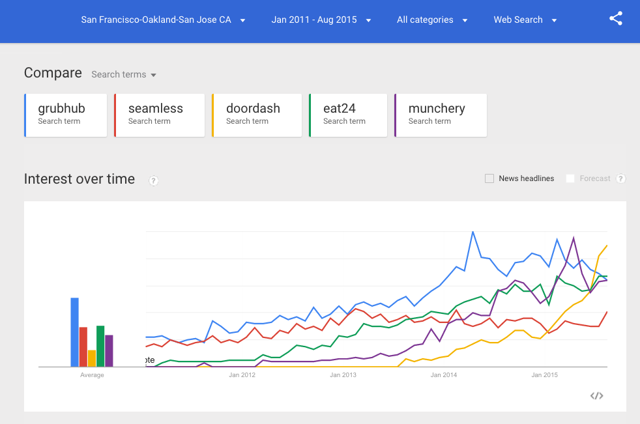 SF Bay Brawl: In the SF Bay Area, Doordash has blasted past GrubHub and Seamless in Google Searches. Eat24 and Munchery have made strong inroads as well.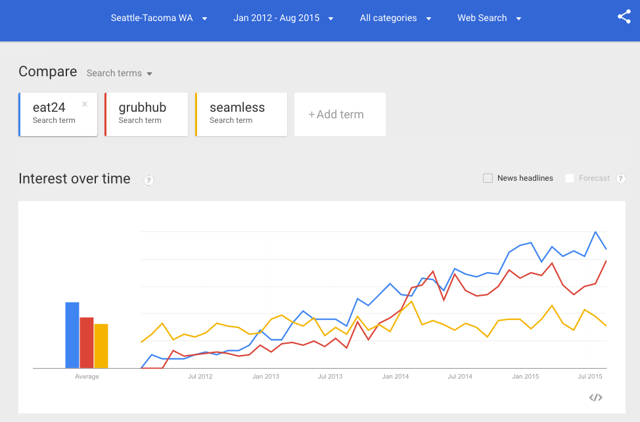 Battle for Seattle. Yelp's Eat24 currently leads the market for searches in Seattle (Doordash has not entered yet).
Challengers from the Side: Munchery, Blue Apron, Sprig, Spoonrocket and Plated. These services will all eat into the home food delivery niche by providing a convenient but healthier alternative. While I'm somewhat skeptical of them given the quality of my personal experiences, these companies are motivated, funded and their products will get better.
Challenges from BIG players: UberEats, Groupon To Go, Yelp's Eat24 and Square's Caviar. Yelp and Groupon are both very hungry for new sources of growth. Square and Uber are just plain aggressive competitors, although I wonder how committed they are to this space. The most established of these players is Yelp's Eat24. They have steadily grown share. With Yelp's marketing muscle and an existing sales force on the task, GrubHub should be worried. Meanwhile, Uber and Groupon all have massive traffic but do they have the operational excellence to take down GrubHub?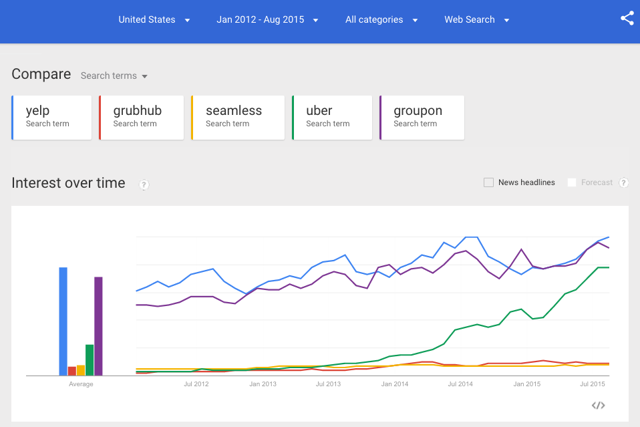 Searches for Yelp, Uber and Groupon vs. GrubHub and Seamless in the US.
Challengers from Abroad? Just-Eat and Delivery Hero are the GrubHub and Seamless of the international world. These two are probably not content with sitting out of the US market forever. Expect an acquisition (or three!) from these guys over the next two years.
Execution Missteps. GrubHub and Seamless both grew well. But their integration after the merger has been slow. Just recently they relaunched in NY on a unified platform. It has not gone well. The analysts at Cowen did a survey indicating power users are shifting some spend away from Seamless. I have a friend in New York who was so annoyed by how bad the transition was that he has sworn off Seamless for now. He has plenty of options at this point and he is not alone in his complaints. Some more from Twitter as well: one, two and three.
An expensive operational switch. Doordash, Postmates, Uber and others are leading the way in showing that the true drivers of the business are good food delivered quickly. GrubHub relied heavily on restaurants that delivered their own food and elected to sign up for their platform. This is the capital light eBay model and it is great if you have no competitors. But it may be the wrong strategy in this space as it results in slower deliveries from the second tier of restaurants. To its credit, GrubHub is starting to do its own deliveries. Robert Faulkner correctly points out that this shift doesn't have the same attractive economics as their original model. It will be another reason profits will be pressured.
How much room is left for monetization? One of the impressive elements of GrubHub's business is its 15.5% take rate, or percent of each bill GrubHub gets, as of the latest quarter. It is probably why so many companies are attracted to the space. It is also a problem. Restaurants, the lifeblood of GrubHub's business, don't have a lot of margin to spare. They like the revenue they get from GrubHub, but I suspect GrubHub may have reached the limit of how much of the ticket they can take, since most restaurants average less than 4% overall margin. Interestingly, the take rate percent may increase over the coming quarters, but it will be an illusion, since it will likely come from delivery fees added as part of their shift to delivery on behalf of restaurants. Sure it's more revenue, with a much less profitable (profitless?) cost structure.
Slowing growth? While I anticipate the true competitive impact to be felt over the next 6-12 months, the cracks are already showing in GrubHub's growth:
Q2 2015 was the first quarter of Q over Q revenue decline
Grubs per active diner has been on the decline and hit a new low in Q2: 3.38
Active diner growth hit a new low in Q2: 5.9% quarter over quarter (NB: I don't like 12 month rolling metrics - they can easily obscure a quarter over quarter decline)
Daily average grubs declined 6.2% quarter over quarter, its biggest decline to date

Given that grubs per active diner, revenue per dine and take rates are all either declining or profit constrained, the only profit growth driver left will be new diners. GrubHub's competitors will be fighting for every one.
The market is GrubHub's to lose, but it's worth laying out what conditions would cause GrubHub's stock to drop dramatically:
GrubHub

loses out to Doordash, Yelp or someone else.
The online ordering market is a free for all (not winner-take-all or winner-take-most like many investors assume).
Market saturation is closer than many think. Perhaps the market is already nearly as big as it will get.

Competition will erode the 15% take rate.

Searches for "Seamless" in NYC. Saturating?
If this market is winner-take-all, saturation is not near and take rates remain high - then whatever company wins, GrubHub or otherwise, will likely be worth a lot more than $2.6 billion. This is the bull case. Given the current competitive environment, there is high risk for GrubHub shareholders.
What's next? Revenue declines, profit evaporation, mergers and perhaps irrelevance? I expect GrubHub's profitability will evaporate over the next 12 months. If it wants to win I would argue it should. The right strategy is probably to follow the Uber model and press their advantage with aggressive sales and marketing. The worst-case scenario would be an outright quarter over quarter revenue decline of 5%-10% or more. Some seasonal weakness is expected in Q3, but they have still grown revenue every quarter until Q2 2015! Given Grub's nosebleed 70 PE, growth worries can take the stock down pretty far, potentially well below its IPO price of $26.
While I'm intrigued by the business model and think there is opportunity for geographical expansion, it will be a bloodbath for a while. The bloodbath may not end until many of these competitors abandon the market or go bust. Don't get me started on how ugly it would get if we have a recession. There will be a lot of M&A in the space - likely with tons of dilution for GrubHub shareholders. The biggest risk for GrubHub investors is that they are one of the eventual losers and become a footnote to this space, losing to Doordash or Yelp like Myspace to Facebook (FB) or AltaVista to Google (GOOG) (GOOGL). Seems unlikely given their historical momentum, but as of now they are being out-executed.
This article was written by
Kevin Berk is a strategic investor, entrepreneur and an expert in online media. He helped develop online ventures at CitySearch and Disney, and was instrumental in the merger of TicketMaster and CitySearch and the combined company's IPO. (It is now owned by IACI.) He founded Zeal.com in the online search and directory space. He then led the advertiser products team at LookSmart before co-founding online job search company YorZ and writing his blog, Berk Sure Has a Way (http://www.berksurehasaway.com/). Kevin combines an insider's understanding of online content, search and advertising with an eye for stocks and a clear writing style.You can follow him on Twitter: http://twitter.com/#!/kevinberk
Analyst's Disclosure: I am/we are short GRUB. I wrote this article myself, and it expresses my own opinions. I am not receiving compensation for it (other than from Seeking Alpha). I have no business relationship with any company whose stock is mentioned in this article.

I am long GOOG
Seeking Alpha's Disclosure: Past performance is no guarantee of future results. No recommendation or advice is being given as to whether any investment is suitable for a particular investor. Any views or opinions expressed above may not reflect those of Seeking Alpha as a whole. Seeking Alpha is not a licensed securities dealer, broker or US investment adviser or investment bank. Our analysts are third party authors that include both professional investors and individual investors who may not be licensed or certified by any institute or regulatory body.