Crude Oil: The Harsh Reality of $30 a Barrel
As we've all observed, crude oil prices have been decimated since their peaks in mid-2014. The global Brent and domestic West Texas Intermediate benchmarks have fell more than 50% off of their 2014 highs of more than $105 a barrel, and analysts from banks like Citigroup and Goldman Sachs have predicted that oil is heading even lower. I believe that $30 per barrel is becoming more of a realistic prediction as opposed to a far-fetched speculation. Recently, dollar-denominated WTI crude traded as low as $41.35 on the New York Mercantile Exchange, and a plethora of catalysts exist that are poised to send oil prices even lower. Although many say that there's not much more room for crude to run lower, investors must keep in mind that crude oil demand and supply are very inelastic, meaning that they don't fluctuate much regardless of what end of the price spectrum crude prices settle at. This has proved to be catastrophic for earnings in the energy space, which has seen excessive layoffs as oil behemoths such as Chevron and Exxon posted abysmal quarterly results. According to FactSet, S&P 500 companies were on track to post a 1.3% y/y decline in earnings, but excluding energy companies corporate profits would have been up 5.4%. Ostensibly, the energy sector is certainly not the space to be in with the current extreme volatility in crude prices, even though a logical investor may think that this is an opportune point in time to initiate positions in ravaged energy companies that appear to be trading at a discount. In this article, I will outline five geopolitical and macroeconomic themes that all point to oil prices heading even lower.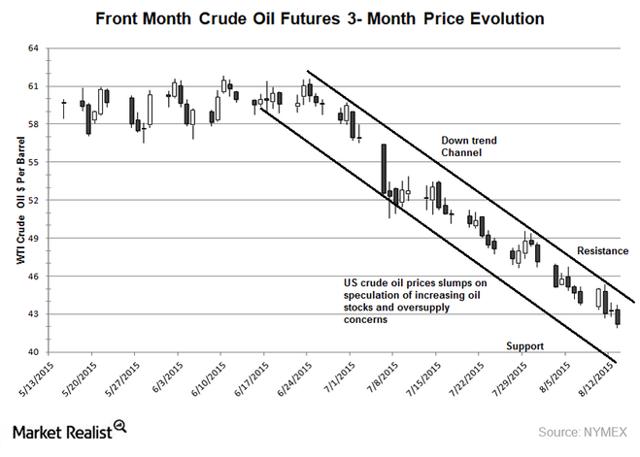 Unabated Production
Figure 1 OPEC oil production (thousands of barrels per day) Source: peakoilbarrel.com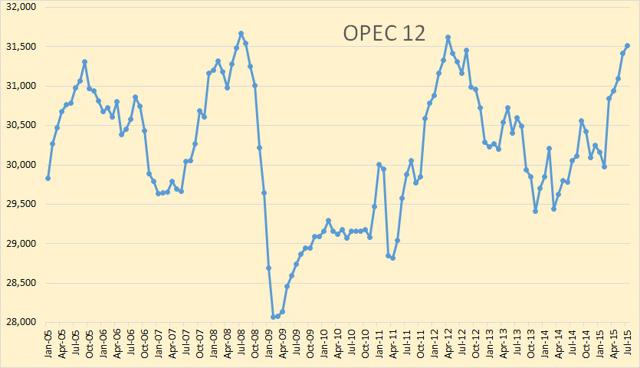 In the U.S., the oil rig count is 59% lower than it was in October, this should be a tailwind for oil prices, right? But this has been deemed insignificant because of OPEC, the mighty twelve nation oil cartel led by Saudi Arabia who in November began waging war for dominant market share in the energy market. Typically, it is OPEC's role to stabilize production efforts in times of oversupply, but now the organization has firmly stated that production will remain at over 30 million barrels per day no matter what the price of crude oil is. Recently, OPEC made a statement that production was ramped up to 31.5 million barrels per day in July, blatantly more than the previous ceiling that was "agreed to." Saudi oil minister Ali-Al Naimi even said that OPEC would ride out the storm in terms of production even if crude ventured as low as $20 per barrel. Talk about audacity.
Production resilience from the United States, Russia, and other non-OPEC countries has further exacerbated the global supply glut, and will undoubtedly be a headwind for oil prices going forward. According to the Energy Administration of the Department of Energy, crude oil production in the United States increased from 5.6 million barrels per day in 2011 to 8.7 million barrels per day in 2014, representing an increase of 55% in only three years. Non-OPEC production is forecasted to add 1.1 million barrels a day in 2015, resulting in an average output of 58.1 million barrels per day, bringing even more crude to an already oversupplied market.
Iran Nuclear Deal
As we know, just last month Iran reached a historic deal with world powers that would lift economic sanctions that have largely ostracized Iran from having any prominent global trade influence. In exchange for this, Iran is "supposed" to implement reforms with respect to greater transparency regarding their nuclear weapon development efforts and to largely hinder their program overall (another issue in and of itself). But what does this mean for crude oil? According to Windward, an Israeli startup that has engineered sophisticated maritime tracking technology, Iran has been hiding millions of barrels of oil in offshore reserves that have been undocumented, unreported, and unaccounted for. Windward has made claims that Iran is storing more than 50 million barrels of crude oil in tankers in the Gulf, much more than the previously estimated 30-40 million barrels of reserves. Iran has the world's fourth largest reserves of oil, and has continuously denied rumors of its excessive offshore inventory. According to Windward, Iran's offshore reserves have increased by 150% from last year, ostensibly due to the increasing probability of a nuclear resolution. In total, Iran has a fleet of 28 oil tankers in the Gulf, each holding between one and two million barrels of crude oil. The advantage of storing oil offshore is that it can be quickly transported and sold, and this oil is undeniably on the verge of being released to the public marketplace once sanctions are officially removed. This is yet another bearish indicator for crude oil.
Sluggish Demand from China
During this summer, China's financial markets and economy has endured a period of minor instability. With the recent government devaluation of the yuan and intense government intervention in the Chinese stock market, investors are becoming uncertain about the true stability of the Chinese economy and its ability to reach the arbitrarily-set 7% growth rate. The devaluation of the yuan could potentially weaken demand for dollar-denominated crude, considering that this move was clearly intended to be a catalyst for the county's recently weak export numbers. Additionally, auto sales fell 7.1% in July from the same period a year earlier, and this is yet another negative sign for crude oil demand. Meanwhile, China's domestic crude oil output rose 4.2% to 4.26 million barrels per day in July, interesting. Clearly, the country is attempting to revitalize its slowing economy by weakening its currency to make exports look more attractive while increasing its oil output, yet another nation increasing output to release more oil into the global marketplace.
Strong Dollar
One of the major redundant themes over the past year is the dollar's rampant appreciation against many of the world's major currencies. The dollar index DXY, which tracks the USD against a basket of other major currencies, surged more than 20% from June 2014 through March of 2015, and has traded relatively sideways since then. As we all know, crude oil is denominated in USD, meaning that oil will appear more and more expensive to foreign importers. But the dollar's strength isn't showing any signs of pulling back in the near term, especially with the rising prospect of the Federal Reserve set to begin a gradual cycle of raising interest rates in 2015. Recent upbeat housing, consumption, and labor market data have all further supported the thesis of Fed liftoff later this year. The short term federal funds rate has been effectively at zero since the financial crisis, and higher interest rates in the United States will make the dollar even more attractive. This is due to the fact that investors will be able to earn higher returns on USD-denominated assets, and this will prove to be another factor that weighs on the price of crude.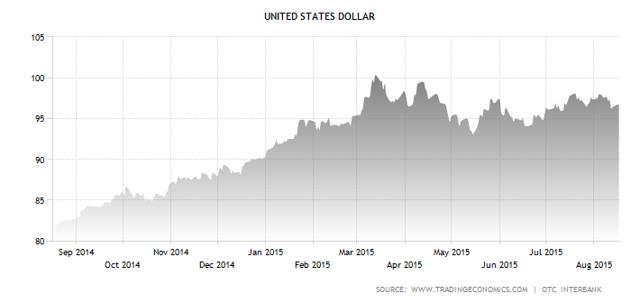 Shale Boom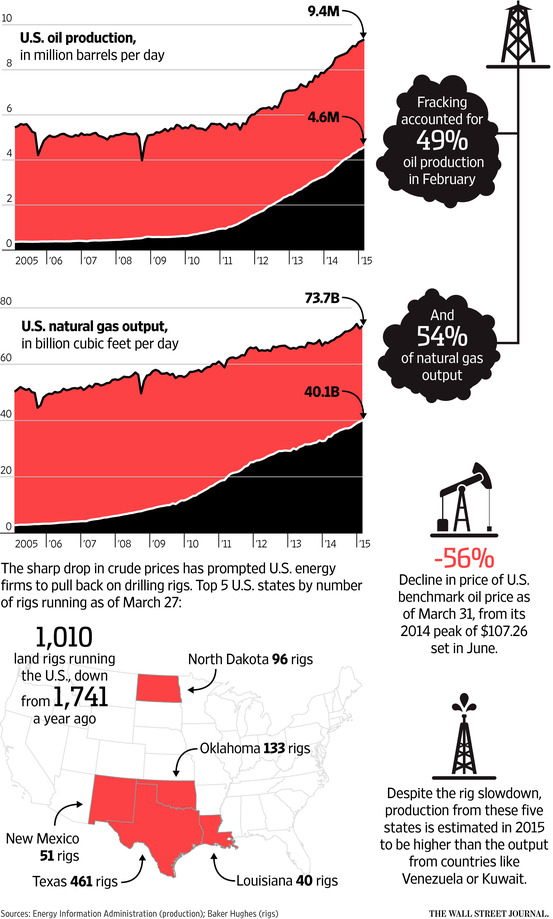 One of the widely known, groundbreaking developments in the energy industry in recent years has been the shale boom, or the increasing efficiency in the process known as fracking. Fracking is the process of drilling and injecting fluid into the ground at immense pressure with the end goal of fracturing the rocks to access the natural gas stored inside. This process has helped to boost the rate of which oil can be extracted from wells, and has allowed the United States to maintain or increase output with the same amount or less rigs. The chart below is indicative of this development, as it reflects the drop in domestic rig counts accompanied by a steadily increase in production, 49% of which was accounted for by fracking. Delving into the intricacies of fracking is outside of the context of this article, but all in all it is a more effective and efficient way to extract oil that has become popularized at an inopportune time for crude oil.
All in all, there are a multitude of factors weighing on the price of crude that don't seem to be letting up anytime soon, supporting my theory that $30 crude is not out of the question anymore. I don't see how anyone could definitively support a near term bull case for the price of crude oil in this current macroeconomic environment where production is increasing amid slowing global growth and demand. So far, it's been a blessing for the pockets of consumers but a curse for the financially hindered energy sector. Nonetheless, only time will tell what direction the price of crude oil takes, but it would be irrational to ignore the aforementioned bearish catalysts that have ravaged this beaten down commodity.
Disclosure: I/we have no positions in any stocks mentioned, and no plans to initiate any positions within the next 72 hours.
I wrote this article myself, and it expresses my own opinions. I am not receiving compensation for it (other than from Seeking Alpha). I have no business relationship with any company whose stock is mentioned in this article.