The Fed will release its minutes from the last meeting today and many will be watching to see whether adjustments were made to highlight issues in China and to insert language which allows the FOMC to back away from having to raise rates come September. We are in the camp which thinks that the Fed has to be careful in choosing the correct time to raise rates, because moving too early could not only endanger the US economy, but global growth as well. Raising rates to simply raise them is foolish, and Doubleline's Jeffrey Gundlach made the point yesterday that it was a bad idea based on where junk bond prices currently are.
The fact that market onlookers are still pointing to China as a problem is troubling enough, but add in that the government's efforts to stabilize the equity markets are not exactly working and volatility continues to whip the market around and a troubling picture begins to appear. Raising rates when the world's second largest economy is in trouble is not smart and some would say silly, but if the minutes come out hawkish then it would appear that the Yellen Fed is prepared to raise rates even with China's currency and equity market woes.
Chart of the Day:
It has been a long road back, but Target (NYSE:TGT) is now in talks to settle with MasterCard (NYSE:MA) after arriving at an agreement with Visa (NYSE:V), which should help bring to a close some of the largest remaining questions surrounding the company and its liabilities related to the data breach.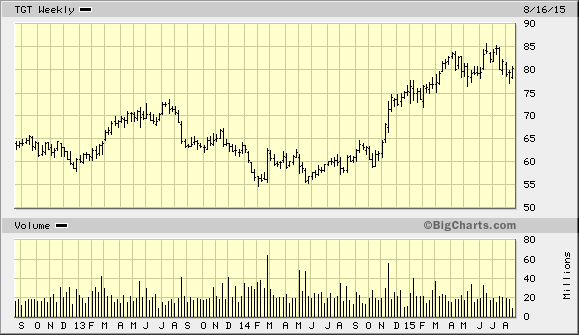 Source: BigCharts
We have economic news today, and it is as follows:
MBA Mortgage Index (7:00 a.m. EST): Est: N/A Act: 3.6%
CPI (8:30 a.m. EST): Est: 0.2%
Core CPI (8:30 a.m. EST): Est: 0.2%
Crude Inventories (10:30 a.m. EST): Est: N/A
FOMC Minutes (2:00 p.m. EST): Est: N/A
The Asian markets are higher today:
All Ordinaries - up 1.45%
Shanghai Composite - up 1.24%
Nikkei 225 - down 1.61%
NZSE 50 - up 0.69%
Seoul Composite - down 0.86%
In Europe, markets are lower today:
CAC 40 - down 0.89%
DAX - down 1.37%
FTSE 100 - down 1.04%
OSE - down 1.26%
Tech Surprise
Even though Apple (NASDAQ:AAPL) has had a rough go of it lately, the company's suppliers have continued to come out and post strong results with a number of high profile suppliers reporting strong quarterly results and guiding higher for the year. It is not the case with every Apple supplier, but it is the case with some and Analog Devices (NASDAQ:ADI) is the latest to come out and exceed analysts' estimates. For the quarter, Analog reported EPS of $0.77, which exceeded analysts estimates by $0.03/share, on revenues of $863 million which also exceeded estimates. Year-over-year revenue growth was 19% and gross margins came in at 66.1% for the quarter. Shares in Analog Devices rose by 7% in after hours trading after having fallen by 2% during yesterday's regular session.
Home Improvement Retailers
Now that both Home Depot (NYSE:HD) and Lowe's (NYSE:LOW) have reported quarterly results, investors can see that the recovering housing market is benefiting the two home improvement warehouses even though the low hanging fruit has already been had. We have said for years now that Home Depot is the way to play the early innings of a housing recovery with Lowe's being the preferred name to use when we get into the later innings and a period where new home construction is not driving the business but remodeling, additions and upgrading to current residences is the driving force.
While we still believe that the housing recovery is in the early stages, looking at the numbers reported by the two companies shows that they are in different places. Home Depot continues to be focused on EPS while Lowe's is still trying to grow the top line. This quarter Home Depot met Wall Street's EPS estimates while missing the consensus revenue estimate; the inverse was true at Lowe's as the company exceeded revenue projections while missing EPS estimates.
Disclosure: I/we have no positions in any stocks mentioned, and no plans to initiate any positions within the next 72 hours.
I wrote this article myself, and it expresses my own opinions. I am not receiving compensation for it (other than from Seeking Alpha). I have no business relationship with any company whose stock is mentioned in this article.
Additional disclosure: AAPL, HD & LOW have previously been recommended.