There is always in inverse relationship between the adversity that an industry (or company) finds itself in, and the discount which a long horizon investor can find share prices for. In the current marketplace, there are few industries as obviously needed as is the energy sector: nothing in modern society functions without energy, and fuel guzzling transportation costs make up a significant portion of both business and individuals annual costs. And while the oil industry has always been identified with boom and bust cycles, the main interest for investors towards the latter part of this year should be: how low should I let it go, before I make a strong position in the fledgling oil market?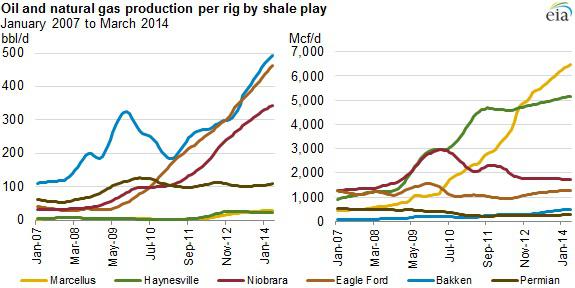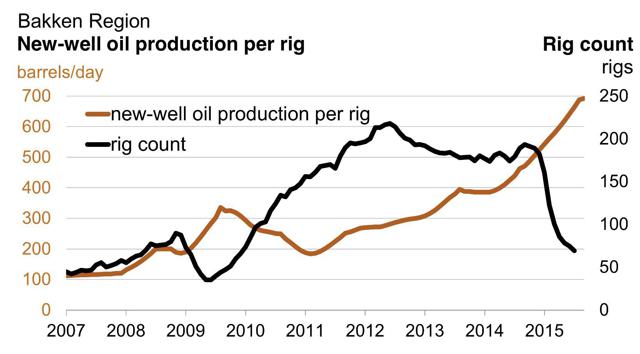 As the chart above shows, part of the problem for US oil producers has been the significant gains in oil shale efficiencies over the past five years. And while producers such as Exxon (NYSE:XOM), Chevron (NYSE:CVX), and Conoco (NYSE:COP) have been working to decrease the well count over the tumbling past year of oil price decreases, the continuing well efficiency has produced resistance against oil supply decreases. We are in the midst of an unusual situation for US oil producers: their increasing efficiency in oil production has produced a negative side effect to the continuing world-wide oil surplus.
">The productivity of oil and natural gas wells is steadily increasing in many basins across the United States because of the increasing precision and efficiency of horizontal drilling and hydraulic fracturing in oil and natural gas extraction.
The boom and bust cycle for oil business has, largely, at its core a number of causes. One of the most influential is the simple economic cost of shutting down operations: there are unrecoverable fixed costs that have been sunk into a number of producing wells which cannot be recovered in the event that the well is closed. Economists will evaluate these costs and arrive at a drop dead price above which continuing production should continue: this price is generally fairly low (much lower than the price that will incentivize building new wells). So even in a low oil price environment, active (and efficient) wells will generally continue to produce, while wells that are at the end of their life cycle will be decommissioned.
What this means is that supply decisions are made on a horizon that does not allow for an accurate prediction regarding future supply levels; in other words, the oil over-supply now is the result of decisions that were made when there was no reason to be concerned about an oil over-supply, as a future oil shortage will occur as a result of allowing oil rig production to gradually dwindle.
Even with the recent concerns regarding the effect on supply that opening trade with Iran may have, it would be surprising to see the current high level of oil reserves not begin to taper significantly off throughout 2016. The move from high price oil production to low price production is measured over the course of years, so the continued low pressure on oil prices is not unexpected. Still, for what amounts to low risk options (particularly in the case of major oil producers) prices have been discounted to an impressive degree. Lower oil prices will certainly result in even further discounts, but we are getting to the point where moving iteratively into a position seems reasonable. There has been a perfect headwind of activity that has resulted in the decreases; when it breaks, the intermediate returns will be very good (given the risk-reward component) against the market at large. A total return in the neighborhood of 20% on secure Exxon-Mobile YOY is well within the realm of possibilities.
Iran has already implied to OPEC their desire for oil production decreases in response to the low prices, and though Saudi Arabia has been reluctant to play ball, the IMF estimate of $300B in oil price generated revenue decreases for the region will almost certainly begin to produce stiff pressure for some form of supply reduction. Any move towards supply reduction will immediately buoy oil industry prices. Caution, as always, should be taken in order to avoid the proverbial falling knife, but a gradual addition of oil supplier equities through the bottom of the curve is not a horrible financial approach.
With a cash burn around $60B a year, one must assume that Saudi Arabia's posturing regarding a sustained supply war at current prices levels is bound to eventually fizzle under the pressure of cash losses. As Iran comes online in the world trade, the glut of oil will be less of an American production issue as it will be an OPEC one. Expect Saudi Arabia to begin to flex in the next half-year on their strong supply position.
Still, all this said, there is no major rush to buy into oil; it remains clear that the turnaround will take some time and may still yet involve some bumps in the road. If supply doesn't turn around in a substantive manner in the next year, dividend cuts across big oil could be coming. An additional round of glut by Iran combined with Saudi Arabia pressing on in order to maintain market share, will eventually create an environment where big oil must slow cash burn through equity holders. Added to this, any significant increase in interest rates will decrease the desirability of big oil at current prices. It is something of a waiting game with wagers on Saudi Arabia: when they finally move towards curbing supply, the increases big oil should be rapid.
Disclosure: I am/we are long XOM, COP.
I wrote this article myself, and it expresses my own opinions. I am not receiving compensation for it (other than from Seeking Alpha). I have no business relationship with any company whose stock is mentioned in this article.