Molina Healthcare (NYSE:MOH) has enjoyed quite a bull run in recent months, up more than 50% since February 1st to an all-time high. In the past three months, Molina has announced four separate acquisitions projected to add 180,000 new members to their plans and $570 million to their annual top line. Can the price momentum continue, or has a peak been reached? Top line growth is key to the investment thesis in Molina, since the company's margins aren't great. Whether the company is under or overvalued depends on which metric you use: the stock trades at 33x earnings but a PEG ratio of only 0.9. I think there's a lot of potential in Molina, but also some considerable risks.
The Focus on Revenue Growth
Since May, Molina has purchased the Medicaid business of four state managed health organizations. First, they bailed out financially troubled HealthPlus of Michigan by buying their Medicaid and MIChild (CHIP) business with cash, in a deal estimated to add $300 million in annual revenue and increase Molina's Michigan business by 40%. The deal is expected to close next quarter. Also expected to close next quarter is Molina's July 15 cash acquisition of Preferred Health's Medicaid business in Miami-Dade county. That deal will double Molina's Miami market business by adding 25,000 members. The hope is that in-market deals can be especially accretive for Molina.
Molina also recently announced two deals expected to close in Q4. First, Molina bought Integral Health Plan's 90,000 member Florida Medicaid business. Then the company added MyCare Chicago's Medicaid business, adding 61,000 new customers to the 100,000 they already had in Illinois. Included in the deals are contracts with providers, key for Molina's cost management. All the deals are in cash, and Molina's balance sheet is strong, after being bolstered by a secondary share offering in June that raised $338 million on 5 million new shares. Unfortunately, the acquisition prices have not been made public, at least as far as I could find. Molina also added two Florida acquisitions last year and a variety of acquisitions in 2013.
These efforts are part of a rapid revenue expansion Molina has experienced in the past year, thanks largely to Medicaid expansion under the ACA. Below, using Stock Rover, we can see magnitude of the jump. In fact, the number of new enrollees has exceeded expectations, especially in two of the states, Illinois and Michigan, where Molina operates. As the initial surge of Medicaid expansion slows down, the acquisitions can help Molina keep up its rapid revenue growth pace. Overall, the company expects 900,000 new members this year.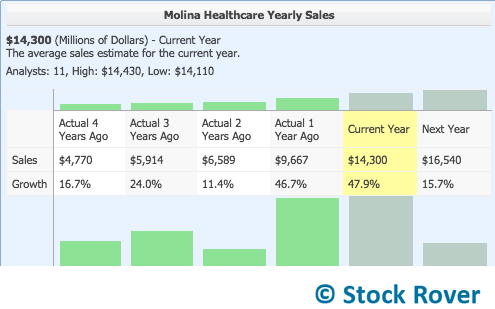 Margins
While Molina's top line growth is excellent, it's not clear how much of that growth they can bring to the bottom line. When we look below at Molina's margins over the past five years, we see some considerable variability. Margins appear to be on an uptrend lately - in the latest quarter Molina reported a net margin increase of 80 basis points and a medical cost ratio decline of 60 bps. However, those margins are also near the top of what Molina has achieved in the last five years, and may not have that much more room to run, especially if state Medicaid premium increases don't keep pace with care costs.

Molina's margins compared to their competitors are pretty mediocre, as we can see below. Molina does perform consistently better than fellow Medicaid special WellCare Health Plans (WCG), and about as well as Magellan Health (MGLN), a managed care provider. However, the company's margins lag Medicaid provider Centene (CNC) or larger, diversified Medicare providers like Anthem (ANTM), Humana (HUM), and United Health (UNH). On returns on capital, Molina also ranks in the bottom half of the group.

Valuation And Technical Support
Whether Molina is overvalued or not depends on the metrics you choose. The stock is expensive at 33x current earnings, and even at 21.5x next year's earnings. At the same time, the stock is dirt cheap at PEG ratio of 0.9 and price/sales of 0.3, but since Molina's margins are so low in both relative or absolute terms, they don't take very much of those sales to the bottom line. The stock has been buoyed in recent months as revenue growth and earnings have accelerated dramatically, as you can see below. Molina is clearly taking market share.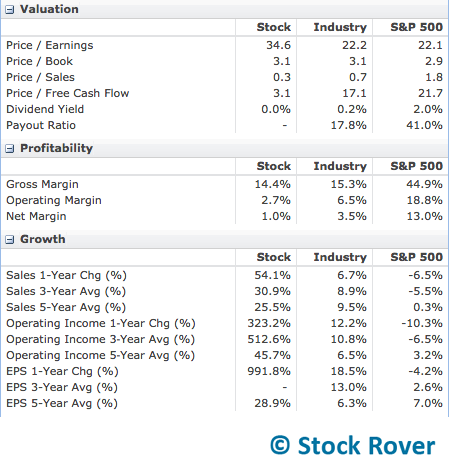 After moving pretty closely with health care plans as a whole, Molina's stock started to separate in February, as you can see below. In the past four months, the 50 day moving average has maintained a pretty steady gap over the 150 day average. However investors should be wary that as Molina has surged, it's also become more volatile. The stock has a one-year beta of 1.19. Investors should also be aware that Molina has carried a significant short interest, which in the past year has fluctuated between 5.8 and 7.6 million shares sold short, with a range of 4-16 days to cover.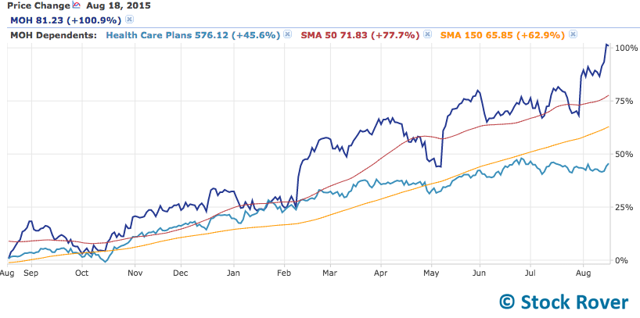 In early May, Molina broke through resistance at around $68 a share, which has become the new floor, as you can see below. The stock has bounced off that number one in June and then twice in July. During that period, the was range-bound by about $72 a share on the upper end, but blew through that on the strength of their Q2 report. Since then, the stock has thrice bounced off a new support of $75.50. In general, the stock has traded at greater volumes on up days, suggesting plenty of buyers can keep the stock's upward momentum.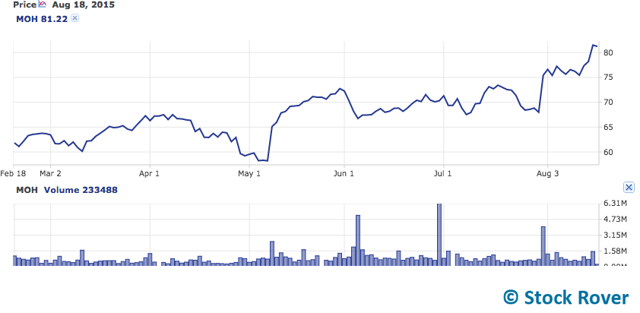 Conclusion
As Medicaid has expanded under the ACA, Molina has shown truly impressive revenue growth. However, much of that growth is already price into the stock. I think the two questions prospective Molina investors should ask themselves are: 1) Can the company permanently improve its margins?; and 2) Can Molina's stock continue its rapid rise, especially if a quarterly report disappoints? I see Molina as a somewhat risky, but potentially rewarding, play.