Overview
As airline profits reach record highs, load factors hover near historical highs as well. Long gone are the days of a half empty Boeing 727 operating in the green thanks to government subsidies. In the years following deregulation, airlines have been increasingly concerned with load factor. Moreover, increasing pressure from the flying public to keep ticket prices low has forced airlines to find other ways to maximize revenue. On the surface it may seem that a 100% airline load factor (no empty seats) would lead to the highest possible profits. However, that is not the case due to several factors/considerations making 100% load factor both impractical and economically unwise. Four of the more notable factors are discussed below.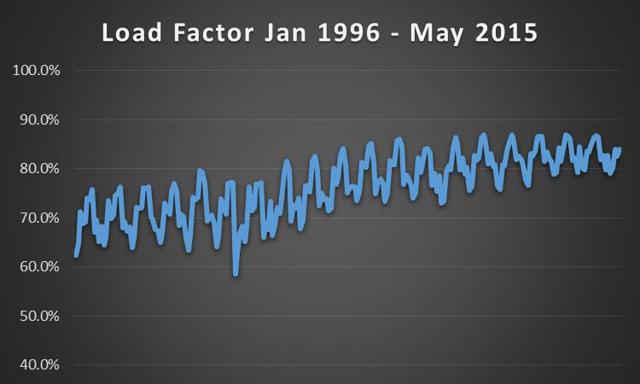 Aggregate Domestic and International Load Factor for All Major US Airlines.
Source: Three Point Aviation Services LLC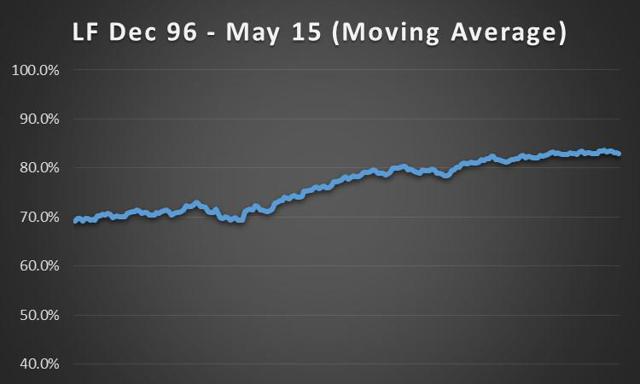 Aggregate Domestic and International Load Factor for All Major US Airlines.
Source: Three Point Aviation Services LLC
Calculating Load Factor
Load factor for an individual flight is calculated by dividing the number of seats sold to customers by the number of passenger seats installed on the aircraft. If a plane with 100 seats carried 85 passengers from Chicago to New York, the load factor would be 85%.
Calculating load factor for an entire airline is done by dividing the number of air miles sold by the total number of air miles available. The technical terms are Revenue Seat Miles -RSM- and Available Seat Miles -ASM-, respectively. For example, if an airline carries its passenger a total of 90 million miles in a year, but the seats on its planes flew a collective 100 million miles, then the load factor for the airline is 90%.
| | | | | |
| --- | --- | --- | --- | --- |
| Airline | Ticker | RSM (Millions) | ASM (Millions) | Load Factor |
|   |   |   |   |   |
| Alaska Airlines | (NYSE:ALK) | 27,778 | 32,430 | 85.7% |
| Allegiant Airlines | (NASDAQ:ALGT) | 7,826 | 8,946 | 87.5% |
| American Airlines | (NASDAQ:AAL) | 195,651 | 237,522 | 82.4% |
| Delta Air Lines | (NYSE:DAL) | Not Reported | Not Reported | 84.7% |
| Hawaiian Airlines | (NASDAQ:HA) | 13,911 | 17,062 | 81.5% |
| JetBlue Airways | (NASDAQ:JBLU) | 37,813 | 44,994 | 84.0% |
| Southwest Airlines | (NYSE:LUV) | 108,035 | 131,004 | 82.5% |
| Spirit Airlines | (NASDAQ:SAVE) | 14,160 | 16,340 | 86.7% |
| United Airlines | (NASDAQ:UAL) | 179,015 | 214,105 | 83.6% |
| Virgin America | (NASDAQ:VA) | 10,074 | 12,240 | 82.3% |
Source: Three Point Aviation Services LLC
Note: ASM and RPM were unavailable for Delta Air Lines because it does not distinguish between mainline and regional passenger traffic in its annual report. The load factor displayed here is based on Delta's combined mainline and regional passenger traffic, but likely approximates the mainline load factor.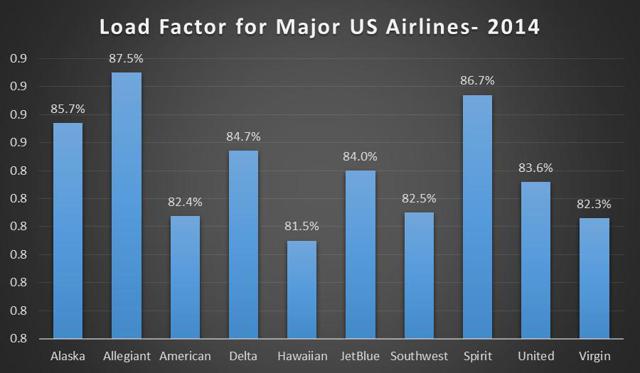 Load Factor by Air Carrier (Based on 2014 Annual Reports).
Source: Three Point Aviation Services LLC
Passenger Distribution
This is an issue of basic math and logic. If there were an unlimited stream of passengers waiting to board every flight, then an airline would simply put its planes on the most profitable routes and enjoy 100% load, with maximum profits. In actuality, airlines cannot sell every seat on every plane. There may not be a line of passengers waiting to fly from Evansville, IN to St Louis at 6am on a Sunday morning. Furthermore, airlines publish schedules months in advance, based on their best estimates. One or more flights on a given day may enjoy a 100 load factor, but if even one flight does not fly completely full, then the airline as whole will not have a 100% load factor.
Revenue Management Considerations
The goal of most businesses (including airlines) is to maximize profits, not the number of customers served. If flying less passengers, but at a higher price, was the most profitable option - then an airline would do it. Assuming tickets could only be sold at one price, airlines would have to use the profit curve, taking the derivative at the top to determine the pricing point. In the early days of commercial airlines, this was the best that many airlines could hope for.
However, the proliferation of modern (and very complex) revenue management system now allows airlines to have their cake and eat it too - selling most or all of the seats on a flight, with limited risk of under-pricing tickets. Prices today vary widely, depending on the mode and time of purchase, with a plethora of add-ons to choose from. That being said, selling all the seats is still not the goal, and might not result in the highest revenue or profits possible.
As the departure date of a particular flight moves closer, ticket prices usually (not always) move higher. This is an attempt by the airlines to capture higher revenue from passengers in need of last minute travel. Last minute travel is often important and cannot be delayed to a date with better airfares. This is particularly true for business travel.
However, the airline has no guarantee that a passenger will show up to buy that last minute, high priced ticket. In those cases where the seat is not sold - it flies empty, and load factor is less than 100% for both that specific flight and the airline as a whole. This is not necessarily counter-productive. Note the scenario below: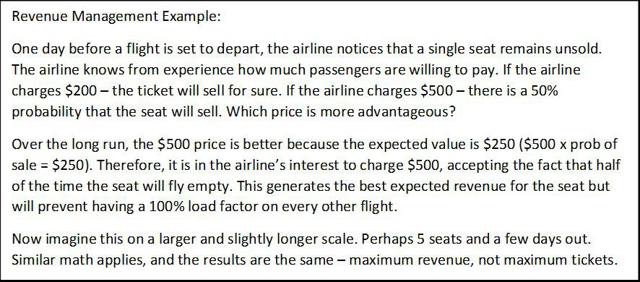 Source: Three Point Aviation Services LLC
Employee Travel for Work
Open seats on scheduled flights are useful for positioning employees throughout the system. Airline employees are often placed in a passenger seat in order to get them where they are needed. Mechanics are flown to broken aircraft, pilots are flown to training centers to maintain their qualifications, and flight attendants to locations which are short staffed. Not to mention the management staff travel. Open seats make it possible to reposition employees as needed or accommodate a passenger that was bumped by an employee, which does happen on occasion.
Off Schedule Operations
Despite airlines' best efforts, bad days happen. Airports shut down because of computer issues, volcanoes bring international routes to a grinding halt, and snow storms blast all the NYC airports at once. Some airlines refer to these days as Off Schedule Operations -OSO-.
The biggest saving grace for airlines on OSO days is that many passengers, particularly business travelers, cancel their plans. This means they will not need to be accommodated on later flights if their flight is cancelled. However, having a few empty seats available in the days after an OSO makes for a faster recovery. If all flights ran at 100% load factor, the passengers of a cancelled flight would never reach their destination, at least not by air.
Recently, a volcanic eruption near Bali has caused repeated closures of the Denpasar International Airport. At one point between disruptions, Jetstar Airlines added extra (unscheduled) flights, in a rapid effort to rescue passengers stranded in Bali by days of flight cancellations. The move was successful - and just in time. The Bali situation was too big to simply be solved with a few open seats, but it underscores the need to have extra capacity for the unexpected.
What This All Means to Investors
The bottom line is that 100% load factor is possible for individual flights, but not for an airline as a whole. The highest level US carriers are likely to sustain is 85%-90%. When an airline has a load factor over 85% it should be considered close to full capacity, as most of the growth opportunity will then be the result of adding capacity versus improving load factors. A load factor less than 100% is not bad for business. In fact, it's a sign that the airline has proper revenue management and a buffer for unscheduled events. At the end of the day, it's not about market share - it's about profits.
Disclaimer
The analysis presented here is intended to supplement other investing resources and should not be used as a sole source for investment information. A financial adviser should be consulted before investing.
Disclosure: I/we have no positions in any stocks mentioned, and no plans to initiate any positions within the next 72 hours.
I wrote this article myself, and it expresses my own opinions. I am not receiving compensation for it (other than from Seeking Alpha). I have no business relationship with any company whose stock is mentioned in this article.